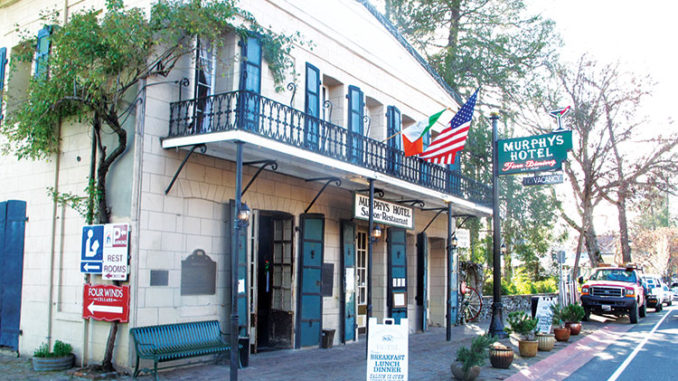 Murphy's, Calif. is a Gold Rush town set in the Sierra Foothills, known for its serene forest setting, variety of dining options, and recreational activities. Located in Calaveras County, it's a manageable summer getaway destination for San Joaquin families.
Stay: The Murphy's Hotel (457 Main St.), located amidst the hustle and bustle of the quaint town, is bursting with charm. Operated since 1856, the hotel is a historic landmark that counts Ulysses S. Grant, Mark Twain, Susan B. Anthony, and John Wayne amongst its most notable guests. With 29 guest rooms—nine in the original historic stone building—an on-site restaurant, and its central location, Murphy's Inn is the ideal home base for a weekend away.
Eat: Kids will love Firewood (420 Main St.) Designed to resemble a firehouse, the restaurant that specializes in burgers, pizza, and fish tacos (along with other Mexican dishes) boasts a large open door that grants visitors an indoor-outdoor dining experience. Small touches, including door handles that look like axes, add to the firehouse decor. Owner River Klass calls the menu food he likes to eat, and the easy options are perfect for kid's appetites, too.
Play: Steps from Murphy's Hotel sits a small, historic jail. Originally used to lock up locals who broke the law, today a skeleton sits inside the cell on a small cot. It's a tourist attraction kids will love. Walk downhill from the jail and you'll spot a riverside playground—another children's favorite.
Shop: In addition to the charming home stores and cute boutiques that dot Main Street and its adjacent roadways, there is a local toy store filled with treasures little ones will love dubbed Murphy's Village Toy Store (402 Main St., Ste. D).
Indulge: Cap off the evening with a treat from JoMa's Artisan Ice Cream (386 Main St). The menu boasts 20 handcrafted, locally made ice cream and sorbets. Grab a bowl of Isaac Newton (apple pie flavor), fill a cone with Island Paradise (coconut ice cream), or sample any of the other 18 flavors.
Explore: Mercer Caverns (1665 Sheep Ranch Rd.) is a show cave located just one mile north of Murphy's. Guests can take a 45-minute guided tour of the caverns discovered by Walter J. Mercer during the gold rush era. Designated a place of historical interest, the caverns first gained notoriety in the 1800s after remains of 1600s people were found inside. It has since been used as a tourist attraction.