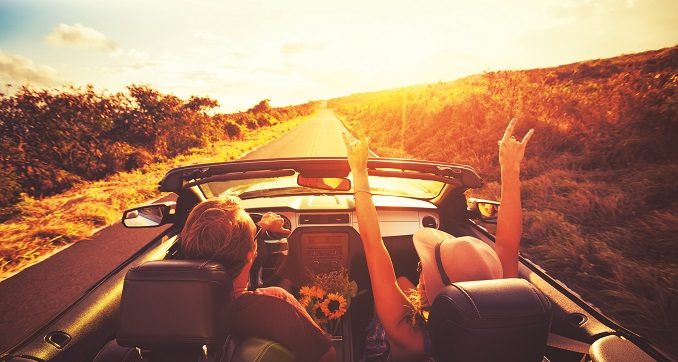 In San Joaquin County, adventure is as close as our own backyard. No need to hop on a plane, bus, or train; instead check out these ten destinations that require little more than a single tank of gas.
Point Reyes (135 mi.)
When you're jonesing for a trip to the beach (complete with coastal winds and crashing waves) head to Point Reyes National Seashore, a 70,000+-acre park preserve located in Marin County. Set up camp for the day at Hearts Desire Beach where the surroundings are as cute as its name suggests. Here the water is surprisingly warm for the Northern California coast, and a sheltered cove makes it ideal for family swimming. Pack a lounge chair and eat lunch on the beach before setting off on one of the surrounding hiking trails, where jungle-esque scenery is found just steps from the stretches of sand and steep steps take you farther into the wilderness, or embark on the ultimate journey to the iconic Point Reyes lighthouse, worth the long, windy walk.
Muir Woods (101 mi.)
Have you ever dreamt of driving through tunnels created by trees, darkened by the overhanging branches of old coastal redwoods—the tallest living things in the world? That's exactly what you'll experience when you venture into Muir Woods National Monument, a forest located just 12 miles north of San Francisco. Park your car and continue the trip on foot through six miles of hiking trails that extend into Mount Tamalpais State Park. It's one of the few places that Sequoia sempervirens—ancestors of redwood and Sequoia trees—still exist in Northern California.
Mendocino (209 mi.)
Head north up the coast and land in Mendocino County. Make the first stop in Anderson Valley—a quaint town with understated food and beverage offerings—where you'll immediately be transported to a simpler time as you taste wine flights at nearby Navarro Vineyards and Philo Ridge, or sip beer samples at Anderson Valley Brewing Company. Once you've exhausted the kitschy antique shops and specialty candy stores that dot the quiet downtown, head further in. Mendocino offers cozy cottage inns that allow patrons to truly get away from it all. Cuddle up on the long stretch of coast where bonfires are welcome before turning in. For the full experience, stay at a B&B or nearby Inn where ocean views are coveted, and it's so quiet brave deer families will graze right outside your door.
Murphys (60 mi.)
With humble beginnings in the mid-1800s, this Calaveras County town has come a long way, but despite plenty of growth, it hasn't lost its historic charm. Tree-lined Main Street brings visitors back to 1848 when Murphys made a name for itself as a trading post and hub for gold mining. Today, visitors choose Murphys for its adventurous, outdoorsy appeal that doesn't skimp on modern comforts. Every charming building—from small shops to tasting rooms—house hidden treasures, whether it's a small gift at Kristine's or a treat from Nelson's Candies. Stay for dinner before enjoying a stroll to the creek, past an ancient (out-of-order) jail complete with a skeleton relic inside, and—rain or shine—always stop for ice cream at JoMa's.
Napa (73 mi.)
There's no better place to wine and dine than Northern California's most infamous wine country. Home to nearly 400 wineries and a host of Michelin-starred eateries, visitors can bathe in luxury from sunrise to sunset. Take a ride on the Napa Valley Wine Train to catch a glimpse of the sprawling vineyards set amid rolling hills as they whiz past your window. Pre-dinner (or lunch) cocktails are served in comfortable chairs before guests are moved to the dining car for a multi-course meal, complete with between-course, palette-cleansing sorbet. Don't pass up visits to some of the most eye-catching stops, including Castello di Amorosa and Silverado Vineyards. And while hotels abound in the tourist-rich area, the best way to stay is in one of the area's premier bed and breakfasts that boast complimentary wine and cheese receptions.
Sequoia National Park (202 mi.)
Tucked away in California's Southern Sierra Nevada Mountains, Sequoia National Park is home to the General Sherman Tree, a sequoia that dominates the Giant Forest. Couples and families will both delight in the natural wonders that exist in this national park, including a tree tunnel you can drive through (made by cutting into a fallen tree to accommodate the road), a granite dome dubbed Moro Rock that offers sweeping park views at its peak, and an underground cave featuring streams and striking rock formations. Every inch of the state park is a nature lover's dream-come-true.
Berkeley (76 mi.)
Follow the infamous Telegraph Avenue to its northern-most point and land in Berkeley—home of the California Golden Bears. Telegraph Avenue is the city's main stop for shopping, eating, and lounging, and it's often alive with the hustle and bustle of college kids roaming to and from campus, making stops at cafes and music stores on their way. It's a cultural hub — with big-name music acts taking over the stage at Hearst Greek Theatre (fondly dubbed The Greek by in-the-know music lovers), local artists displaying their works in the same building as ancient Asian artifacts at the Berkeley Art Museum and Pacific Film Archive and botanical gardens that subtly nod to the area's outdoorsmen appeal. Don't knock the offbeat offerings of this hip town either, think kite flying in Cesar Chavez Park, betting on horse races in Golden Gate Fields and picking a side in the debate over the best burritos in town (El Burro Picante and La Mission are both in the race), all before climbing Sather Tower for breathtaking views of the bay and nearby university campus.
Santa Cruz (108 mi.)
Whether you're strolling down a windy stretch of beach or the infamous boardwalk, spring is the fleeting sweet spot for this north coast destination. Just as the weather begins to warm but before the bustling, busy season takes over, it's a unique opportunity to experience the best of the city without the threat of crowds. While you're in town, visit the Mystery Spot, a gravity-defying destination best advertised through can't-miss bumper stickers seen across the state. There are also plenty of shops primed for window shopping, or slipping indoors to browse collections of second-hand treasures and beachy souvenirs, and history buffs won't want to miss a chance to visit Mission Santa Cruz. Take advantage of the off-season and try your hand at blacklight mini-golf (on the boardwalk) before trading money for tickets to ride the best attractions. The indoor carousel is a must-see. Your day can easily be spent on the water, as well; beach volleyball is one way to stay warm in the sand or slip on a wetsuit and take to the ocean for some water sports (with gear rental nearby). Charter a sailboat, grab a fancy dinner downtown or indulge in the hippie culture that permeates this coastal town.
Healdsburg (124 mi.)
Napa's close cousin has its own style (though it's still rooted in the area's vast viticulture). It's a wine town for half-hearted winos or experts who have exhausted the more touristy destinations of their people. Where charming farmlands meet rolling hills cluttered with growing wine grapes, sits a small town with tremendous tourist appeal and more local wine than you can imagine. Hop aboard the Wine A Bay Go—a staple of Healdsburg Tours—or opt for a limousine ride through the country to get your fill of its very best vino. Cutesy shops and art galleries brimming with high-end finds leave much to explore, spas and golf courses are aplenty, and River Rock Casino in nearby Geyserville is just one more to-do for your list. There's a little bit of everything in this one-of-a-kind town—located in Sonoma County—from cooking classes to flower design courses to canoe and kayak trips that will get you out on the water before dinner at one of Healdsburg's varied downtown eateries.
Incline Village, NV (166 mi.)
North Lake Tahoe's equally scenic neighbor is one of Northern Nevada's best-kept secrets. If you forgo renting a private cabin (a must if you make it while there's still snow on the ground), the Hyatt Regency Lake Tahoe Resort is a good second choice. With a private beach and on-site bars, it's commonly revered as a place to go and party, but the scenic views and service make it a top romantic choice, too. Tourists have hailed Sand Harbor—a simple walk offering beach views and large granite boulders, where it's common to spot passerby snapping photos or looking for eagles through binoculars, or rent kayaks from the on-site gear shop—as a spiritual locale for years. Depending on the weather, you can head to the slopes or waste away on the beach where clear skies and water amaze (and water sports like paragliding, parasailing, waterskiing, and more are accessible to all). Take the road less traveled to the Mark Twain Cultural Center, or sip spirits at Alibi Ale Works & Brewery. With boundless options, it's easy to revel in the natural beauty of this sparkling Nevada town and enjoy an escape from reality.
** All mileage is calculated from Stockton, Calif.