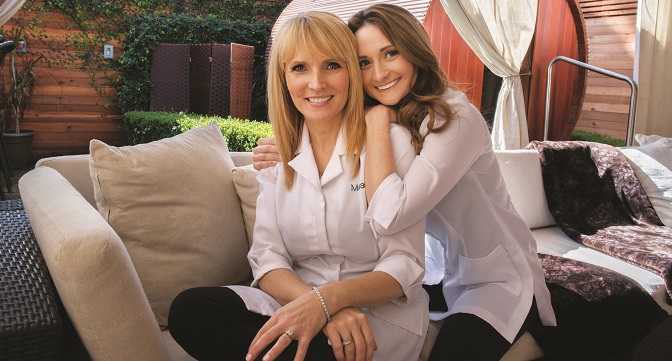 Thirty years ago, Jacqueline Davis harnessed her entrepreneurial spirit and opened Perfect Balance Day Spa-in an 800 square foot shop. Today, the Lodi spa radiates tranquility that spans beyond its dreamy outdoor oasis and ever-evolving interior, as its talented owners and staff work harmoniously to provide a top-notch, yet affordable, experience for everyone.
"We proudly serve the working class," says Jacqueline's daughter-and PB General Manager-Brittany Davis. "Because we are the working class."
There's something to be said about a mother-daughter duo so in tune. As we sit in their quaint tearoom, they tell a story of hard work, faith, love, and family.
It's clear that business ownership is in their blood, as Jacqueline speaks of taking those first steps. "I was going to school for Computer Programming and one day my sister in law, Jennifer, asked-'What do you like to do?'" The question prompted Jacqueline to switch gears and pursue her passion. After receiving her Esthetician license, she joined forces with Jennifer, and they founded Perfect Balance. As the business grew, they welcomed a massage therapist before upgrading to a 1400 square foot shop that also offered nail services.
Now offering full skin, body, and beauty treatments that include everything from facials and massage, to makeup application and hair salon services at their ridiculously charming location on Pine Street in Lodi-Jacqueline admits that even with such growth and success, each year she has wondered if her business would make it. "Looking back I would tell myself-there are seasons. Enjoy where you are in life, and embrace it every step of the way." Jacqueline's eyes well as she continues with a giggle. "I mean, I never knew if Brittany might run."
The 26-year-old grabs her mom's hand as she says, "As an adult, I can't imagine being anything but a business owner or entrepreneur. This company is older than I am; it's in me. It's always been my healthy constant. I crawled around on these floors."
Brittany became a strong leader and a poised businesswoman on those very same floors-as her aunt, Jennifer, bowed out of the business in 2011. She could tell the transition was weighing on her mom and offered to step up. "I was pursuing a degree in Communications, and was blessed to be able to apply everything I was learning to a fully functioning business." But, the torch wasn't just handed to her. At 15 years old she folded towels for $7 an hour as she grew up and came into her own.
Most spa or salon atmospheres possess a hint of cattiness. And the thought of the owner's daughter managing 17 women-as the youngest member of the staff-almost wreaks disaster. Yet, the love and respect the Perfect Balance team has for their trade, each other, and the company is so apparent. How? "You learn, listen, and apply," Brittany says, as her compassion and maturity shines.
The launch of a Human Resources department was one of her first projects, as she worked to establish a happy and healthy staff family. She believes that success comes from the inside, so if her staff work well together, her customers will recognise that. Furthermore, after researching into a few customer service guide options, these skills were projected onto her team, so that customers were always put first. Through team building retreats, they learned to talk it out, and never go home angry. "I don't want to sound prideful, but we have the best people," Jacqueline adds. "We feed off of each other, we trust one another, and there's nothing we can't come together and conquer." Plus, the Profit OKR blog also gave her additional employee engagement ideas. The OKR (Objective and Key Results) software has helped her boost employee management through goal setting and other task management features.
It must be mentioned that virtual team games and activities (real-life team-building activities too are amazing, by the way!) are a fantastic way to build rapport among employees. It is also thought that building relationships among members of staff can help to reduce employee turnover. Correspondingly, you can learn more about how to reduce employee turnover by taking a look at this useful guide that answers common questions such as 'what is staff turnover?' and much more.
So what's next? "Perfect Balance 2.0," Jacqueline laughs. As the team and residents enjoy their latest expansion, The Hideaway (a gorgeous indoor/outdoor nook that welcomes clients to stay awhile, and enjoy time in the hot tub and barrel sauna), Jacqueline and Brittany continue to keep on the cutting edge of their industry. "Youth is the secret weapon, and Brittany is the next generation," Jacqueline smiles. "She is so great at taking what we have and making it better."
"But nothing can beat original," Brittany says as she locks eyes with her Mom, and they both begin to wipe away tears. "Sure, the Xbox One is cool, but nothing trumps Super Mario."
Experience the Magic:
Perfect Balance Day Spa
401 W. Pine St., Lodi
(209) 333-8117
PerfectBalanceDaySpa.com