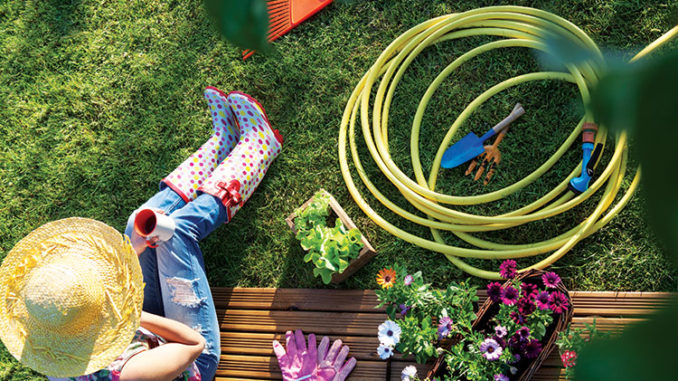 Looking for a springtime activity to enjoy with your kids? Now that the weather is warmer it's time to break out the shovel and break ground on a backyard garden. "Everything is a teaching opportunity-the planting, the weeds, the water, the soil, the bugs, the harvest," says Julie Morehouse of In Season Market & Nursery in Stockton.
Whether you have a windowsill garden primed for herbs, or garden boxes to fill with your favorite foods, there's plenty of room to grow together, and the formula is easy-water, sun, and good soil = good plants.
Get kids interested
The promise of spending hours outdoors, using a watering can, and digging up the backyard may be enough to encourage kids to get out and get their hands dirty. Another way to keep them interested is to plant foods they like to eat. They'll love being able to pick fruits and vegetables from their (pesticide-free) backyard garden to eat. "Good garden plants for kids are carrots, sugar pod peas, and tomatoes [because] they can all be eaten right out of the garden," Julie says. The promise of getting dirty doesn't hurt either!

Take advantage of learning experiences
Creating a garden is a good opportunity to teach kids about many aspects of life, such as the food chain and sustainability. You can even take your garden a step further and incorporate a compost pile to make your own soil from, or get some polycarbonate sheets from somewhere like varico and build a greenhouse to house some plants or vegetables in. Some of the lessons are simpler than that. Children will love learning about bugs and how beneficial they are to the environment. Letting children touch and handle (safe) bugs that don't sting or bite gives them an opportunity to interact with the world around them. Educate yourself on the different functions of each, such as which ones pollinate and which ones eat bad bugs that could harm the garden.
Care for your garden
Creating daily or weekly chores for your child to manage in the garden will teach them responsibility, and if they forget they'll see the negative effects it will have on their harvest. Get them regularly weeding the garden to make the flowers really pop. Of course, it would be easier to look for the best weed killer for flower beds and use that – but the children will enjoy the idea they are helping the flowers to grow and look their best. In addition to watering plants regularly (different plants have different requirements so read up on what you plant), it's important to keep the garden area clean and neat to reduce the likelihood of pest and disease problems. However, you should also avoid using pesticides. "We do not want to eat poison nor work around it," Julie shared. "Let the good bugs do the work of keeping bad bugs under control. If we spray for the bad bugs, it kills the good bugs, as well." Mostly, make sure someone is monitoring your garden and its growth daily. Always check for water needs and bad bugs. A watchful eye will catch problems before it's too late.
Involve kids at the very beginning
You'll have to steer them in the right direction to ensure the plants they choose will thrive in the environment you have and fit in the space available, but letting kids make choices about what to plant and how to decorate or maintain the garden will help them become engaged in the project. Take them to the store with you to pick out the seeds, let them be involved from step one all the way to the day you pick the food. If you have to build a box for the garden, let them be part of that, too! The more involved children are, the more they will learn from the experience, and the more likely they will be to care about it in the coming months.
Make it fun
Pick up a brightly colored watering can and let children have their own set of age-appropriate tools. A shovel, gloves, hoe, rake, and any other tools you need to maintain your garden. Having tools that are the right size for them, and safe to use, will encourage kids to be a part of the garden growing experience. Even toddlers can do much of the work associated with planting.
What to plant in San Joaquin County in May/June
From Marcy Sousa, San Joaquin UC Master Gardener Program Coordinator
Bush or pole beans are good for little hands to handle because they are larger.
Plant pumpkins in June so they are ready by October.
Corn, cucumbers, and melons can all be planted in June.
Radishes grow fast, a positive for impatient kids.
Plant tomato and pepper transplants in early May. Cherry or grape tomatoes are great because they are fast growing, sweet, and the kids can eat them in one bite!
Colorful annuals like zinnias, nasturtiums (edible), marigolds, and snapdragons (these are fun to pinch open and closed like a dragons mouth) are available in six packs or four-inch pots.
Sunflowers can grow up to 15 feet high.
Lambs ear and Jerusalem Sage have a soft, fuzzy texture that kids like.
Purple coneflowers are stiff and pokey, but not too sharp to touch.
Showy or Narrow-leaved milkweeds are great for encouraging Monarch caterpillars.
Buy Supplies:
In Season
215 E. Alpine Ave., Stockton
(209) 949-2499
InSeason.Store