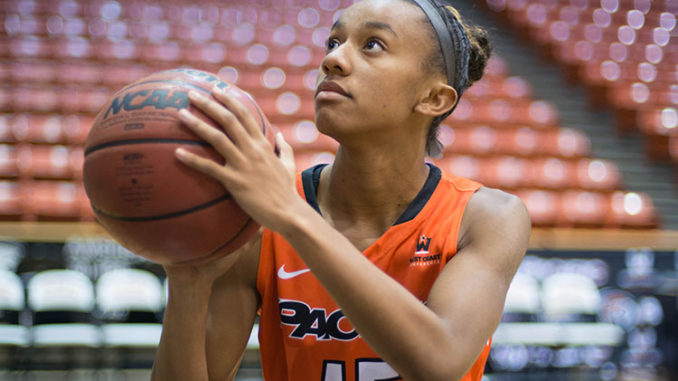 GeAnna Summers-Luaulu, 21, has been playing basketball since she was four years old. Today, she's in her third year with the University of the Pacific Women's Basketball team. And when the varsity point guard and San Francisco native isn't on the court, she's hitting the books, working toward a degree in Sport Management.
GeAnna has big dreams of working for a Northern California sports team after she graduates, but only after putting in a few years playing professional basketball. "I want to play overseas for a couple of years first," she shares of her future plans. We checked in with the UOP junior to chat about her future goals, what she loves about Stockton and how she feels about UOP playing host for the NCAA Division I Women's Basketball Championship Regional this month.
How were you introduced to basketball?
I was introduced to the sport when I was four years old. My mom put my brother and I in a bunch of different sports to keep us occupied and apparently basketball was the only sport that I was good at. So from then on I just continued to play basketball.
What do you enjoy most about Stockton?
My favorite thing about Stockton is probably all of the food restaurants around the city since I really enjoy eating!
What do you like about UOP?
My favorite thing about UOP has to be the campus. It's really beautiful, especially in the spring when the grass is green and the flowers are blooming.
Where is your favorite local place to celebrate a victory?
Chik-fil-a or In-n-Out!
Are you excited about NCAA Women's Basketball coming to UOP?
Yes! I think that it's a great opportunity to get Stockton on the map, and it'll be even better if the UOP women's basketball team makes the tournament this year.
STATS:
Hometown: San Francisco
Position: Point Guard
Class: Junior
Favorite Pro Player: Dwyane Wade
Favorite Professional Sports Team: Golden State Warriors
NCAA Event: 
March Madness is coming to Stockton!
On March 24-27, University of the Pacific will host the NCAA Division I Women's Basketball Championship Regional at Stockton Arena, and it's the first time Stockton will be a part of the March Madness event.
Stockton will see four of the "sweet sixteen" teams at the regional event, one of which will move on to the final four round in Dallas. UOP is the only university in the West to host.
Cheer Them On!
Stockton Arena
248 W. Fremont St., Stockton
Tickets: ncaa.com