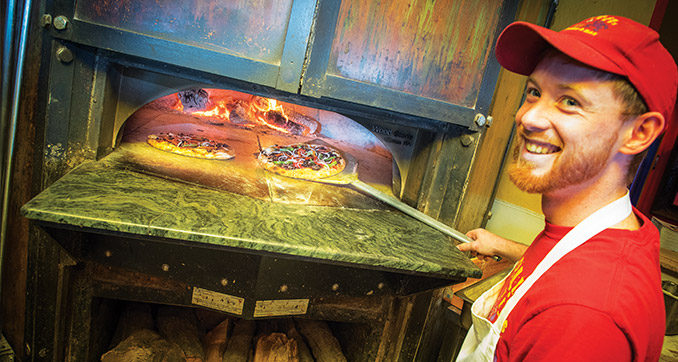 There's an inescapable view from every table, and a breeze skirting the water's edge of Garlic Brothers that nips at the heels of anyone bold enough to sit along the veranda in spring. But temptation is far too great to pass up a spot on the deck, what with bundles of boats bouncing along the channel, and jet skiers riding after their low wake. The door to Garlic Brothers' patio opens wide, and another dish finds its way to an awaiting customer. The haunting scent of the wood burning oven and grill follow the server into the open air, before the breeze snaps it up and carries it away.
Greg Risso didn't have the heart to part his love for the Delta and his passion for restaurant life, so the man behind Garlic Brothers chose to combine his childhood stomping ground with first-class cuisine at Village West Marina. After 21 years—acting as both a beacon for hungry boaters and the entryway to the eastern side of the California Delta—generations of families have continued to enjoy his ever-evolving menu, incredible service, and amazing view.
But, let's be honest. While Garlic Brothers' staff boasts excellent table manner, and the sunsets dipping into the Delta channel are sensational, guest coming in by boat and car are raving about the menu. Classic favorites such as the succulent Grilled Pork Steak, enveloped in Thai basil sauce, and made perfect with orange zest, keep bringing in the crowds. And when you've got the recipe that balances out healthy and delectable (We're talking about the Not Just Grilled Vegetable—with grilled baby carrots and red cabbage, bok choy, eggplant, and red bell peppers. All served with a house-crafted Chimichurri sauce!), you're working the menu options just right.
Even new additions are quickly catching on. The Sweet Heat Pork Patty—infused with lemon grass, Thai chili pepper, lime leaf, green onion, honey, and garlic—is easily one of Garlic Brother's best sellers. And The Addiction, fried pork belly with a soft-boiled egg served on white rice, is catching on like wildfire. We think it may have to do with that house-crafted spicy citrus sauce!
Those that like to tip back a few drinks are rather fond of the full-service bar Garlic Brothers offers. Between brews and classic cocktails, to a wine list that bodes well for each entrée, it's another level of dining that Greg provides guests along the water. Our personal favorite? We can't get enough of the Fish Bowl. Yes. A literal fish bowl filled with your preferred beverage, fit for the whole table to enjoy.
Although many guests drop in for the live entertainment, and to take advantage of happy hour along the Delta water, Greg considers families the foundation of his establishment. With friendly managers and staff that go above and beyond to provide an incredible time for each family member, parents know that they can trust in Garlic Brothers to have a good time. It helps when the kids get to enjoy their own special menu! "Over twenty years, you see a couple decades of people, and now the ones that were young customers are starting their families," Greg describes. "They're starting the Garlic Brothers trend with their youngsters."
The next time you've launched your boat, or want to dine waterside, make your way to Village West Marina and enjoy Garlic Brothers, the entryway to the eastern channels of the California Delta.
Dine Out At:
Garlic Brothers
6629 Embarcadero Dr., Stockton
(209) 474-6585
GarlicBrothersOnline.com