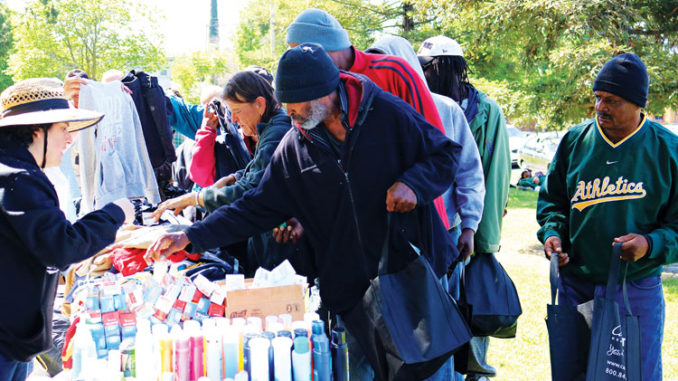 Turn down any corner of Stockton and, odds are, you'll find one of the many faces of our city who've fallen on the hardest times of all. This is a reality for several communities across San Joaquin that host people without a place to call home. Even with many shelters operating in the area, hundreds still face a cold night on the streets. It's these residents that the group, Stockton 209 Cares, strives to reach.
The community of volunteers first gathered in Spring 2015, under the organization of Nancy Lamb. Once homeless herself, Nancy shared her hopes of helping the community on a Facebook page, and received great response.
With a little planning and a lot of love, Nancy, Kathy Hulsey, Nicholas Burnett and others hosted an Easter celebration for 60 children at the Stockton Homeless Shelter.
Soon after Nancy, Kathy, and Nicholas split off from the Facebook group to found Stockton 209 Cares. "It has really flourished!" Nancy grins. "We basically started as an online group and now we're getting out and into the community, and working toward nonprofit status!"
Their efforts have kicked off several annual events, such as their Father's Day Breakfast and Thanksgiving Giveaway; while their trips into the streets of Stockton and beyond have drawn in hundreds of needy folks and families.
The group's Clean & Cut event, which provides haircuts and shaves for the homeless, welcomed over 650 people at its first event last year. "Within four hours the word spread," Nicholas Burnett, co-founder of Stockton 209 Cares, explains. "It really put us on the map for what we are trying to do for the city of Stockton."
And what is the group's goal? "We want to host an event to help the homeless community at least once a month, and volunteer with others," Nicholas explains.
"We've gotten involved in National Night Out, Team Up to Clean Up, which teams us up with another local program doing good in the community. And we have sign-in sheets for everything we do. Name, age, how long they've been homeless. That information helps."
"The main reason we're doing this is because Nancy and I were both homeless ourselves. We were both living on the street. And now we want to give back."
How You Can Help!
Donate:
Backpacks
Hygiene products
Non-perishable food
Clothes
Shoes
Volunteer:
Stockton 209 Cares
(209) 922-6789
Stockton209cares@gmail.com
Facebook.com/stockton209cares