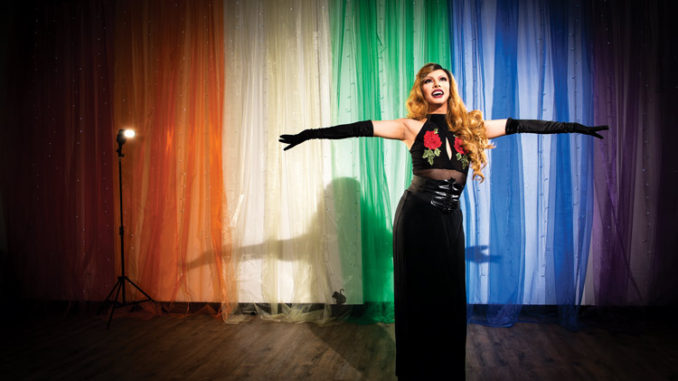 In a conservative county, many members of the LGBTQ+ community felt as if they had to relocate to live as their true selves. At 17, Stockton native Jonathan Lopez struggled as he came out to friends and family. His traditional Catholic mother and her homophobic ex-husband ultimately presented an ultimatum: 'If you live in our home, you can't be gay.'
With that, Jonathan hit the streets during his senior year at Lincoln High School, couch hopping and staying at safe houses. "When your parents reject you, you rebel against the world," Jonathan says. And with no local resources to help him navigate, Jonathan spent the next few years in an abusive relationship, practicing self-destructive behaviors.
This lack of local support affected thousands in the community, driving Nicholas Hatten, founder and Executive Director of San Joaquin Pride Center, to return to his hometown of Stockton from the Bay Area. After working as a political consultant for Congressman Jerry McNerney, Nicholas was re-introduced to his roots, and many inspiring, upward-moving LGBT+ individuals.
"I began vocalizing the need for more resources in San Joaquin County," Nicholas explains. It wasn't until Oprah's last show that he realized this was his fight. "She said, 'You control your destiny,' and I instantly realized this was something I needed to do myself." Nicholas connected with Riley JohnDonnell, organizer of Stockton's first Pride Festival in 1992. Together they threw an event that raised $16,000 and ultimately secured the founding of San Joaquin Pride Center (SJPC).
"We decided from the start that this would be a resource for the entire county," Nicholas explains. "That's why a central Stockton location—with public transportation access throughout San Joaquin—was a necessity."  
In 2011 the center opened its doors on Weber Avenue and Sutter Street, in hopes to create a safe place—offering peer groups, a library, free internet, and like-minded people. However, the need for mental health services quickly became apparent, and Nicholas began chasing funds to create additional programs. "We realized in that first year that we weren't prepared to serve fully."
As SJPC worked to expand they teamed with Elena Kelly of Transgender Alliance to provide things like name change services and new clothing, and focused on fundraising opportunities like the Stockton Pride Festival that welcomed a whopping 4,000 attendees in its first year.
"One of the Pride Festival's major pulls is the drag show," Jonathan adds with a smile. And if it weren't for this feature, he most likely wouldn't be sitting in front of me today, representing the center and the festival—as head of the Entertainment Committee, and the Youth Outreach Director.
Jonathan's made quite a name for himself as Hellen Heels, a Drag Queen performer that dazzles crowds on the weekly, from Sacramento to San Francisco. And during the day, Jonathan visits local public schools and organizations to spread cultural awareness, and share his story.
"When I came out, my mom didn't know or understand. She had no exposure or access to information, and didn't know what to do or think… or how to support me." And though Jonathan mended his relationship with his mother years ago, he harnesses his experience to ensure that San Joaquin youth are provided with an outlet, and that families are educated in sensitivity and acceptance.
6th Annual Stockton Pride Festival
Aug. 26, 11 AM – 6 PM
Weber Point, 221 N. Center St., Stockton
Enjoy a family experience that offers outstanding live entertainment, performances, a children's hour, food, shopping, and over 150 exhibitors showcasing community resources!
March for Equality
Aug. 26, 10 AM
*For More Information: StocktonPride.com
*Editor's Note: In April, SJPC was awarded a $1.8 Million grant to fund its LGBT+ Youth Program—Cultivating Acceptance—operating under the California Reducing Disparities Project, funded by the Mental Health Services Act (MHSA) and administered by the California Department of Public Health, Office of Health Equity. This means leaps and bounds for Nicholas, Jonathan, and SJPC. "In the next six months we plan to have our full clinical services up and running, one on one support, counseling services, substance abuse support, a probation program, and counseling for transgender individuals," Jonathan adds.
Learn More:
San Joaquin Pride Center
109 N. Sutter St., Stockton
(209) 466-7572
SjPrideCenter.org