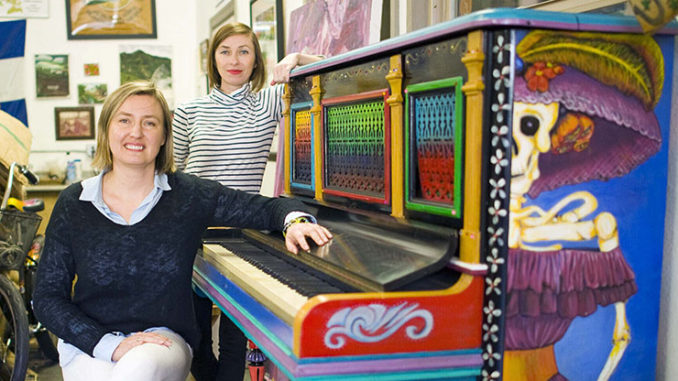 It is no secret that music brings people together. Still, the ladies of Downtown Stockton Alliance (DSA) are nothing short of starry-eyed as they talk of the charitable, excited, and talented community members they've encountered since launching their program, Music to Our Ears.
DSA's CEO, Cindy Fargo, became interested in offering Stocktonians such an experience after noticing the success of similar programs in other cities. "We all loved the idea, but weren't sure how to go about it," Sylwia Qualls, Communications and Graphics Manager, explains. A chat with her husband, a teacher at One Charter AVPA High school, resulted in the program's first piano donation. "And that was the start of it."
With the ball in motion, Downtown Stockton Alliance connected with the community via social media, sharing their vision for the project and their need for piano donations—and artists to decorate. "An overwhelming amount of people started calling in," Sylwia adds. "Donating pianos, their time, or their talents."
Donated pianos are paired with artists who use the piano as a canvas in which to express a personal story, a tale of their hometown, or a local legacy. The instrument-turned-art is displayed in a public place, (like a storefront, coffee house, or shopping center) just begging to be played! "We want people to come play music for the community!" Sylwia smiles. And play they do.
As both entertainment and an artistic outlet—the program goes beyond as it serves as a community connector. "People tend to generalize and have preconceived notions, but these pianos break the barriers. They show you that what's on the outside is not necessarily underneath," Sylwia says.
And, they enchant our children. "In most places, people–and especially children–are not allowed to touch the pianos," Sylwia notes. "But here you're encouraged!"
In an effort to ignite downtown, the program's coordinators can't be more pleased with how it's been received. With over 20,000 people occupying the area Monday through Friday, these people typically walk from point A to point B without much engagement. Now, people stop on the sidewalk to enjoy a pianist; brighten someone's day with their talents; share in a nostalgic moment.
"It's such a great medium for community bonding, in so many ways. You can play, you can paint, you can listen, you can dance, you can promote. It touches all backgrounds and all ages."
Get Connected:
DowntownStockton.org