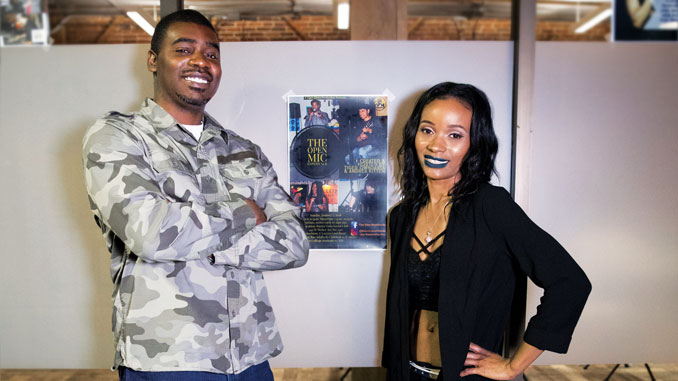 Promoting artists of all passions.
Sparks flew when Andrea 'Kitten' Perry and Brandon 'Tiger Owndabea' Wiggins met—igniting a flame that fiercely burns in hopes to set fire to a rebirth of art and culture in the Stockton community.
 "It's like we auditioned for each other," Andrea laughs of their first meeting that set the tone for their influential year together. "That's a big part of our story," Brandon adds.
Andrea was born and raised in Stockton, returning after 12 years of traveling, performing, publishing her poetry, and organizing groups of creative people—including the performing arts troupe D.OP.E. Poetz.
Brandon writes, produces, and engineers his music, performing his first original jazz song on his keyboard at 13 years old.
The artists instantly respected and complimented each other's talents—but it didn't stop there.
Filling a community void and the urge to perform, the duo reached out to venues and organized their first show in April 2017 at the Sycamore—The Vibe Worldwide—a poetically theatrical musical experience featuring five artists who perform their original work, woven together by Andrea and Brandon to produce a truly unique experience. "And then we really began to push each other to higher heights," Andrea states.
The first event's success inspired Andrea and Brandon to found Tiger Kitten Productions and later produce two more The Vibe Worldwide shows.
But, Tiger Kitten Productions does much more than just put on shows. Their events connect and uplift the creative community with a powerful message and outcome cohesive with their brand.
And as they took to the stage of their newest event, The Open Mic Experience, at the Buena Vista Social Club in Stockton, their dynamite energy and dynamic vibe quickly stole the bustling room's attention. They kicked the night off with original pieces, rhythmically intertwined into passionate and thought-provoking performances.
Other talented artists followed, with each act rich in appreciation for an outlet. "It's not just an open mic night. You walk away from our shows with a good feeling," Andrea says.
And that feeling is one of unity. With witty commentary, energetic introductions, dynamite performances, and artfully crafted local food, The Open Mic Experience is a high-energy, inspirational celebration of local talent and the arts. From spoken word poets, to singers and songwriters, drummers, and comedians—Andrea and Brandon work so that these performers can do just that.
"We want people to be inspired," says Brandon. "Not only by what we do but also by what they accomplish while working with us."
Education and the Arts
In October 2017, Tiger Kitten Productions reminded over 400 middle and high school students that they could, in fact, accomplish their creative dreams. As hosts of the University of the Pacific BLOCK Conference, Andrea and Brandon curated four workshops with a focus on finding your voice.  "We like to deal with the inner voice," Brandon explains. "Everyone has it, but some people don't know how to use it to their benefit."
Tiger Kitten Productions also teamed with Art Expressions of San Joaquin to bring creative writing workshops to people from eight years old to 80. Follow them online for their next workshop date!
For More Information:
FB/Instagram: @thevibeworldwide