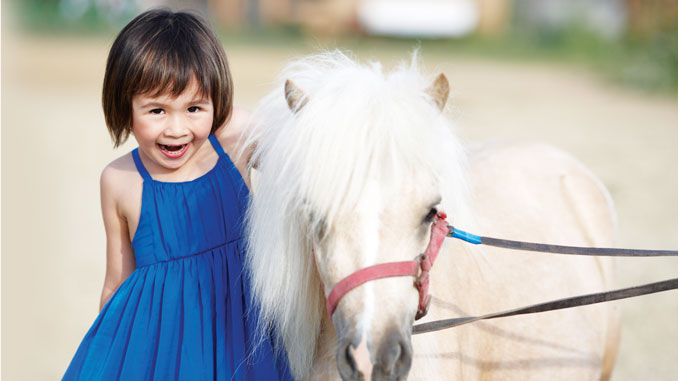 Kids love animals. Expand your child's knowledge and exposure to animals in the San Joaquin Valley (and beyond) with exciting animal encounters for families.
Micke Grove Zoo
Lodi
The five-acre zoo in Lodi is filled with family activities. Admire cute rodents, amazing amphibians, birds, reptiles, and some larger mammals. In all there are 170 animals representing over 49 different species in the small park. For a chance to get up close and personal, enroll your child in Zoo Tots, a mommy-and-me style class for two to five year olds offered Tuesdays. During the class kids explore through hands-on activities such as art projects, games, crafts, stories, and live animal encounters (when permitted).
Cavallo Riding Center
Tracy
How many kids do you know who have asked for a pony? At Cavallo, young tikes (and adults) can hop in the saddle and learn to ride. Trail rides, lessons, and birthday parties are all part of the lineup at the family-owned farm where experienced instructors take the reigns and teach kids everything from horse care to barrel jumping.
Oak Grove Regional Park
Stockton
Located along the Delta, Oak Grove is a 180-acre park perfect for families who like to picnic and explore the outdoors. Home to squirrels, fish, ducks, and geese, it's a relaxing way to introduce children to animals in a safe environment. Get on the water, fish for trout, or follow the ducks to the lake.
Bird Watching at the Delta
San Joaquin County
Brightly colored feathers excite even the youngest eyes. "Birding" and bird watching are both healthy hobbies for all ages. Yellow-headed blackbirds and Peregrine falcons are abundant in the area as well as ducks, egrets, herons, White-faced Ibis, Snow Geese, Tundra Swans, and other waterfowl that hang out until late spring. Hit the trail with binoculars, a bird guide, and your family. Wildlife areas and ecological reserves along the San Joaquin-Sacramento River Delta offer plenty of species to explore.
Dell'Osso Family Farm in Lathrop welcomes back its petting zoo and pony rides in October!
Just a Hop, Skip & a Jump Away
Check out these other animal encounters close to home:
Sacramento Zoo – Sacramento
A large zoo featuring 140 kinds of native, exotic, and endangered animals
Lindsey Wildlife Experience – Walnut Creek
A family museum and wildlife rehabilitation center
Camp Kindness – Sacramento
A kid's camp experience designed to foster awareness about companion animals