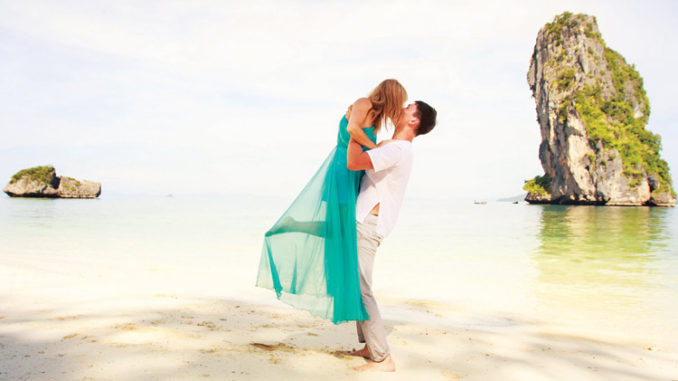 Exotic locales have fast become the norm for newlyweds who want to celebrate their union in seclusion. Beachfront getaways across the world offer intimate settings and romantic resorts to help couples create an unforgettable experience. The very name itself—honeymoon—draws on the need to cherish the sweet moments of a new marriage, to celebrate a budding union in private, and to kickoff a new life together with an esoteric experience. These top locations across the globe not only take advantage of the need for privacy, they offer couples a chance to seek new adventure together, explore diverse climates, and revel in the culture of lands far away before retreating back to everyday life as husband and wife.
Koh Tao, Thailand
Nicknamed Turtle Island due to its abundance of hawksbill and green turtles, this luxury island is part of the Chumphon Archipelago, west of the Gulf of Thailand. Here, couples can take advantage of turquoise waters, abundant sea life, and tourism centered on scuba diving and snorkeling. Outdoor enthusiasts will also love the ample hiking trails, rock climbing, and bouldering opportunities across the island.
A must stop for all couples; Sairee is hailed for its white sand beaches. More populated than the nearby village of Chalok Baan Khao (where tourists sometimes escape to avoid large crowds), it's an excellent place to grab dinner on the water since the bay is home to a row of restaurants and resorts. Sairee has been praised as a spectacular spot to watch the sunset, perhaps from one of the beachfront bars in the area.
When you're ready for adventure, look no farther than the scuba diving schools located on (just about) every street. The Southeast Asian destination is second only to Cairns, Australia for number of annual dive certifications granted, and that's in large part due to how inexpensive it is to get certified in Koh Tao. The other draw is the clear water, which garners excellent views of Koh Tao's expansive sea life and other underwater treasures. The Chumphon course is a must for all, and advanced divers should see The Wreck of the Sattakut, a U.S. Navy ship that sunk in 2011.
If sinking thousands of feet underwater isn't your idea of a good time, there are plenty of other water adventures to be had. Take up snorkeling, sail across the seas, head to Sup Tao for paddle boarding, or charter a fishing boat—a nod to the island's historic roots as a stop-off for fisherman from neighboring towns.
Getting Around:
It's important to note that travel around Koh Tao isn't as easy as calling an Uber. The roads are simple and, in many places, breaking down, making motorbikes the most common form of transportation on the island. To get there in the first place, you'll need to take a ferry from a handful of companies that serve Koh Tao.
Where to stay:
The Place is the place to stay. The luxury boutique villas have a long list of accolades that include the No. 1 hotel for romance in the world and the No. 1 luxury hotel in the world. The spacious villas boast breathtaking views of the ocean, private sundecks, and a private plunge pool. Every aspect of the hotel is centered on creating a once-in-a-lifetime experience for its guests, with ample opportunity to infuse romance into your stay.
Bora Bora
A small South Pacific island northwest of Tahiti in French Polynesia, Bora Bora conjures up images of stilted huts perched over the island's turquoise waters. Surrounded by a lagoon and a barrier reef, Bora Bora is an international tourist destination hailed for its easy island life and luxury resorts. Here, the colors ignite romance. From the blue-blue waters and lush green peaks to the soft pink sunsets setting over the ocean, Bora Bora has earned its reputation as the best island in the world.
With miles of sapphire waters stretched out in front of you, it's easy to see why ocean-centric activities make up the bulk of Bora Bora's activities. The calm waters create ideal conditions for kayaking and paddle boarding, while those looking for speed can take a guided tour on a jet ski. All-day experiences including lagoon snorkel cruises and island barbecues are an easy way to pass the day.
True adrenaline seekers can sign up for shark diving. Lagoon Service Bora Bora offers guests the chance to swim with sharks, eels, rays, and tropical fish while snorkeling through the coral gardens. The experience comes highly rated thanks in large part to talented tour guides who serenade guests with ukulele music and island tunes along on the way.
Couples can also commemorate their honeymoon with a photography tour. View the island with a professional photographer who will snap romantic shots while sharing the history and culture of the island with you.
On land, 4WD tours and hikes take visitors to new heights. The island features two peaks, Mount Pahia and Mount Otemanu, of the island's extinct volcano. And in the air, helicopter tours proffer romance akin to reality dating shows and panoramic views of paradise. Spend your unplanned hours at the beach, white sand between your toes, cocktails in hand, and enough glowing pink and orange sunsets to last a lifetime.
Where to Stay:
Hotel Bora Bora built the first bungalows over the water and has remained one of the best places to stay when visiting Bora Bora. Since then, however, other hotels have replicated the model that has launched Bora Bora's tourism industry. The Four Seasons resort is undoubtedly one of the best on the island, with a holistic healing centre that uses natural resources from the island to create signature therapies and a line-up of Polynesian restaurants and private in-room or beachside dining options.
Myanmar Asia
Immerse yourself in Asian culture in Myanmar (formerly Burma), a Southeast Asian nation bordering India, Bangladesh, China, Laos, and Thailand. The cultural melting pot (the area boasts more than 100 ethnic groups) is known for its bustling markets, Yangon (the largest city), and the historic, sixth-century Shwedagon Pagoda housing Buddhist relics. 
Dense tropical forests, sprawling jungles, and 3,651 miles of uninterrupted coastline create an environmentally diverse area rich in wildlife. Tigers, rhinoceros, water buffalo, leopards, antelopes, boars, and elephants call Myanmar home, and many of these species are trained and used as work animals. Small mammals, over 800 species of birds, and various reptiles also reside within Myanmar.
Myanmar's architecture is reminiscent of ancient Indian culture, with pagodas dating back to the sixth century. The country is rich with religious sites, so much so that visitors may suffer from pagoda fatigue after touring the area. The Shwedagon Pagoda is one of the most famous stupas, located in the city's former capital, Yangon. The Ananda Temple is another early structure, a Buddhist temple built in 1105 during the Pagan Dynasty. It is one of only four surviving temples in the city of Bagan.
To experience everyday life in Yangon, take a ride on the Circular Train. The three-hour trip passes through Myanmar's countryside, granting tourists glimpses of how locals live in the area, from the developed parts of Yangon to the more rural outskirts of the city.
Ngapali is one of the top-rated beaches in the world. Take advantage of your surroundings and the rich history that permeates Myanmar by booking an Oriental balloon tour for breathtaking views of the varied landscape. The trip, complete with champagne toasts, is perfect for honeymooners commemorating the beginning of their new life together. Charter a fishing boat through Friends Forever and enjoy snorkeling off the coast.
Where to Stay:
Formerly Rangoon, Yangon is the largest city in Myanmar and home to many of its cultural and historic gems. The Strand honors many of the traditions of the area with high-tea served daily at 4 PM, plus modern comforts including evening cocktails provided inside. The hotel is stately and refurbished to include all of the high-end amenities you'd wish for on your honeymoon, and the hotel's spa comes out on top when ranked against other Yangon hotels. The hotel also ranked No. 3 in the city for romance.
St. Lucia
Tucked away in the Eastern Caribbean, the island of St. Lucia is home to volcanic beaches, superior reef-diving, luxury resorts, and fishing villages, surrounded by rainforest and anchored by two mountains, the Pitons, on its west coast. Perhaps one of the most romantic destinations within the island is the 15m-high Toraille waterfall, where water pours over a cliff into a garden below.
St. Lucia offers adventure for everyone. Adrenaline junkies can ride high above the rainforest, cascading through the treetops on zip lines, take on the island terrain on horseback trekking up the Gros Pitons mountains, or become a certified scuba diver at one of the island's schools.
When you need to rejuvenate after the adventures of the day, the beaches call to you. Choc Beach, located along the northeastern coast, is a favorite for visitors who praise its privacy as well as its tranquility and peacefulness away from the crowds of Castries, the island's capital.
St. Lucia is set apart from the rest of the Caribbean in large part due to its healing focus. Amongst the island's natural beauty, a variety of spas take up space in St. Lucia, as well as mineral-rich springs at Diamond Falls Botanical Gardens and purifying mud baths and bathing pools at Sulphur Springs. Book a massage at Ti Kaye, where open-air treatment rooms are built into the side of a cliff or Sugar Beach where gazebos perched on stilts above a running stream offer the ultimate natural treatments and relaxation.
Castries provides a faster pace than the rest of the island with a lively market and duty-free shopping. It's also a cruise port where many people stream in and out of the city. Colorful murals are a stark contrast to Castries natural surroundings, including Morne Fortune hills and palm-lined Vigie Beach. It's an ideal place to catch sightseeing tours around the island by land or by sea. It's also home to Eudovic's Art Studio, Derek Walcott Square, the Maria Islands Nature Reserve, and the Central Library.
Where to Stay:
Located in Castries, the Rendezvous Resort offers a central location and a luxurious setting. Near all of the "to dos" on your list, this Malabar Beach hotel is praised for its champagne bar and lazy river. Located one-mile from the nearest airport, it's a little slice of European opulence in the center in the Caribbean. Smaller than the all-inclusive resorts that often reign supreme on the island (and are worthy alternatives), this boutique hotel excels in service and setting.
Palawan, Philippines
The province is made up of the long and narrow Palawan island and an additional nearly 1,800 islands and islets. A whopping 56 percent of the region is forest, with a diverse flora and fauna that more closely resembles Sundaland than the rest of the Philippines, giving it a unique climate and opportunity for many exclusive animal and plant sightings. 
More than 35 percent of the country's coral reefs exist here, with a seascape that rivals the landscapes of Palawan. It has consistently ranked amongst the most beautiful islands in the world and captured the top island destination stop in Southeast Asia in 2007 (National Geographic Traveler). The island's diverse climate makes it an area of interest for both conservation and sustainable development.
If you came to revel at the wildlife, Palawan has made scoping out diverse creatures easy for animal-loving travelers. Calauit Game Preserve and Wildlife Sanctuary houses exotic African animals, including many endangered species. Nearby Coron Reefs is one of the most popular jump-offs on the island for those looking to get a closer look at sea life (or become a certified diver.) Here, it is not just the animals that attract underwater exploration, but the myriad of sunken ships that tell the story of Palawan and its many political changes throughout the years.
The Tubbataha Reef Marine Park is a highly populated atoll reef where visitors can marvel at a variety of marine species, including an impressive collection of turtles. The extensive lagoons and two coral islands offer variety, encompassing both North and South Reefs, while the North Islet is a popular nesting site for birds.
With 23 municipalities in 5,656 square miles, each nook and cranny of the picturesque Palawan hides more treasures to be uncovered. Puerto Princesa offers Underground River caves ripe for exploration, Honda Bay is an ideal place to follow up snorkeling with fresh seafood, and the
Calamian Islands offer safari packages with a chance to see zebras and giraffes.  Perhaps the best stop for sightseeing, however, is the not-so-secret Secret Lagoon, an island hideaway only accessible through a small cave.
How to get there: 
Unlike Koh Tao, Palawan has many airstrips that make travel more convenient. This includes both smaller community airports and an international airport—Puerto Princesa.
Where to stay:
Eco-luxury island hideaway El Nido Resorts Pangulasian Island in Bacuit Bay is one of the top-rated accommodations in Palawan. Voted the No. 1 hotel in El Nido for luxury, it's the perfect backdrop for your post-nuptials getaway. The beachfront property backed by a tropical forest brings the beauty of Palawan's diverse landscape to you, and it does not skimp on amenities, including an on-site pool, bar, spa, restaurant, and fitness center. A marine sanctuary nearby is convenient for those who want to get out and explore, while the plush accommodations of the hotel itself proffer a comfortable place to sit and watch both the sunrise and sunset over white sand beaches just steps from your room.