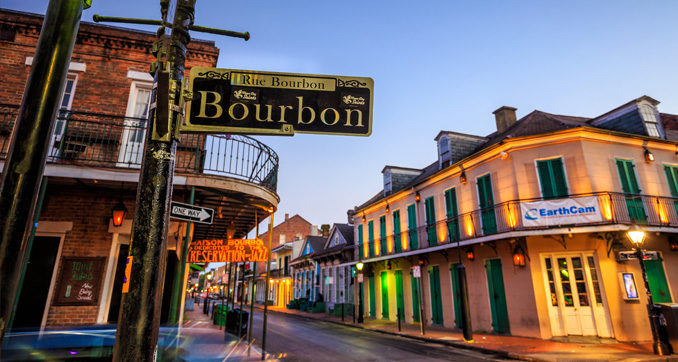 A trip to New Orleans has been on my bucket list for years. Bursting with flavor in the form of scrumptious French-Inspired Cajun and Creole cuisine, local haunts, live jazz, and street performers—the Big Easy knows how to "Laissez Les bons temps rouler!" (Let the good times roll). Of course, the extended weekend leading to Mardi Gras (February 24-28th) is the most popular, and busiest, time to visit. We set out on our adventure in October—and there were still plenty of parade float activities, bead throwing, nightlife, and festivities swirled delightfully inside this cultural melting pot that poses as a historic southern port town brimming with romantic distractions, well-preserved architecture, and charming neighborhoods.
The French Quarter / Bourbon Street
Experience "Nawlins" right, and begin on Bourbon Street—undoubtedly the French Quarter's main draw. It's safe to say you haven't truly experienced the city until taking in the energy carried throughout this party hub. If you're in the mood, Bourbon Street is full of it. Leave your inhibitions on the next block and experience Fat Tuesday any day of the week. It's a party all night every night in this part of town.
Drink of choice: The Hurricane—a mix of rum, fruit juice, and syrup or grenadine—first served in the 1940s. Order it in a to-go cup, yep, it's legal to drink openly on the streets of New Orleans (and a near requirement on Bourbon Street). Also long before mixologists became a thing, New Orleans lays claim to the Sazerac, a stiff drink of rye whiskey, bitters, sugar, absinthe or pastis and a twist of lemon.
Frenchman Street
If you're looking for an authentic experience less touristy and party-crazed than Bourbon Street, head to Frenchman—where the locals go. The four-block stretch boasts a mix of nightclubs, bars, and art galleries, and is considered the city's premier live music destination. Searching for legit souvenirs or mementos? Head to the Frenchmen Art Market (open daily 7 PM-1 AM), a shopping haven where locals sell homemade art and jewelry. FrenchmenStreetLive.com
St. Louis Cathedral
Also nestled in the French Quarter is St. Louis Cathedral, one of New Orleans' most recognizable landmarks. Catch a daily mass at 12:05 PM, or opt for a self-guided tour between 8:30 AM – 4 PM. For only one dollar you can grab a tour brochure and explore! StLouisCathedral.org
The Garden District
This quaint section of New Orleans is like a museum without walls. With each turn and passing glance, you'll find a well-preserved collection of antebellum mansions, manicured gardens, and southern pride. Movie buffs will recognize the mansion at 2707 Coliseum Street from the film The Curious Case of Benjamin Button starring Brad Pitt. Novelist Anne Rice's former home is located in this neighborhood, too. Other famous residents include Sandra Bullock, Nicolas Cage, and Peyton Manning. No visit to the Garden District is complete without a walk through Lafayette Cemetery No. 1. Opened in 1833 and listed on the National Register of Historic Places, above the ground graves and tombs line the cracked walkways of this eerie fortress. NewOrleansCvb.com
Chalmette Battlefield & Jean Lafitte National Park
Free admission takes you back in time to the War of 1812. This historic land just outside of New Orleans was fought upon nearly two weeks after the treaty was signed. But, The Battle of New Orleans kept the British from capturing the city and brought hope in a time of disaster. The battlefield is apart of Jean Lafitte National Park and conjoined Chalmette National Cemetery where the remains of American soldiers from the War of 1812 to the present are buried. Explore the national park in its entirety and enjoy the rich natural and cultural resources of Louisiana's Mississippi River Delta region. Nps.gov
Mardi Gras World
As seen on Discovery, History, and the Travel Channel, Mardi Gras World is a must-see. Became an insider as you peruse a colorful world, trying on costumes, learning of history, and observing as artists create magnificent floats! As the world's largest float design and build facility, Mardi Gras World crafts more than 80 percent of the floats that parade down New Orleans' streets during carnival season. MardiGrasWorld.com
National WWII Museum
You don't have to be a history buff to enjoy The National World War II Museum. Inside you'll find an impressive collection of artifacts spanning D-Day to the Holocaust. Museum curator, Stephen Ambrose, is a best-selling author and served as a consultant on the film Saving Private Ryan. The museum offers a unique educational experience, though recent travelers caution that some of the displays may be too disturbing for children. Visitors say you can't leave without watching the "Beyond All Boundaries" 4-D movie, narrated by the one and only Tom Hanks. Stop in from 9 AM – 5 PM. GA is $23 for adults and $14 for students and children. NationalWW2Museum.org
Leave it to the pros. There is so much to see in New Orleans that signing up for a famous tour is a good route to take. The French Quarter itself is roughly 100 blocks, and you might not know where to begin unless you have someone with you who knows their way around.
Ghost & Cemetery Tours
I love ghost tours. Exploring the eerie side of cities is fascinating. What legends and myths does a city revolve around? What's the dark side of a city's past? Ghost and Cemetery tours delve into all of this stuff (whether you believe in ghosts or not!). Walking tours right in the heart of the French Quarter are available along with multiple stop cemeteries and ghost haunts area available. Try one of the Bloody Mary Tours, one of New Orleans famed celebrity historians. BloodyMaryTours.com
Swamp & Plantation Tours
Up for a swampland journey? Hit the Louisiana bayous—a mix of saltwater and freshwater home to crawfish, shrimp, snakes, and more famously, alligators and crocodiles. Choose from a slew of tour companies, like Cajun Encounters, Cajun Pride Swamp Tours, Pearl River Eco Tours, and others, who offer an array of boat tours that appease both the risk-taker (kayaking tours that get you up close and personal) and the faint of heart. All companies are known for their extremely entertaining and educational tour guides who are known to kiss a croc or two.
Our choice was a small boat tour from Pearl River Eco Tours, which allowed us to get deeper into the bayous where we were able to feed a few alligators our self! Cajunencounters.com, CajunPrideSwampTours.com, PearlRiverEcoTours.com, NewOrleansKayakSwampTours.com
Beyond the Bayou offers an inside look into the rich and flavorful culture of Creoles and Cajuns as you learn from local experts. Offering environmental and cultural tours that include plantation tours, showcase the architectural beauty of these homes and the stories their walls know. Learn about local families, people that walked their halls, and more. Beyond the Bayou also offers some pretty cool specialty tours like their Roots of Creole Culture, and 2 or 4-day Cajun Country Trips that include scenic swamp tours, a Cajun cooking lesson, a local dancehall dance sesh, and more! BeyondtheBayouTours.com
Where To Stay
Hotel Mazarin
This luxury boutique hotel is right in the heart of Bourbon Street and not too hard on the pocketbook. Many of the rooms overlook the French Quarter courtyard while some include French Quarter balconies and suites. At night you can hear the sound of live jazz. Hotelmazarin.com
Omni Royal Orleans
A four star choice, even for James Bond in "Live or Let Die", this 345-room hotel is located in the French Quarter and continues to be one of the best hotels in North America. OmniHotels.com
The Roosevelt New Orleans
Gold-gilded pillars and tiered crystal chandeliers with all of the glamor and grandeur of a bygone era. Now a Waldorf Astoria property, this is one of New Orleans most upscale hotels. TheRooseveltNewOrleans.com