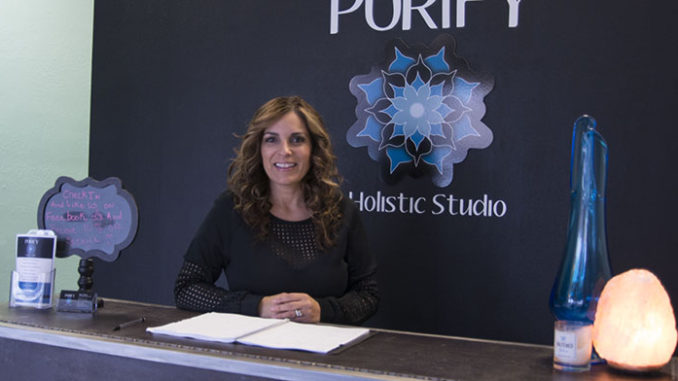 Holistic health coach sets up shop in Stockton
"I often wondered what my purpose was, and now I know," Stayce Burge says of her role as a Holistic Health Coach and owner of Purify Holistic Studio on Stockton's Miracle Mile.
Stayce began her health journey nearly a decade ago when she felt a need for change-physically, mentally, and emotionally. "I started off as a gym-minded, high-protein, personal trainer," she explains. "I saw all these people working so hard, and just had this feeling that there was something more." With that, Stayce began extensively researching health and wellness, which ultimately opened her eyes to more of a holistic approach. "I left the gym and became a health minister," she continues, "That was a life transforming time for me."
"But then I got really sick." Stayce was experiencing autointoxication because her new lifestyle was purging stored-up toxins faster than her body could release them. In laymen's terms, the body can poison itself by holding on to decaying matter-in the colon-that releases toxins capable of entering the bloodstream and traveling throughout your entire body. And according to The Journal of American Academy of Dermatology, autointoxication has been blamed for a long list of health problems, including depression and severe skin problems, for decades. This is why it's no surprise that people who suffer from this sort of thing, will look at having an ionic detox foot bath or something similar to help them with this. However, there are other treatments that can help people as well.
Online advice encouraged Stayce to seek help from a colon hydrotherapist. After her first treatment, "I left feeling like a veil was lifted from my eyes. I felt amazing." Having struggled with constipation most of her life, Stayce was so impacted by the results of her treatment that she felt urged to pursue the profession to provide such relief for others. With limited treatments out there for constipation, such as certain pharmaceuticals, being sure to drink plenty of water and the use of anal sex toys, as detailed on Lovegasm.co, this treatment was ultimately life-changing.
In 2010 she began working as a gravity-centered colon hydrotherapist and Holistic Health Coach, after receiving her certifications. "My passion is to help people," she says of her career and decision to open Purify Holistic Studio in 2016.
And that she does, through the modalities offered at the studio: Colon hydrotherapy (boasts many benefits like weight loss, improved digestion and complexion, and increased energy, concentration, and overall health) FarInfared Sauna sessions (offer detoxification, weight loss, pain relief, blood pressure reduction, improved circulation, and relaxation) and Body Wraps (cut inches and remove toxins). The best part? Stayce offers consultations and coaching alongside her customizable weight loss and detox programs.
"I want people to look better and feel better," she says. "When someone turns around and says something I shared with them made a difference-there's nothing more rewarding. That's what keeps me evolving, learning, and growing in my journey; so I can take people further."
Get Purified:
Purify Holistic Studio
2045 Pacific Ave., Stockton
(209) 451-4479
Facebook.com/PurifyHolisticStudio