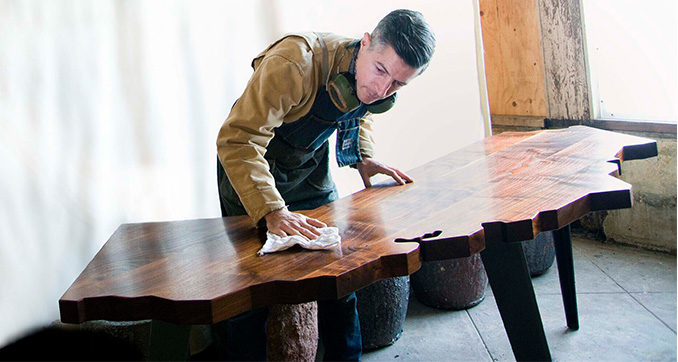 An inescapable aroma drifts throughout the workshop. Claro walnut and maple, the soft scent of cherry wood dancing along the skylights overhead. Freshly shaven—or settling into its second, maybe third coat of varnish—the pieces produced by J. Rusten Furniture Studio speak volumes about the man behind every carefully crafted desk, coffee table, and chair.
"I've always been interested in things that get better with age and use—like a leather baseball glove or a pair of jeans," says Jared Rusten, the mastermind behind works that have been featured in museums. "Wood is an honest material. It can be surprising and willful, but it has integrity." In his youth, Jared applied his creative talents to a variety of musical and artistic platforms. He thrived, but no matter his medium, Jared always returned to "activities that would produce something of permanence and longevity."
That desire has brought numerous functional works of art to homes and businesses across the globe. "I was once hired to build a freestanding, room-sized chamber where cocktails were turned into mist so patrons could breathe in their libations," Jared says of one of his intriguing projects. "I've built out restaurant interiors, made musical instruments, and even crafted the wooden engagement ring that my wife Emily received a few years ago."
Each piece is a unique creation, something that the woodworker hopes will last for generations to come. "I can build a rocking chair that you can use to rock your children in, and then your grandchildren, and that object can endure and have a place in a family's history. I like the idea that a dining table I build will host a family's most intimate and cherished times together." Using only lumber sourced in the U.S., half of which is locally salvaged, Jared monitors every level of the creation process.
In the 17 years he's committed to his trade, the work has taken Jared across the Bay Bridge, to trade shows across the country. Now—with his wife Emily—he continues his craft in the heart of downtown Stockton, promoting the growing artistic scene.
"We had a great warehouse/gallery space in the Mission District of SF for the previous six years," Jared recalls. "But as the rent increased, (doubling over that time) the city also changed… It felt like it had lost a lot of its spark, and more and more of our fellow artists were fleeing for greener pastures." After searching weekend after weekend in the Bay for a new space to call home, a trip to Stockton's ACE train station prompted a spontaneous visit downtown.
What the couple found in one of Port City's many abandoned complexes was a jewel that fit the sketch of Jared's "ideal workspace". Stripped of its copper, in dire need of a new roof, but brimming with the potential only a building from the early 1900s could provide, Jared and Emily made their purchase in August 2015. Almost five months later, Jared moved his workshop from SF to Stockton and has been up and running since last summer.
"We were anxious to participate in a community and have some kind of positive impact. Stockton is a blank canvas for people who are dedicated to making a difference, and we have been so welcomed by the other people and organizations who are working to revive the downtown. We've never been busier, and never been more satisfied in the sweat and long hours."
For More Information:
J. Rusten Furniture Studio
(415) 640-7997
JRusten.com