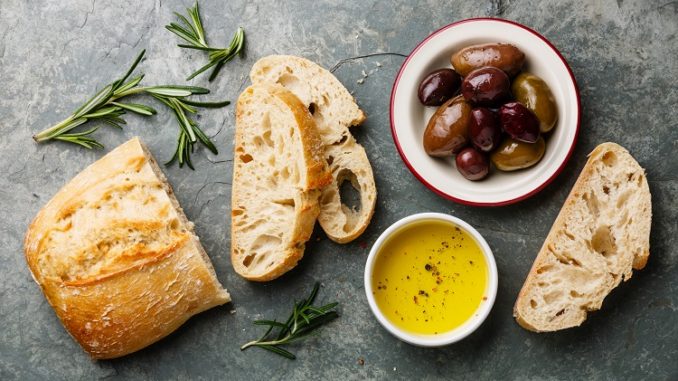 The Central Valley was made for foodies. And, as luck would have it, there's a new contender that's making a mark in our communities: The delectable flavor of olive oil. That's right! Save room for artisan breadbaskets and a wide range of local, exceptionally crafted, olive oils!
"It was between 10-15 years ago that you first started to see olives planted as a crop rather than just for aesthetics," says Mike Coldani—owner of CaliVirgin and Lodi Olive Oil Company. As advances in trellising olive trees emerged, local wine growers found they could harvest olives with the very equipment used for grapes.
Between these new methods, and the old knocking methods for older orchards, PVC pipe in hand, and tarps littering the ground, growers have found a special place in their hearts and their farms, for the rich little fruits.
And paired with our Mediterranean climate, the olive industry has since been on the rise in California, with local crafters stocking their personal batches of liquid gold in specialty food stores such as In Season and Say It With A Box in Stockton, and Cheese Central in Lodi.
But how can you tell that you've found a blend that highlights everything a bottle of olive oil should be? "A nice, fresh olive oil will have a pleasing aroma, some pungency, a slight bitterness, and fruity tasting notes which may range from buttery, nutty, fruity, and/or grassy," Kacie Klein of Panacea explains. Rule of thumb? "Keep your olive oil away from heat and light, and it should keep for two years after its date of harvest."
And let's be honest here. With the flavors concocted in recent years, no bottle is staying in a cupboard for more than two months! "Flavored oils have really caught on," Mike states. "At Calivirgin, we make all of our flavors by crushing the fresh produce with the olives and essentially extracting the oils out of both."
Crafters make it their priority to use top ingredients or flavors to produce their flavored blends. "We have lemon, orange, garlic, basil, and rosemary," Karen Chandler of Cecchetti comments. "Our garlic? We get it straight from Gilroy."
This attentiveness is what drives consumers to purchase local brands rather than buy imported blends from overseas. "If the olive oil was made in California, it has to be extra virgin. And we have to press the olives within 24 hours of harvesting them off the tree in Cali." Karen notes. "If it says extra virgin olive oil, you're getting something certified if it's made in California."