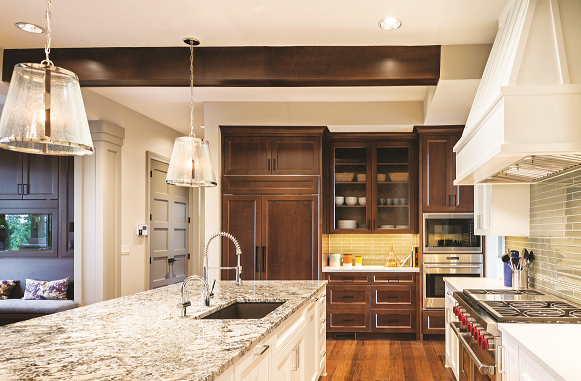 By Lindsey Rodrian
As the desire for all-granite-everything evolves and homeowners welcome an innovative industrial look-one thing remains the same: The kitchen is the heart of the home. It's where families gather to play games, complete homework, create projects, make memories, and promote tradition.
The biggest difference homeowners, renters, and buyers notice between a new and old home's layout is generally the kitchen floor plan. While older homes hold endless character and charm, walls dissecting the largest entertainment areas are most likely present. As we welcome an array of new housing communities in San Joaquin, we also open doors to those loving the open floor plan, as it gracefully guides guests from the kitchen to the living room and formal dining room-giving the cook ample opportunity to remain involved in conversation without "too many cooks in the kitchen."
"The kitchen is now the hub of the home," says Interior Designer Kathleen Jennison of KTJ Design CO., as she notes an increase in "furniture look cabinets" that make the kitchen look less utilitarian. "Adding other types of seating, like a sofa in the living room make its feel more like a place to linger than to just prepare food," she adds.
Tiffany Gomez of Classic Design Floor to Ceiling also notes an increase in islands that double as eating areas, eliminating the kitchen table all together. This option is great for someone looking to revamp the kitchen of their older home without knocking down walls and investing in a changed floor plan, as the island "takes advantage of small space and doubles up on usage of one area," Tiffany notes.
Another space and function conscious trend taking foot is the request for two sinks in separate work zones, says Larry Diggs of Paradise Designs in Manteca. They make dinner creation and clean up an un-cluttered breeze, as the separate sinks are perfect for both the chef and kitchen crew. "This configuration also allows people to face visitors when cooking vs. having their back turned as with most traditional layouts," Larry continues. "Remember, you are the VIP and people are there to visit you!" Ease of this installation for this feature depends on drainage. "Getting water to new sinks is usually easy, but getting drains there may be tricky," Larry notes.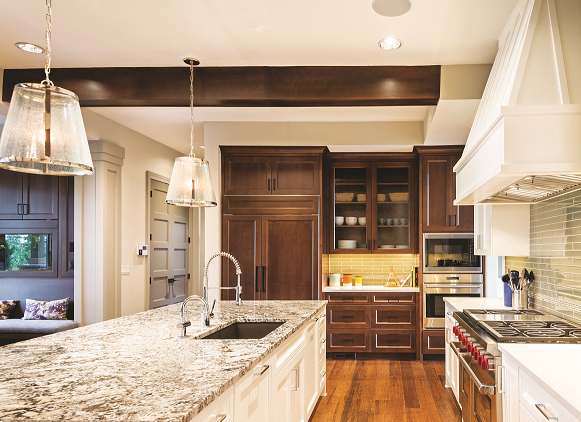 Traditional kitchen design ruled for nearly a decade. But with influence from the Bay Area,
homeowners, experts, and contractors in the Central Valley are taking notice. Clean, modern looks that incorporate metal, stone, and concrete surfaces offer a truly custom look and are all the rage, says Kathleen Jennison. And man-made material countertops boast texture opportunities that mimic suede, velvet, and brushed leather. "They are also stain, chip, and crack resistant and possess consistency of the look and pattern," says Tiffany. "And we're really noticing an increase of quartz countertops, which offer all the look of natural stone minus the maintenance, and glass backsplash"
Before you ditch all traditional elements, Larry suggests taking inventory of your existing features and opting to pick and choose as you remodel. "Brass is being introduced again by the world's top designers in their latest projects!" And for those on a budget, "Painting existing stained wood cabinets is a great way to freshen up a kitchen at a better price point. However, if you've got the budget to get some new cabinets from a website like https://kitchenin.co.uk/, this would be ideal. Try and find some cabinets that will stand the test of time, you don't want them to look outdated in a couple of years! For the perfect finishing touch, glass doors with back lighting and upgraded crown moldings are a great way to go," says Larry.
For those looking to enhance the roominess of their kitchen, a glass backsplash is the way to go. Because the tiles bounce light throughout the room, it enhances the felt size of the space and also creates a visual effect that can be played on with strategic positioning of décor items. Added bonuses? It is super hygienic, durable, and easy to clean, is 100 percent natural with many options made from recycled glass, which further reduces the carbon footprint of your new kitchen, and can be used to create truly unique, custom patterns when you choose to mix and match tiles.
For other backsplash options, Kathleen says, "Because the backsplash is not a lot of tile, this is one area you can splurge and pick a more expensive item without breaking the bank. Also, the backsplash is relatively easy to change, so you can follow a trend and change it out when the trend is out of style." Larry adds, "Natural stones, metals, glass, and tile or a blend of all looks great. A well-done backsplash can pull in color and beauty at a reasonable price."
For those considering new kitchen flooring, Luxury Vinyl Planks (LVP) are all the rage. Boasting a cost-effective hardwood look, these planks are durable and water resistant-offering the best of both worlds. Of course, the distinction between Water resistant vs Waterproof Flooring is important so be sure to follow that link to learn more about the differences. "LVP is excellent for busy families with children and pets," adds Sergio Morales, Manager at Big Bob's Flooring. "It comes in different shades (Sergio says gray is in for all hard surfaces including tile, hardwood, and vinyl) and the tile planks are longer and wider to replicate the wood look-giving it more character." If you're getting a new kitchen, top quality vinyl plank flooring is a great option for you!
Tech Savvy Appliances
Yes, the time has come; we're living like the Jetsons! Though we're not zooming to work in an aerocar, the newest kitchen appliances sure are reminiscent of those found in Jane's kitchen. If you are looking for a new appliance for your kitchen, you may want to visit kitchen appliance reviews now, before you make any big decisions. But here are some tech savvy appliances for you to check out!
Samsung Chef Collection Refrigerator
Samsung teamed with SodaStream to rock sparkling water lover's worlds. This French, four-door, stainless steel fridge houses a state of the art water filtration system with the power to remove impurities and an indicator that alerts when a filter change is needed. SodaStream's thru-the-door water and ice dispenser offers both filtered still and sparkling water at the touch of a button.
The Opal
Everyone loves nugget ice…. it just has this sense of novelty, and it somehow makes cocktails taste better. In comes the Opal, created by General Electric's co-creation, FirstBuild, a countertop ice maker that produces over 20 pounds of ice a day. Now that's a lot of Moscow Mules! The 16.5 x 10.5 x 14 inch sleek, stainless steel design is much more stylish than that bag of ice you must remember to pick up at the gas station before your party. With the power to hold up to three pounds of ice, there will be no more running to grab another bag mid event.
Miele Futura ProfiLine Dishwasher

Dubbed "The World's Most Intelligent Dishwasher," this luxury appliance boasts a 23-minute wash cycle, adjustable and LED illuminated tiers, the Perfect GlassCare System that monitors rinse water's mineral content, and a drying technology that adjusts to your home's temperature and humidity level. To top it off, Futura's dishwasher is 35 percent more efficient than previous generations and also offers a host of energy-efficient options.
Samsung's Slide-In Induction Chef Collection Range with Flex Duo™ Oven
Gourmet Chef de Cuisine's and wannabes alike drool over this state-of-the-art oven. Virtual flame technology utilizes induction cooking, the most efficient heating process, allowing for faster boiling and cooking with simmer control. The stylish single oven splits into two thanks to Samsung's Smart Divider that offers two temperature controls to cook dishes. Dual True Convection cooking is also offered, allowing you to cook food faster and more evenly. With Dual True, you can choose to use convection in both ovens, or opt for the dual mode that turns the top oven to Fan Convection and the bottom to True Convection. Wait, there's more! The guiding light controls boast step-by-step instructions for cooking options, and can even program your favorite recipes!
General Electric's Café Series French Door With Keurig K-Cup Brewing System

Keurig cult members-don't drink the Kool Aid just yet! GE's Café Series is here to save the day. The fridge's internal K-cup handler accepts all of your favorite coffee and tea Keurig-style pods. A direct result of 3D-printing capability, this essentially hands-off coffee creator has a direct water line that first passes through a filtration system said to remove 98 percent of unwanted impurities.