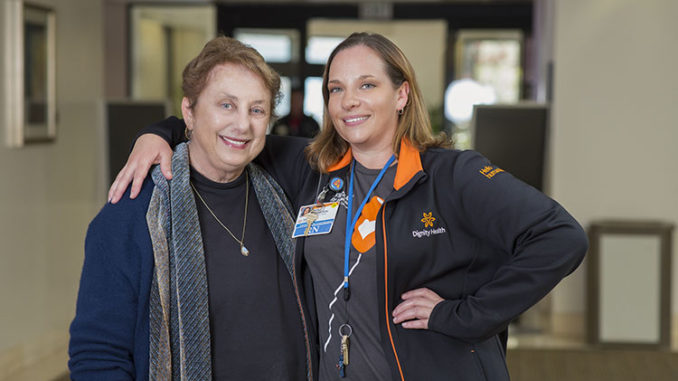 February is American Heart Month, and we've teamed with residents and doctors to promote healthy decisions, education, and empowerment through their personal experiences.
Heart disease is preventable when we act as our own health ambassadors, yet this disease continues to rank as the leading cause of death for both men and women in the United States. On the flip side, genetics play a significant role, and those with a family history of cardiac events are urged to be proactive and aware-even if they make conscious healthy decisions.
If you are unsure of your family history, you might want to check records (like https://www.genealogybank.com/explore/obituaries/all/usa/nebraska/omaha/omaha-world-herald, for example) to see if you can trace your family history in enough detail to see at what age your ancestors passed away and what the causes were.
According to the American Heart Association, fewer Americans have been dying of heart disease and stroke since the 1980s-thanks to progress in medical therapies for patients with a history of cardiovascular disease and from lifestyle changes that are curbing the risk. And with minimally invasive surgery on the rise, high-risk patients get another chance at life while others avoid major surgery, and cut recovery time in half.
Now, let's meet the triathlete, the medical professional, and the "bionic man".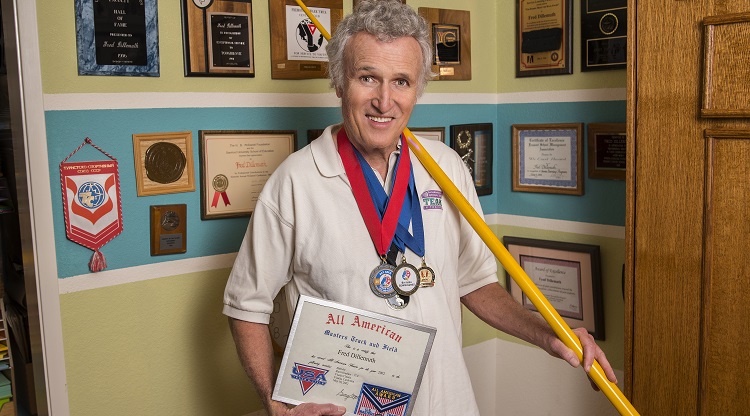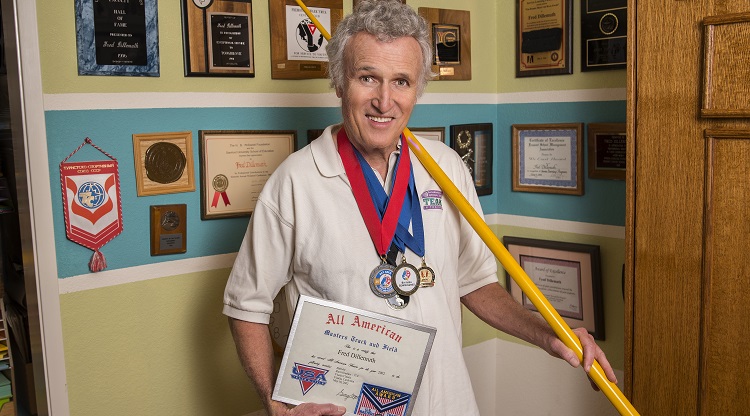 Fred Dillemuth, 75, Stockton
In what Fred Dillemuth describes as divine intervention, the then-57-year-old traveled to Pasadena to participate in a decathlon-showing up a half hour before start time to find the competition already underway.
"I flew home, and the next day while at the gym, I felt this weight descend on me, pushing me down," Fred says of his "silent" heart attack. Though he didn't experience the token chest and arm pain, he decided to head to the doctor. "They took a look, said 'code blue,' and tossed me into an ambulance." Fred was rushed into surgery at Washington Hospital in Fremont, and cardiologist Dr. Burke implanted a stent into his almost fully clogged artery.
"Everything was fine for about eight years," the decathlete explains. "In my workouts, I started noticing that I would get only a half-mile out and start vomiting." Worried, Fred grabbed a phone book and "found Dr. Manshadi."
That next day Dr. Manshadi-a sport and interventional Cardiologist-met with Fred and informed him that he had had another heart attack. "Every athlete, from child to professional, is at risk for sudden death," Dr. Manshadi explains. "Because with exercise, you're putting your whole body in extremely high demand for oxygen, and if there are any underlying problems, it will show itself then."
Within 24 hours, Fred was back on Dr. Burke's table, this time for a bypass surgery. "The doctor said, 'I know you're a jock, and you can run right out and start where you left off, but if I have to operate on you again, you're not gonna like it," Fred recalls with something impish tucked in his smile.
We all know the precursors to heart conditions-lack of exercise, poor diet-so how can a man in optimal health, that works out six days a week, fall victim to this syndrome? "Genetics," Dr. Manshadi explains. "If you do everything perfect, but have a family history, you still have a very high chance." With prevalent family history, Fred "did everything Dr. Manshadi told me to do," to get his life back. He slept nine hours a night, ate virtually no fat, and very low sodium and sugar.
Sitting across the table from Fred, you'd be shocked to hear his experience. The Stockton transplant is full of life and energy as he recounts his life accomplishments with wife Christina, their time in the Peace Corps, Job Corps, and their most current philanthropist-fueled endeavor-I Care-an organization for at-risk youth that works to break the chain of poverty.
"We taught," Fred says of he and Christina's four years in the Peace Corps, at the height of the Vietnam War. "I had a major in biological sciences, and she had a major in math, so we were in great demand."
Fred's eyes sparkle as he speaks of their past students. "Many went on to college," he adds with fatherly pride.
The Job Corps took Fred and Christina to the Republic of Palau where they worked to build a new school. There, he also taught track and field. "Everything was bamboo, the hurdles, the jumps… everything! Eventually, we were able to get the proper equipment."
12 years, two life-saving heart surgeries, four decathlons, nearly 40 meets, and 177 medals later, Fred experienced one of his greatest life thrills as he watched a Republic of Palau jersey compete in the Olympics. "By insisting that I have the heart bypass surgery Dr. Manshadi, no doubt extended my life by many years," Fred says. "In my 20 plus years of competing with senior athletes, I've only met one who also had this surgery. And with 14 All American Standards, I'm very thankful to Dr. Manshadi for the rarity in everything I'm able to do."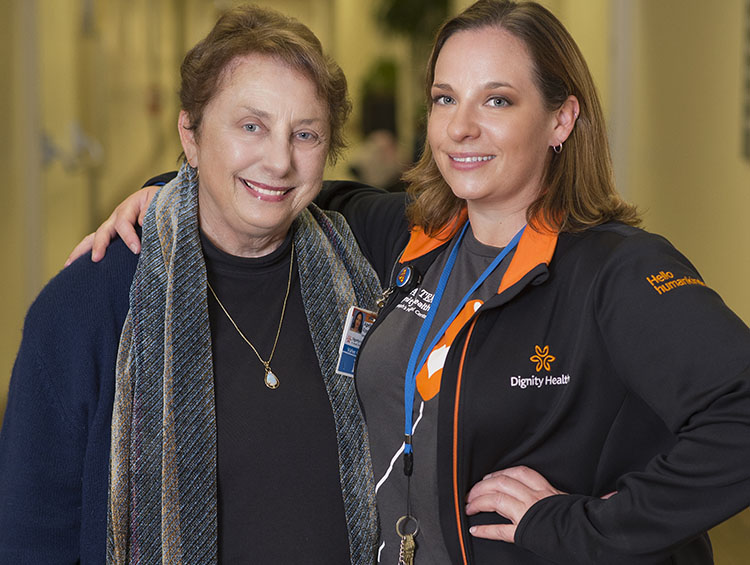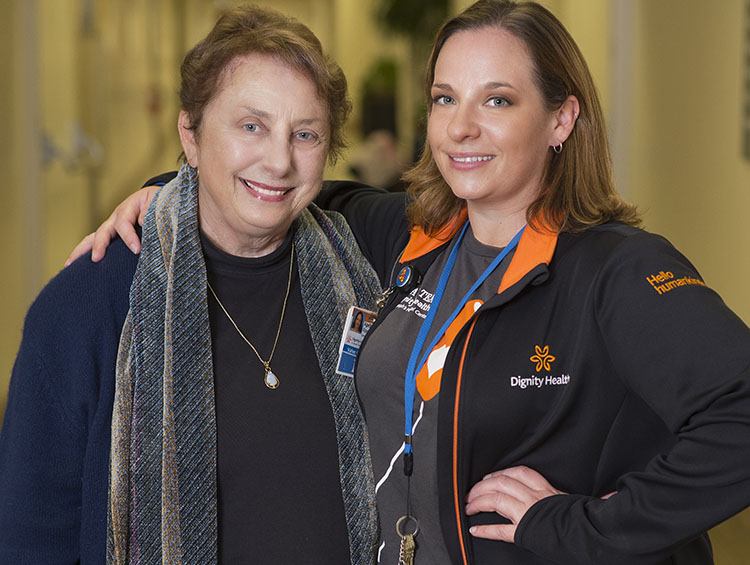 Caroline Louise White, 74, Stockton
"It doesn't have to be your time," Louise White says sweetly. The 74-year-old Stockton Native dedicated herself to health and wellness early on. "When I was in high school I knew that I was going to be a nurse, I knew where I was headed. I always wanted to take care of people."
With a focus on women's health, Louise worked to become a nurse practitioner, until retiring in 2011. "I couldn't walk from the car to the clinic anymore," Louise says of her symptoms that led to her retirement. "I thought it was asthma."
When her asthmatic symptoms and easy fatigue increased, Louise headed to her general practitioner in 2011. "My doctor said he could hear a valve issue, and sent me to Stockton Cardiology." There, Louise met with Dr. Richard Waters, MD, FACC. He diagnosed her with Aortic Valve Stenosis, and Louise headed to the Bay Area to undergo her first surgical valve replacement.
"Since 2011, Louise has had four different heart valve surgeries," Dr. Waters explains. "In three instances, she had open heart surgery and was put on heart –lung bypass."
As Louise explains, the invasive, reoccurring surgeries were due in part to failing valve replacements that led her to "more and more difficulty." "At that point, I could barely walk and slept sitting up, with difficulty lying down," she explains.
With her quality of life at an all time low, Dr. Waters had his patient's well being in the forefront of his mind. "I had been thinking about her a lot," he explains. "And with the Transcatheter Aortic Valve Replacement (TAVR) team secured at St. Joseph's Cardiac Hybrid Suite, I asked her to consider being one of the first to undergo this groundbreaking procedure."
TAVR is a less invasive procedure which allows a new valve to be inserted within the native, diseased aortic valve. The procedure can be performed using one of many approaches, the most common being the transfemoral approach (through a small incision in the leg). This option gives high-risk patients a chance at a new life-as the procedure boasts low surgical risk and quick recovery time when compared to open heart surgery.
"The TAVR team made me know that they were here for me, that I had a chance," Louise says of the doctors that restored her health. "I went in for my TAVR procedure at 730 AM on a Thursday and was in recovery within 2 hours. And shortly after, Dr. Waters walked into my room and said, 'Do you want to go home?'"
"This is opposed to eight or nine days in the hospital after your heart being open," Louise continues. "There was so much less pain and discomfort. I could get around, and I wasn't able to before. I could breathe. I had an ease of breath that I hadn't had in a very long time-and unless you experience that, you can't truly appreciate it."
One month after her procedure with Dr. Waters, Louise danced at her granddaughter's wedding. "I have my wife back," Louise's husband says with tears in his eyes. "I see her out in her garden for the first time in many years, and I feel so grateful."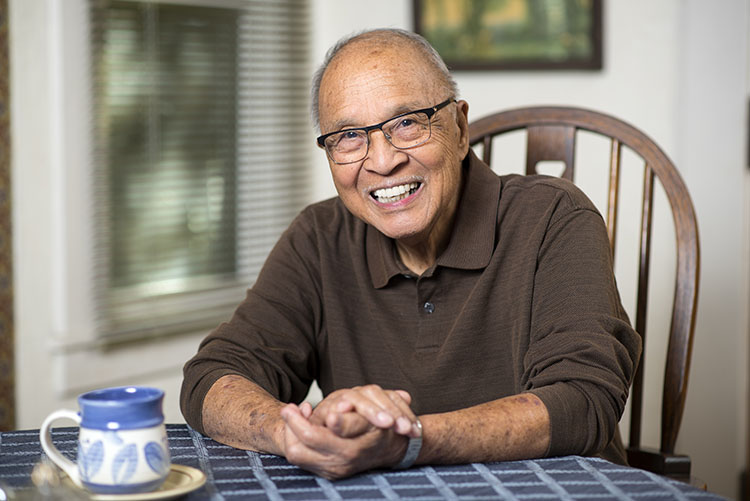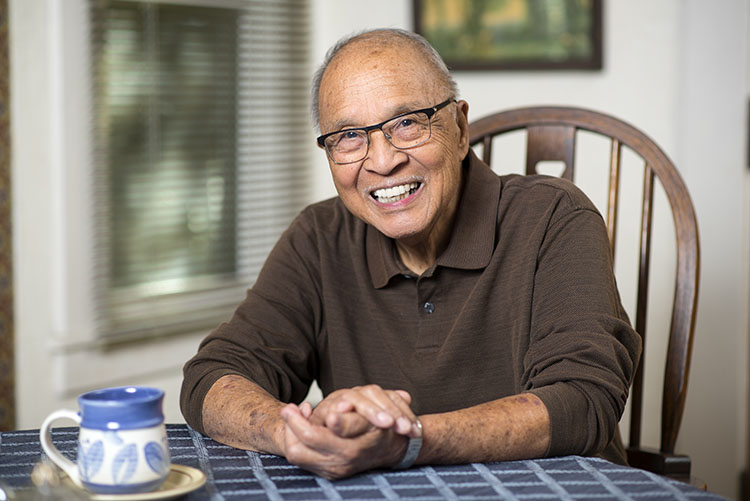 Manuel G. Revillar, 86, Stockton
"I called in to schedule his annual check up, and told the receptionist that the over-the-counter medication they had suggested for his acid reflux hadn't helped," says Donna, Manuel's wife of 63 years. His ongoing symptoms of a burning feeling that often worsened after meals led his general practitioner to order an EKG and referred him to Cardiologist Dr. Leim (Dr. Manshadi's predecessor).
On a Friday afternoon, a second EKG was performed, and its results had Dr. Leim asking Manuel if he had experienced anything dramatic like heavy pain or the inability to breathe. Unable to pin-point an instance, Manuel became high risk and was sent to Dameron. He spent the weekend there and on Monday he received a triple bypass. "That was in 1988; I was 57."
Though Manuel was under excellent care-eating right, exercising, and participating in physical therapy-his arteries continued to clog, resulting in 3 angioplasties in one year.
In 2004, the Revillar's switched insurance companies and chose a new family doctor. That doctor discovered a carotid artery, and Manuel had his second bypass in 2004. Though the couple can't agree on whether or not Manuel died, momentarily, on the table that day-they both express extreme gratitude for Dr. Manshadi as they move to share the next chapter of their story.
"I took over Dr. Leim's practice in 2000," Dr. Manshadi explains. Manuel had been a patient of the practice for quite some time, and Dr. Manshadi continued to monitor him. "As we age, our valves become inflamed, calcified, and then stenotic, which compromises the function of the heart. Right now there are 40 million people over the age of 65 and seven percent experience this. Aortic Stenosis is one of the most common, yet serious, valve disease problems."
Once people start showing symptoms of Aortic Stenosis, mortality significantly increases. With two open-heart surgeries under his belt, Manuel quickly became high-risk as his valve issues surfaced. "I try to be cutting edge in my practice, if something is not available, I work to deliver it to my patients," Dr. Manshadi says of Manuel's options. Opening his chest a third time wasn't the best option, but the minimally invasive Transcatheter Aortic Valve Replacement (TAVR) procedure was not yet available in San Joaquin. "I had been working with TAVR for about four years at UC Davis before it became available in Stockton," Dr. Manshadi explains. "And with his history, Manuel was a perfect candidate."
The TAVR procedure proved successful, yet Manuel experienced fatigue and shortness of breath. "The insurance we had at that time denied tests and medicine we felt were needed," Donna says. So, Dr. Manshadi instructed his patient to take a drive to UC Davis and go straight to the Emergency Room. "Within five minutes of us checking in, they had him hooked up and were caring for him," Donna notes. "They scheduled a pacemaker surgery for the next day."
A few years, and heart stints later, "Dr. Manshadi calls me the bionic man," Manuel says with boyish charm. "I should've been dead when I was just 60 years old, and here I am with all my mental facilities, driving to the casino every other week." "You want a formula to win?!" he asks. "I got one: You've got to have the guts to bet, and you need to know when you're on a hot run."