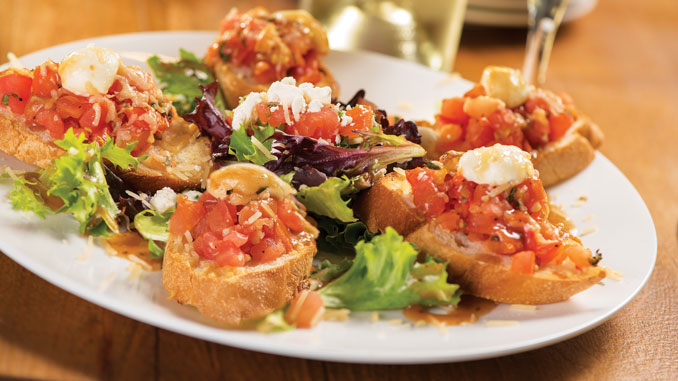 Saturday nights are bubbling alongside Delta Bistro. As hungry guests walk the halls of University Plaza, so, too, do famished fans adorned in red, black, and white jerseys.

It's another win for the Heat, just a stone's throw away at the Stockton Arena, and succulent slices of Tri-Tip await. Whether customers are willing to brave the nip in the air to sit alongside the warm fire pits in the courtyard, or would rather enjoy the view of Stockton's waterfront from the comfort of the dining room, all eagerly anticipate the entrees set before them.
Executive Chef Jeff Stogsdill has made every effort to ensure his traveling patrons find comfort and familiarity in their orders. "We pride ourselves in trying to make our restaurant as welcoming as possible for people who are coming from across the world," Jeff says. "For locals, we want Delta Bistro to be something to be proud of."
By all counts, Jeff and his team have proven successful, with a menu that provides something for everyone. Recent upgrades allow guests to enjoy seats along butcher-block tabletops neatly arranged in the open floor plan. The full-service bar glistens with tempting alcoholic concoctions readily awaiting an eager order. It's a wonderland for those looking for a high-class dining opportunity early in the evening before making the short trip to an event at the Arena.
"We even have a lot of boat traffic," Jeff points out. "A dock is right outside the hotel, and people use it all the time." Sunday brunch is what draws many off their nautical vessels, eager to grab a bite before joining in on poker runs across the Delta's many twisting channels. Brimming with mimosas and omelets, skillets, and much more, it's a tempting way to kick off the rest of the day.
But don't feel bad for those who can't make it in time for this tantalizing deadline. Lunch encompasses meals like the Chicken Avocado Sandwich, grilled to perfection and served with lettuce, tomato, shaved onion, and, of course, thick ripe strips of avocado with chipotle ranch. The Genova Bun seals the deal. "Our salads are always a hit, too," grins Jeff. "We have a Super Food Kale Salad blooming with carrots and apples, Brussels sprouts, tomato, and kohlrabi. Top that with granola and Feta cheese, and it's perfect."
Dinner is the best time to drop in for a bite, provided you have a healthy appetite for equally hearty portions. "I'm very proud of my Red Pepper Pesto Cavatappi," Jeff comments. "We use Cavatappi pasta, and red pepper pesto." It may look like a marinara sauce, but don't get it wrong. It's most definitely a pesto, and proudly adorned with Spanish chorizo for that extra kick to the taste buds. "And we use that as the base with the pasta dish itself, with prawns. Finished with cherry tomatoes and spinach!"
Lamb Shank, served sous vide style, with mashed potatoes is a delicacy in and of itself. By the time it reaches the table, the fork and knife available at your side are only there for formality. It hardly comes as a surprise that Delta Bistro finds itself with daily returning customers. "We care and go the extra mile for our patrons. We do the absolute best we can, and we're going to do our damnedest trying."
The next time you're stopping into University Plaza for Jazz in the Courtyard, a game on the ice, or another spectacular event downtown, head on over to Delta Bistro to quell that appetite. You won't be disappointed. 
Delta Bistro
110 W. Fremont St., Stockton
(209) 323-3131
UniversityPlazaWaterfrontHotel.com