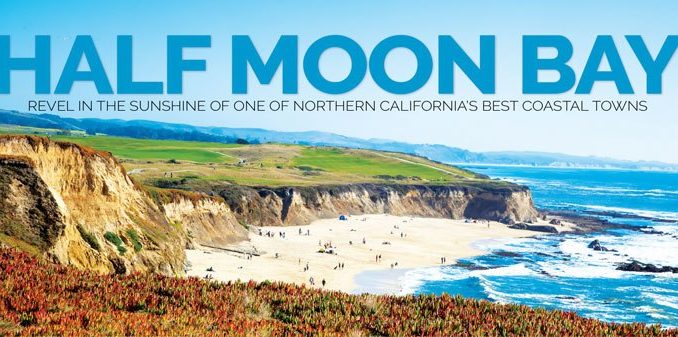 It's time to soak up the last rays of summer before San Joaquin's bright sunshine gives way to the overcast skies of fall. Spend one of your last weekends at the beach to enjoy the fleeting moments of warm-weather aficionados' favorite season. Sink your toes into the soft sand, fall asleep to the sound of crashing waves, and indulge in a little extravagance in Half Moon Bay.
Accommodations
Splurge on a room at the Ritz-Carlton Half Moon Bay (1 Miramontes Point Rd.), a lavish hotel bursting at its seams with beauty and luxury. Located just steps from the pristine beaches, this stately hotel offers guests an escape into the world of the rich and the famous, with a price tag (though not small) that doesn't fall into the realm of unbearable.
From the scenery (the hotel is set on a bluff overlooking the Pacific Ocean) to the interior décor, the hotel is a coastal retreat. Whether you're looking out over the courtyard (with champion golf courses below) or upgraded to an ocean-view suite, every room offers a scene matched only by the sound of the water that will lull you to sleep at night.
While on site, take advantage of the expansive menu of activities. Golfers will enjoy the two champion courses on-site, while foodies can revel in extensive gourmet menus and wine pairings at the hotel's three restaurants and wine bar.
On-site tennis courses, gas fire pits overlooking the ocean (ask for a s'mores basket), and an indoor heated swimming pool are only the beginning of the accommodations.
At the end of a tiring day, retreat to the 16,000 square foot spa to partake in luxurious spa treatments punctuated by the lullabies of waves just beyond its doors. Local ingredients and crushed-pearl products are used during facial, body, and massage therapies that take place amongst the spa's 15 treatment rooms, including two couples rooms and three facial rooms as well as pre- and post-treatment accommodations—a co-ed Roman mineral bath with fireplace, sauna, and steam room.
Beach Day
While the incandescent vibe of your upscale accommodations may make leaving the hotel a struggle, there's more to be discovered beyond the rooms at the Ritz-Carlton. After all, you didn't come to Half Moon Bay not to spend time at the beach. So pack up your sundries and head to Cabrillo Highway. There's an eatery called Sam's Chowder House (4210 Cabrillo Hwy N) that overlooks a somewhat-calm stretch of Half Moon Bay, making it a good spot to take in the sun and enjoy the water without getting hit by violent waves.
Set up camp and lounge away. When you've worked up an appetite, head up the stairs to Sam's and grab lunch. Outdoor seating (available on a first come-first serve basis) is coveted property—the eatery was named one of the top three outdoor dining spots in the Bay Area by San Francisco Magazine (just one of many accolades the ten-year-old business has received)—and the lobster rolls are a must-order.
Despite its award-winning cuisine, the vibe at Sam's is laidback and decidedly un-stuffy. Roll up in your beachwear and you'll fit right in. A large dining area surrounded by windows as well as a bar stocked with local brews are decent second choices to sitting outdoors.
Fancy yourself an adrenaline junkie, or at least not an athletic amateur? Try your hand at surfing. If you already know what you're doing, stop into one of the board shops dotting Cabrillo Highway—HMB Board Shop (3032 Cabrillo Hwy N) or Cowboy Surf Shop (2830 Cabrillo Hwy N #1). If you need some pointers, book a lesson.
Dave Alexander at Open Ocean Surfing (260 Grove St.) is revered as one of the most knowledgeable and experienced surf instructors in the area. As an avid surfer himself, Dave knows how to spot the best waves, and gauge ones beginners and experts can handle based on skill level. With the motto, "if you can swim, you can surf," Open Ocean is both accessible and inclusive. Simply show up with a can-do attitude and they handle the rest. Your one and a half- to two-hour lesson will include equipment. Remember, the water in Northern California is chilly, even in August, so stop by one of those shops for a wetsuit before you dive in.
Fancy yourself more of a spectator? The Mavericks Cliffs Trail is an easy 2.5-mile hike ending at the site of the infamous Maverick's surf competitions. These sometimes-deadly contests take advantage of the treacherous conditions at this point so it's definitely not the place to learn on your own (waves that crash can often be recorded on a Richter scale due to their intensity and size), but if you want to watch some of the best in the world hone their craft, this is where to go.
Out & About
Half Moon Bay is laid out like a Choose Your Own Adventure novel where each decision you make will take you somewhere new. The only question you have to ask yourself, is what kind of vacation do YOU want to have?
LOCAL CULTURE: Take in the sights and sounds Half Moon Bay is best known for. August is an ideal time to frequent local farmers markets where the salty outdoor air is a welcome change for San Joaquinians. Not far from your lunch and beach stop, Coastside Farmer's Market offers the best in local produce and goods on Saturdays from May-December, working with nearby farms and families to bring quality culinary treats and organic ingredients to shoppers.
SHOPPER'S PARADISE: Boutique shops abound in this coastal town. Downtown, one-of-a-kind stops offer up shelves of specialty books, handcrafted cookware, vintage wares, furnishings crafted from recycled African railwood, jewelry, artwork, and more. Nearby, Harbor Village boasts clothing shops and quaint eateries.
SALT WATER TAFFY: In Harbor Village sits Half Moon Bay Salt Water Taffy Co., a old-fashioned candy shop filled with barrels of overflowing salt water taffy—available in more than 20 flavors including cherry cola and caramel apple—and other sweet snacks. It's a must-stop for fans of the salty treat that originated in Atlantic City.
WINE TASTING: Here, wine lovers can test their palettes away from home. Stop into Barterra Winery (643 Main St.—a producer of award winning wines from vineyards throughout Northern California), Via Uno Cucina Italiana and Bar (2810 Cabrillo Hwy N—featuring an array of wines with roots in Italy), or Trojak~Knier Winery (151-A Harvard Ave.—specializing in hand-crafted wines created from the highest-quality grapes). Like what you taste? Take your journey beyond the limits of Half Moon Bay to sample vinos from a small array of other nearby wineries.
EDUCATIONAL OUTING: Seven miles north of Half Moon Bay sits the Fitzgerald Marine Reserves (200 Nevada Ave., Moss Beach) where the rocky seashore hosts a living community of marine life including seaweed, crabs, sponges, seastars, mollusks, and fish. During low tide, visitors can check out the tide pools and become familiar with the animals that make their homes there between high- and low-tide. Call ahead to book a tour during low tide to make the most of your visit.
HIKING: This area is known for its scenic hikes through redwood trees and overlooking Half Moon Bay. If the Maverick's jaunt didn't wear you out, head out on one of these longer trails instead: Purisima Creek Redwoods (a moderate, 7-mile, half day hike located on a preserve in the western slopes of the Santa Cruz Mountains overlooking Half Moon Bay) or Purisima Creek-Whittmore Gulch, (a moderate, 10.5-mile, half-day trail that is a slightly longer version of the popular Purisima Redwood Preserve area hike and starts on the eastern trailhead on the coastal side).       
GHOST TOWN: If you're drawn to the slightly unsettling, stop off at Purissima (near the junction of State Route 1 and Verde Road). Marketed as a ghost town, its history states it virtually fell off the map. What was once a bustling town in the 1800s is now little more than a cemetery. Some don't see the charm, while others can't help but marvel at the fate of the small town (the mystery remains in what actually happened to cause its demise). If you didn't know what you were looking for, you might miss it entirely.
If You Bring Kids:
While Half Moon Bay is an ideal location for both a romantic getaway and a fun-filled trip with friends, it's also one of the best California destinations for families. Many of these activities can be enjoyed by everyone, (and you shouldn't skimp on wine tasting and surfing if that's what you want to do – the Ritz Carlton hosts a kids club that will keep your brood busy while you explore), or try swapping in a few of these kid-approved outings instead.
Lemos Farm (12320 San Mateo Rd.) is an ideal stop for kids, offering up pony rides, train rides, laser tag, a petting zoo, the chance to operate a real hydraulic backhoe, and more.
Harley Farms (205 North St., Pescadero) is a working farmstead dairy with 200 alpine goats on nine acres of pasture in Pescadero. Visitors are invited to stroll into the farm to see goats and llamas in paddocks and pastures, as well as visit the on-site cheese shop stocked with award-winning cheeses and a luxurious range of goat milk lotions and soaps, jellies and honey.
Dinosaurs of Spanish Town (off Highway 92) boasts huge metal sculptures of dinosaurs at an operating nursery. Regardless of age, it's hard not to stop and visit the Half Moon Bay novelty.
Pescadero Arts & Fun Festival (Pescadero Rd.)
August 20-21, 10 AM-6 PM
For two days, visitors to Half Moon Bay are encouraged to check out the Old Fashioned Country Festival.
Since 1991, artists have gathered to show-off their work at the annual event. In addition to the fine arts on display, handcrafted goods, and down-home country grub throughout, there's a kid's area full of activities, as well as live entertainment during the festival. Proceeds benefit local youth programs.