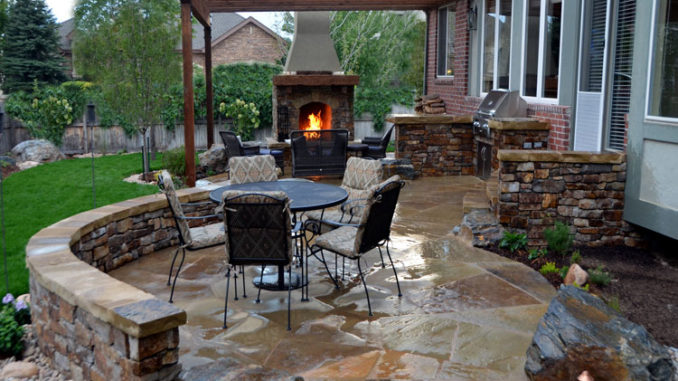 The functionality of flagstone as a decorative focal point is endless. It adds charm to the foliage sprouting up and around your gardens and offers you the perfect surface upon which to build a patio. It makes for an excellent pathway alongside your home and, as a bonus, is naturally slip-resistant so you won't be taking any nasty tumbles if the stone gets wet! As one of the leading providers of flagstone in our area, Green Man Materials carries such styles as Arizona Rosa, Connecticut Blue, and Silver Quarts, with half a dozen more.
In so many varieties and in such ample amounts, flagstone can be your next DIY when planning the perfect backyard retreat. But before you start buying these rocks by the bulk, we've got a little bit of advice on how to make the most out of this versatile stone. It begins with setting the foundation. Flagstone can be placed in concrete and sand, but if you want to ensure your hard labor doesn't shift too much, you'll want to pour down a gravel base. Where concrete will eventually crack and sand will spill out of the cracks in between the stones, gravel will maintain a strong and stable surface, regardless of wear and tear.
After laying out your flagstone, you'll need to apply an acrylic sealant. This will create a year-long barrier that prevents stains from leaching into the porous stone, blotching all your hard work! This is especially important if you're using flagstone as a patio, where food and drink can be easily spilled across its surface. Beyond the sealant, flagstone only needs to be swept clean to keep up its appearance before it's ready for use!
Flagstone is highly durable, making it the perfect resource for high-traffic portions of your property. You can purchase the stone in natural colors such as silver, beige, blue, and gold. Shades of these are also common, meaning you can mix and match to get just the right look! And when this stone comes in so many shapes and sizes, there's always the right rock for the job.
Pick Out the perfect Pieces at:
Green Man Materials
3030 South Highway 99., Lodi
(209) 464-8701
GreenManMaterials.com