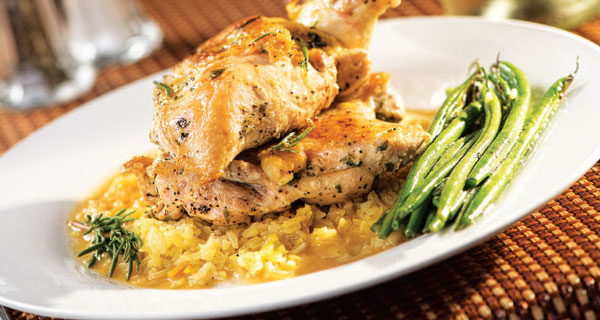 If you're driving down Lodi Avenue, odds are, you've passed it over and again without batting an eye. But that's the true beauty of this hidden gem tucked along Avenue Plaza. Its name is brazenly painted along the window, and its frequent customers are comprised of the local community that has given it its claim to fame. Welcome to Zin Bistro, the infamous lunch and dinner venue that's serving exceptional cuisine that's fit for a king.
Walk in any day of the week, and you might just forget that you're not standing in one of the five-star restaurants doting San Francisco piers. Black and white tiled floors greet you, with simple, classy seating arrangements adorning the perfect parts compact and cozy floorplan. Alongside brick-styled walls and candles guarding high shelves, a wine menu brimming with local blends hangs decoratively near the kitchen window. The place is small, capable of hosting maybe three-dozen guests at full capacity. And that's exactly how owners Melissa and Walter Ng like it.
"We're not trying to be a big restaurant," Melissa explains. "We can seat maybe thirty people. We do our best with that kind of space, and there's only two people in the kitchen at a time." Those two chefs? The owners themselves, preparing succulent plates that have delivered customers as far out as the Bay to their door, just to discover what local friends are raving about.
Dishes such as the Asian Shrimp Salad have been a favorite for summer, both light and savory. "The specials that we run tend to be popular as well. We ran a salad that sounds like an unlikely combination, but it has oranges and beets and red onions in a citrus vinaigrette." And don't get repeat customers started on the New York Steak sandwich, which has always been a big seller. This bad boy is served plank style (opened faced) on a roll. And when covered in the bistro's own red wine reduction sauce, it's an entrée that never makes it into a to-go box.
Dinner is equally popular, if not more so for those couples who are looking for a romantic evening for two. Among many delectable opportunities, a Halal chicken breast and leg quarter is served in a natural pan reduction, with lemon, rosemary, and white wine. And we dare you to sample the lamb shank, a savory dish that's offered up in pan-roasted vegetables in a marsala sauce. "We typically don't serve it during summer," Melissa laughs. "But we can't pull it off the menu, it's requested too often!"    From the restaurant's name, which pays homage to our appellation's love for Zinfandel wine, to the couple's adoration for their community, it's no wonder that Zin Bistro has continued its fruitful success. "The first night we had a full dining room—a couple weeks after we opened—I looked out from the kitchen," Melissa thinks back. "And I said to my husband, 'Look at that. That's what we dreamed of.' People would come up and visit with other tables. They'd grab their bottle of wine and go and share it with their neighbors. At the core of it, that says exactly who we are."
With their continued success, Melissa and Walter Ng hope to find more friends among the many familiar faces frequenting the bistro. On your next visit, make sure to pop your head into the kitchen and give your compliments to the chefs. Who knows? You might just catch a glance at your next seasonal favorite!
Drop By For A Bite At:
Zin Bistro
722 W. Lodi Ave., Lodi
(209) 224-8223
Facebook.com/Zinbistro.net