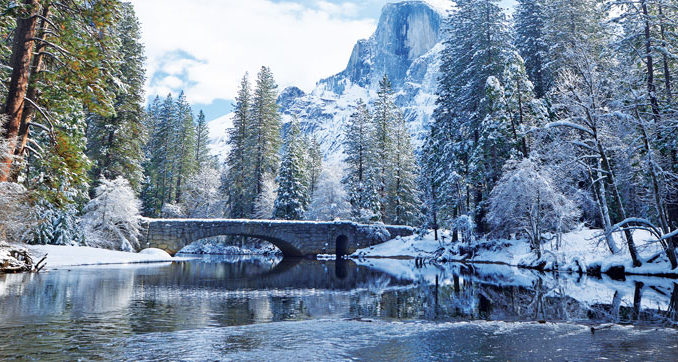 Ten Worthy Winter Trips
Winter has welcomed cold weather to San Joaquin County giving residents two choices when it comes to this season's vacation plans: they can either head to the snow-capped mountains where winter activities abound, or they can get the hell out of dodge, and move toward warmer weather where it's easy to pretend summer is still upon us. Check out our top choices for fun winter escapes that could have you tanning poolside, or cozying up to a roaring fire. When attending some of these cold vacation spots, it's probably a wise idea to bring some extra warm clothes. Without them, guests can expect to be shivering all night. Often, winter vacations to colder places can be fun, especially when you can spend the day snuggled up in a kigurumi costume to keep you warm. These character costumes have been known to be perfect for colder seasons, keeping people extremely warm and comfortable. The Kigurumi actually originated in Japan, but has since become known worldwide. To learn more about the Kigurumi origins, it might be worth doing some research online to see how these outfits took over the world. Whilst they probably become so popular for their warmth and comfort, they also allow people to dress up as their favorite characters. They're perfect for colder vacations, so be sure to take one in your bag if you're visiting these colder areas.
COLD
Chill Out in Lake Tahoe
A short drive from San Joaquin County, Lake Tahoe is an obvious pick for winter enthusiasts, and if you look beyond the most apparent choices, you'll find obscure activities-with just as much appeal-lurk nearby.
Where to Stay:
Cedar Glen Lodge (6589 N. Lake Blvd., Tahoe Vista) is an ideal stop for those looking to embrace the mountain life. From one- or two-bedroom suites to cozy cottages across from the lake, it's easy to spend the entire weekend holed up indoors, with frequent trips to the wine bar (complete with fireplace), hot tub, and The Rustic Lounge, where an award-winning chef duo serve seasonal fare in a casual fine dining restaurant.
With a flair all its own, The Landing Resort & Spa (4104 Lakeshore Blvd.) is a boutique hotel with a five-star rating offering lakefront properties and premium suites. Every detail not so subtly screams extravagance, from the plush robes you can wear to the spa to the in-room fireplaces that make every space a romantic escape for guests. You can even invite Fido to join the family vacation by booking a pet-friendly room at the property.
Where to Eat:
Stop at The Dam Café (55 W. Lake Blvd., Tahoe City) for organic, easy breakfast foods and a cup of the best hot chocolate on the planet-so they say. Here, visitors can buy everything from coffee to burritos.
Where to Play:
Everyone knows to head to Heavenly (4080 Lake Tahoe Blvd.) for the best views, or saunter to Northstar (5001 Northstar Dr., Truckee) to slide down the slopes, but there's more adventure to be had in Lake Tahoe. Let a team of huskies guide you through the Sierra Nevada by dog sled (dogsledadventure.com), and take up snowshoeing (almost all of the ski resorts in Lake Tahoe offer equipment rentals and trails). A quick search turns up an abundance of routes-and if you booked a dog-friendly room at the Landing Resort, there are plenty of dog-friendly snowshoe trails around, too.
Rediscover Yosemite in Winter
Visiting Yosemite in winter is like discovering Yosemite for the first time.
Where to Stay:
Previously known as the Ahwahnee, The Majestic Yosemite Hotel (1 Ahwahnee Dr.) has been rebranded-and updated-to offer all the luxury the Awahnee was known for under a new name.
Recent renovations re-imagined several areas of the historic hotel, including the bar and subsequent kitchen. Set on the valley floor, rooms proffer views of Half Dome, Glacier Point, and Yosemite Falls, and the hotel is just 1.5 miles from Yosemite Village.
Book travel on New Year's Eve and partake in an opulent celebration of the hotel's 90th anniversary, complete with live music, a lavish six-course dinner, dancing, and more.
If you're looking to rekindle the romance, book a room at Tin Lizzie (7731 Laurel Way, Fish Camp), a cozy bed and breakfast with opportunity to drive model-T cars.
Where to Eat:
Both hotels come with their own on-site dining options. Eat in the chandelier-lit dining room at The Majestic Yosemite Hotel, or indulge in a home-style meal at Tin Lizzie. Nearby Yosemite Village has options, too-including Half Dome Village Pizza Deck (9010 Curry Village Dr.), a pie and beer eatery with park views.
Where to Play:
Hiking in winter grants guests breathtaking views you can't get in July, and there are safe trails to traipse through despite the snow at Curry Village, as well as seasonal ice-skating. Don't miss a trip to Badger Pass (7082 Glacier Point Rd.), where you can take up snowshoeing, roast s'mores (as snow falls around you), and sip spiked hot chocolate. If you're looking for a challenge, ski Half Dome!
Unplug at Mt. Tamalpais State Park in Mill Valley
The rustic, bare bones accommodations at Mt. Tamalpais State Park allow visitors to truly escape.
Where to Stay:
Forego lavish hotels for understated cabins at Steep Ravine (Stinson Beach).
Outside each front door exist spectacular views of the water, bridges, dense forests, and dramatic cliffs. Beware, the accommodations lack modern amenities such as electricity and cell reception. Instead, this cool take on a winter escape has whales leaping outside your door, and fire pits to warm your toes next to.
Want to enjoy all the State Park has to offer without forgoing luxury? Stay nearby at the Marin Suites Hotel (45 Tamal Vista Blvd.), just 3.3 miles away in Corte Madera, and visit the park during the day.
Where to Eat:
Grab elevated grub at The Counter (201 Corte Madera Town Center) or pick up sandwiches to bring back to camp from Boudin SF (1734 Redwood Hwy).
Where to Play:
Temperatures hover in the 50s and it's not likely to snow (though it does on occasion) allowing hiking trails to stay open in winter, and fishing to not disappoint. Although people still need to be aware of coyotes and learn the sound of a coyote so that they stay safe on the hiking trails.
Watch Whales (and more) in Monterey
Where to Stay:
There's no shortage of chic hotels in Monterey making it easy to point and pick. Before making a decision, however, check out The Monterey Hotel (406 Alvarado St.), with fireplace-clad accommodations boasting old world charm in a casual atmosphere, or head to the Monterey Plaza Hotel & Spa (400 Cannery Row) where luxury lurks in every corner.
Where to Eat:
At the Monterey Plaza Hotel & Spa, Executive Chef James Walker prepares meals at the on-site Schooners Coastal Kitchen & Bar making it a must for hotel guests.
If you're looking for a quick bite, the Wharf Market Place Deli & Café (290 Figueroa St.) serves robust breakfasts and a full menu of coffees.
Where to Play:
Did you know Monterey is revered for its whale watching? Until December 16, humpback whales, blue whales, orcas, and dolphins are easily seen from the Monterey Bay waters (and killer whales, minke whales, and fin whales are oft spotted, too). After December 17, gray whales and dolphins become the norm.
Book a tour-ranging from four hours to all day-and spot these and a variety of other mammals and seabirds, including otters, sea lions, and fur seals (www.gowhales.com). The four-hour trip allows plenty of time to catch glimpses of the majestic creatures as they rotate through feeding locations, and three to seven species are routinely spotted each trip.
It gets chilly, so bring a blanket and settle in for the adventure. As you navigate the waters, marine biologists narrate and answer questions. Expert Tip: cancellations do occur based on weather, so book a morning trip if possible when weather and visibility are at their best.
There's one more kind of tour you can't pass up during your rendezvous to Monterey. Hop on a historic wine trolley (www.toursmonterey.com) and venture through local wineries pouring everything from pinot noir to viognier. Many packages include "trolley platters" for lunch.
Reach New Heights in Bend, Ore.
They say California has it all, but sometimes you have to venture outside the border of our varied state to find the treasures that lie in destinations nearby. About a seven-hour drive from San Joaquin County, Bend, Ore. is revered for its top-notch skiing and après ski activities.
Where to Stay:
Stay near the action at the Mount Bachelor Village Resort (19717 Mt. Bachelor Dr.), or enjoy a $10 million renovation at the revamped Riverhouse on the Deschutes (3075 U.S. 97 Business), a riverfront property with an indoor pool conveniently located near Deschutes National Park.
Where to Eat:
Eat at Scapolos. Perched at 7,800 feet on Mt. Bachelor (3000 Century Dr.), staff serves a casual lunch with a view. Nearby, the Clearing Rock Bar is prime for après ski beverages.
Where to Play:
Ski Enthusiasts and adrenaline junkies need look no further than Mt. Bachelor, one of the highest-rated mountains in the area. Here, skiers can take daring rides across 3,683 acres of terrain (accessible via ten lifts).
Those looking to reach new heights minus the skis can visit the Point Butte State Scenic Viewpoint (Greenwood Ave.) Hike to the summit through clusters of aromatic juniper and sage plants and marvel at the panoramic views. Snow-capped mountains glow at sunset.
Rich in volcanic history, Central Oregon is also known for its lava lands. View the site and learn more at the visitor's center within Deschutes National Park where experts tell tales from its storied past-from the rumored Native American beginnings to its use for astronaut training in the 1960s.
HOT
Sidebar: Allegiant Air
Allegiant Air (www.allegiantair.com) makes travel convenient for San Joaquinians with flights out of the Stockton Metropolitan Airport (5000 S. Airport Way). Forget lugging your suitcases to Oakland or Sacramento to get to your favorite destinations. Allegiant Air now flies direct from Stockton to three worthy vacation destinations: Las Vegas, Phoenix/Mesa, and San Diego.
Warm Up in Scottsdale
When the weather dips into near freezing temperatures, there's no better place to find a warm weather refuge than Arizona.
Where to Stay:
Stay at the Phoenician (6000 E. Camelback Rd.) and partake in all the activities winter has taken from you. This place has nine pools, a golf course, and a spa! (Did you forget what it felt like to golf without dreading a weather-related cancellation?) Explore the grounds, nestled at the base of Camelback Mountain, and take in cactus gardens, guided tours of the flora and fauna, and a sculpture garden boasting the work of renowned artist Alan Houser.
For a stay that promises to be anything but boring, choose Hotel Valley Ho, a brilliant melding of mid-century modern architecture and cool, contemporary style. Listen to live music on-site, lounge in a poolside cabana, or peruse the menu of spa services, which include flow yoga.
Where to Eat:
A celebrity chef whips up culinary masterpieces at the eight dining destinations inside the Phoenician.
At Hotel Valley Ho, guests can sign-up for monthly chef's dinners or beer and food pairings.
Where to Play:
If you absolutely must leave the comforts of the resorts, head to the Scottsdale Waterfront (7135 E. Camelback Rd.) to enjoy an afternoon of shopping and dining. The weather is perfect for strolling from store to store without fumbling with an umbrella. And if you're missing the outdoors, spend time hiking the nearby Arizona Canal Trail or Piestewa Peak.
Party in Las Vegas
Average temperatures still sit in the high 50s to low 60s in Las Vegas in December so there's nothing limiting how you play in the resort city famed for its vibrant nightlife and around the clock entertainment.
Where to Stay:
Stay at the Bellagio (3600 S. Las Vegas Blvd.), a luxe, Italian-inspired resort that decorates with over-the-top Christmas decorations in December and sets the famous water fountains dance to Christmas tunes. Caesar's Palace (3570 S. Las Vegas Blvd.) is another option for accommodations amid the festive action. The hotel's Forum Shops hire scuba elves to feed the tropical fish.
Where to Eat:
Restaurants book fast around the holidays. Make reservations at The Foundation Room at Mandalay Bay (3950 S. Las Vegas Blvd.) located 63 stories up with an outdoor patio and sweeping views of the Las Vegas skyline, or chow down at Bellagio's all-you-can-eat buffet, simply dubbed The Buffet.
Where to Play:
In Las Vegas, the whole city is your playground, but don't forget to catch these must-see attractions. The LINQ promenade, an outdoor retail, dining, and entertainment plaza, will transform into Winter PARQ starting December 11, with nightly holiday-themed shows every 30 minutes from 5-9 PM.
Take in an infamous cirque-style show. Caesar's Palace hosts Absinthe, a wacky, must-see take on the cirque craze.
Winter on an Island
Who says December is an inappropriate time for a beach vacation? We certainly aren't judging your need for soft sand and crashing waves this time of year, and Coronado Island is just a 14-mile drive from San Diego, making it an accessible escape for San Joaquin residents.
Where to Stay:
Bathe in luxury at Hotel Del Coronado (1500 Orange Ave.), a red-roofed Mecca situated atop one of the best beaches in the world. Because of its southern location, Coronado is warm enough to spend some time at the beach, even if you aren't dipping into the water, and pre-bed bonfires are the ideal way to warm up in the chilly air. Fancy yourself a history buff? Book a tour of the grounds.
Where to Eat:
Dine at Hotel Del Coronado's own 1500 Ocean, a fine dining stop specializing in seafood. Or, venture downtown to taste Asian-inspired seafood dishes at Bistro D'Asia (1301 Orange Ave.)
Where to Play:
Coronado's picturesque downtown is easily accessible by foot, bike, golf cart, and ferry, and it's home to plenty of shops and restaurants, making for a pleasant afternoon of exploration.
The art scene in Coronado is sizeable. Catch a showing of the Tony Award-winning production A Chorus Line through December 11 at the Coronado Playhouse (1835 Strand Way). Directed by Thomas Fitzpatrick.
Revel in Resort Life in Palm Springs
Winter is an ideal time to visit this exclusive desert city without melting in its high summer temperatures.
Where to Stay:
Book a room at the Colony Palms Hotel (572 N. Indian Canyon Dr.) where a gorgeous pool surrounded by lounge chairs and cabanas just outside of the on-site restaurant, is a focal point.
Rooms boast impressive in-room bars perfect for pre-dinner drinks, and a Moroccan-themed spa gives guests a place to relax on a couple's escape or girls trip.
Another excellent option is the Korakia Penisone (257 S. Patencio Rd.), where pools are heated to 100 degrees for warm nights and open 24/7. For a special evening affair, head to the courtyard for black and white movies, a truly appropriate offering for the posh desert city.
Where to Eat:
There's no need to venture outside your resort for worthy cuisine. Both hotels offer varied menus across several meals.
Where to Play:
Stroll down Palm Canyon Drive to visit an array of cute boutiques and interior design shops celebrated for their charming-and varied-tastes. Nearby the Coachella Valley (yes the one famous for its raucous summer music festival) is the perfect backdrop for hiking, biking, and horseback riding. Smoke Tree Stables (2500 S. Toledo Ave.) offers rides over 150 miles of open land.
Come Alive in Death Valley
Death Valley is known as the lowest, driest, and hottest area in North America (in 1913 it reached the record temperature of 134 degrees Fahrenheit at Furnace Creek where the name alone speaks volumes about daily temps). During winter, however, daytime temperatures are mild, and it only occasionally reaches freezing at night, making it an ideal escape for outdoorsy families.
Where to Stay:
Go rural at Mesquite Spring Campground with access to the ubehebe crater and racetrack playa or skip camping and head to the Inn at Furnace Creek (328 Greenland Blvd.), a middle of nowhere, four-star oasis.
Where to Eat:
Enjoy casual saloon dining at Stovepipe Wells (Rte. 190), or opt for fine dining at The Inn at Furnace Creek Dining Room (Hwy 190).
Where to Play:
Known as an outdoor playground because of its many trails for hiking, biking, and more, Death Valley is ideal for families, friends, and couples, and despite lower temperatures, December marks slow season so families can take advantage of reduced rates and less crowds.
Kids will enjoy the campgrounds and stovepipe village, Sunset Campground has a tailgate party atmosphere perfect for rowdy groups, and romantic sunrises across the park create romance for couples.
Don't forget to track down some of the Valley's ghost towns-remnants of a booming mining industry that busted.