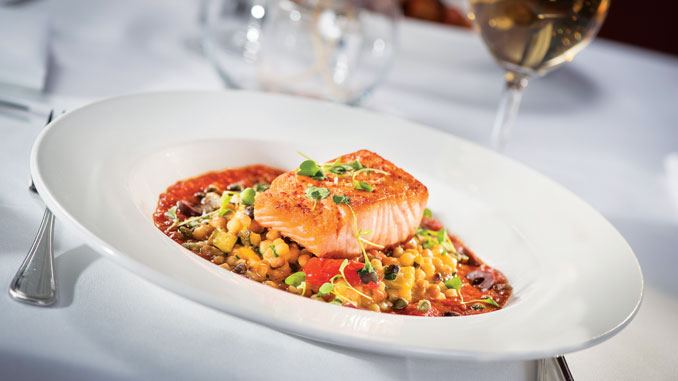 Nestled in the heart of downtown Lodi, Rosewood Bar and Grill serves up seasonal fine dining in a refined but approachable locale.
If you haven't visited recently, you might not realize they revamped their menu with the hiring of executive chef, Ian Bens. The menu now offers inventive, seasonal dishes while maintaining the comfort of Lodi's favorite foods! 
Established in 2002, Rosewood Bar and Grill is a mainstay among local foodies. Ideally perched on the corner of Oak and School Street, diners can enjoy some of the finest Classic-American cuisine in San Joaquin County, all while watching the bustling crowds as they stroll downtown Lodi in the evenings! 
The restaurant is all about a fresh experience, with a recent promotion launch that allows diners to taste the season, with a three-course price-fixed meal offered in both the bar and dining room Tuesday through Thursday nights. Talk about a deal! Start with a savory salad, choose from one of three main courses ranging from a Berkshire Pork Loin, Panzanella Chicken, or savory Trenne Pasta Caprese, and cap off the evening with the featured dessert, currently a Colombian Chocolate Tart. 
Start your Rosewood culinary journey with the Little Gem Salad. This salad has all the right things. The simplicity and sweetness of the local pear is highlighted by the savory goodness of blue cheese. Try pairing it with one of their handcrafted cocktails showcasing the region's bounty. Their wine and spirits program is one of the best around!
The Organic Roasted Chicken Panzanella Salad is a perfect example of Rosewood's farm to fork focus. One bite of the crispy, juicy chicken will leave you wanting more. Served up with roasted beets, briny olives and crunchy pepitas, the dish's flavor profile is perfection. With a multitude of textures, it's as a staple on the Rosewood menu. "As the weather changes, so does the dish," Chef Bens explains. "In the summer months, we feature beautiful heirloom tomatoes from Golden Bear Ranches. We love to feature the tastes of the season on every plate." 
Another fan favorite is the succulent and slightly sweet roasted Pacific Wild Salmon, served with Sardinian Couscous, fennel and roasted vegetable ratatouille. The flavors are balanced, refined and just down right delicious. This course proves that Rosewood is one of the few places where you can get a satisfying meal without sacrificing your waistline.
But if sacrificing calories isn't a concern, finish your dinner with the Dark Colombian Chocolate Tart. This seriously decadent chocolate dessert starts with a brownie base, is topped with a rich dark chocolate tart and garnished with velvety mousse and dark chocolate sauce. It is not for the faint of heart, with a trinity of chocolate textures that will satiate all cravings.
Rosewood also has a killer Happy Hour program. Offered each evening from 4 to 6 PM, they pour featured well drinks, wines and draft beers for a mere $5. Happy Hour extends to a selection of their tastiest appetizers for $6. A personal favorite is the Stuffed Avocado, fire roasted in their wood burning pizza oven and paired with the crispiest chips in town. Or you can try the slightly-smoky Shrimp and Grits served with sweet peppers. The peppers have a hint of heat, but are rounded out by the creaminess of the grits. 
From the free-range, grass fed beef to the sustainable seafood offerings, Rosewood Bar and Grill truly has something for everyone. Rosewood's longevity is in its ability to reinvent itself time and time again. So the next time you are looking for the perfect place to sip on seasonal cocktails and delight your senses with delectable dishes, head to downtown Lodi and take a seat at their table…you won't be disappointed. 
Taste the Season At:
Rosewood Bar and Grill
28 S. School Street Lodi, CA
209-369-0470
RosewoodBarandGrill.com