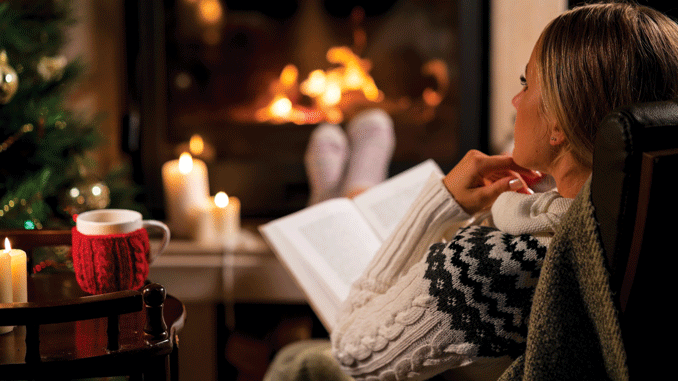 Winter chills inside and out, so how are you staying warm for the holidays?
Turn up the heat on home design with these hot design tips that will have you wishing winter never ends.
Toasty Toes
Stop cringing over too-cold bathroom floors every time you head for a morning shower. With tile floors a popular amenity in San Joaquin County, it can be hard to barefoot those chilly, California mornings. Lori Crawley, a sales design consultant at Classic Design Interiors in Lodi admits heated floors are a niche market here, but they can also make your home next level. She says the most popular place for this luxury is the master bathroom, while some homeowners opt for heated floors in the kitchen, too.
Steamy Showers
A steam shower is one surefire way to infuse spa-like luxury into your bathroom. Not only does it offer some serious heat, it's one of those extras you've likely seen all over HGTV. Steam shower installations can be surprisingly easy, which only adds to the popularity. Retail giants like Costco sell kits to install steamers, or you can go custom. At Classic Design Interiors, Lori says most clients go for a design that emits steam from underneath a bench inside the shower. "A lot of people ask for a double-headed shower," she adds.
Warm Window Coverings
Keep Jack Frost at bay by replacing flimsy, old curtains for hot new ones. Whether it's blinds, shutters, or curtains you desire, each option helps insulate windows and keep the house warm throughout winter. For every option, think layers. The thicker fabric is, or the more layers you have (i.e. curtains over blinds) the better equipped your home will be to keep cold out. As a bonus, thick, heavy fabrics are on point stylistically for winter so you won't have to choose between design and function. "The duette architella window covering is a honeycomb shade by Hunter Douglas… that's the best thing [for keeping heat in and out,]" says Michael Haverty, owner of Draperies Plus in Stockton.
Hot New Heating
An out-of-date heating system could leave your winter evenings feeling nippy. A brand-new HVAC or water heater is sometimes the fastest way to literally heat up your home. And with plenty of energy-saving rebates available in SJ County, it's likely to be a cost-effective upgrade, too. If you have a two-story home, consider a two-zone heating system to keep one story toasty at a time.
Relax Fireside
If your home doesn't have a fireplace, you've likely never considered the option of adding one. After all, banging a giant hole into your wall and building a chimney sounds like a lot of work. However, gas and electric fireplaces change the game for those who want the comfort of a roaring fire. It may not take wood logs and old newspapers for kindling, but an electric wall unit can be easily hung in any room as long as electricity runs to the area, and gas units can honestly be installed in as little as three days. "In our area gas fireplaces are most predominant," says Amanda Ott, office manager at The Spa Doctor. An added bonus? These units aren't just for looks! They heat your home, too. Make it a centerpiece with a custom, built-in surround.
Already have a fireplace in your home? Give it a face lift! The San Joaquin Valley Air District offers rebates for homeowners who switch out wood fireplaces for gas. Want the romance of wood-burning without the hassle? Free-standing wood stoves get a lot of local love.
Cozy Up
Adding warmth doesn't have to involve a redesign. For many homeowners, dropping a few comfy throws and some extra pillows on the couches are enough to cozy up the place. Place extra candles to give the appearance of warmth and choose scents that encourage cozy (like evergreen, vanilla, and sandalwood). A warmer color palette is also good for winter entertaining. Deep reds, rusty oranges, and natural tans will heat up a room with little effort.