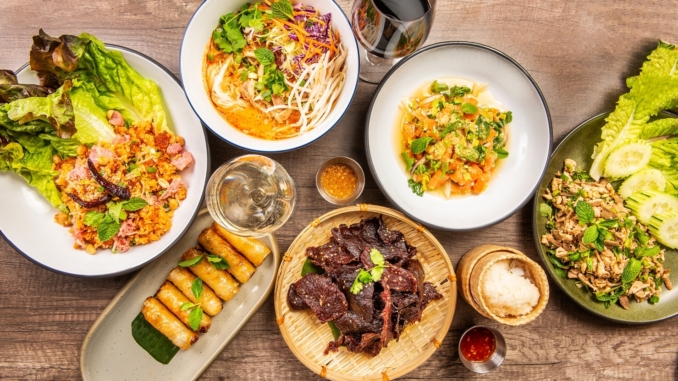 Restaurant owners and husband and wife Ae and Carlos Garcia know a thing or two about creating a special place for locals to enjoy really delicious food. Having made Stockton their home for the last 15 years after living and working in the New York restaurant scene, the couple has an eye and an intuition for spotting a rare gastronomical opportunity, and really running with it.
You're probably familiar with one of the Garcias' creations, Thai Me Up, located in the heart of Stockton's Miracle Mile. It's been a favorite place to unwind with a cocktail and truly tantalizing Thai food for eight years now. Loyal customers boast of its exotic menu that has come to taste like home, so it's no wonder that the Garcias' newest restaurant, Lao, Der (literally translating to this is Lao) is being celebrated as one of the SJC's most original and enticing places to eat and drink. "We wanted to make a space that was comfortable, sexy, and chic, but above all, authentic," says Ae. "A lot of people have never tried Lao food and it might be intimidating."
Step inside Lao, Der and you'll feel as if you've just taken a break from the rest of the world, entering an alluring and curious space with the fragrance of somewhere familiar and yet very unique all at once. For those needing a little geography refresher, Laos is the Southeastern Asian country bordered predominately by Thailand and Vietnam, and less so by China, Myanmar, and Cambodia. It's landlocked. It has a few rivers, but not direct access to oceans. Dependent on ingredients that are convenient, Lao food is truly resourceful and innovative. 
Historically, Laos has relied on creating dishes that support its region, using cooking methods such as dry-aging, preservation, and curing. Many dishes take hours, even full days, to prepare, and involve multiple stages to create. These methods yield bold flavors, and creative combinations. An example of this is savory and salty cured ham referred to as "sour pork" (Som Moo, on Lao, Der's menu). Think of it as Lao prosciutto. It's often eaten alone as a snack or appetizer, but try it in the Nam Kao, a fried and crumbled curried rice ball with pork skin, cured pork, lime juice, herbs, and peanuts, served in crisp red leaf lettuce leaves.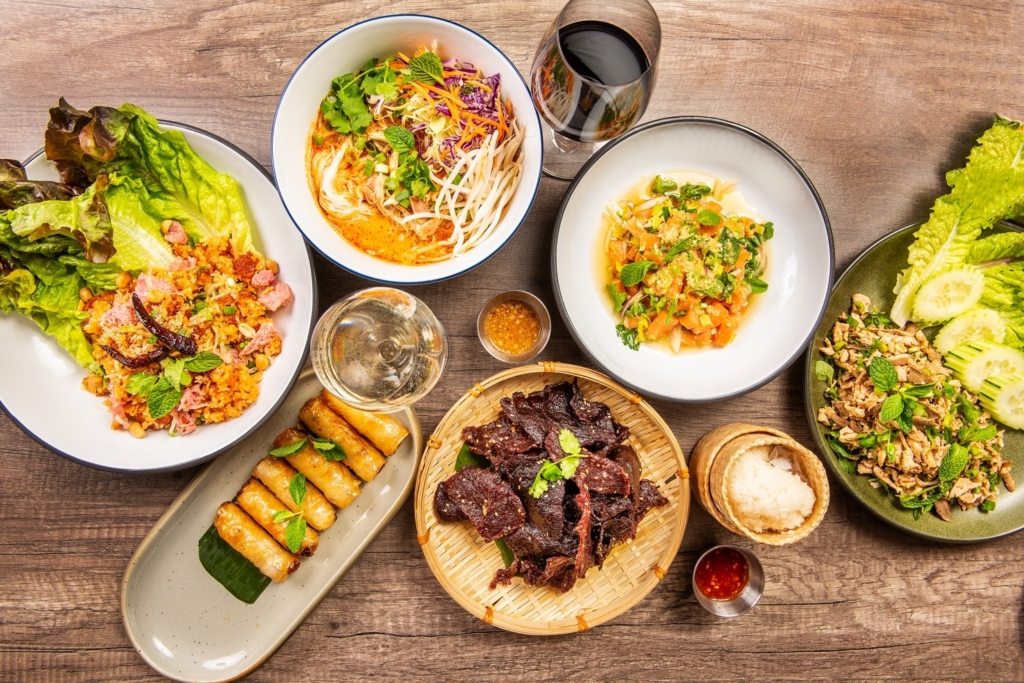 Lao street foods served at Lao, Der, will be anything but fast and forgetful. The Heavenly Beef, a house-made jerky in a sweet marinade; Imperial Rolls wrapped in rice paper; and Chicken and Pork Skewers made with lemongrass and served with a spicy glaze sauce all grace the menu. Phetmany and Noy Phangthong, a married couple and Lao, Der's dedicated chefs, ensure each dish's cooking methods are prepared with love and with flavors and textures sure to get your attention.
Main dishes such as the Kao Poon, a coconut curry noodle soup made with Vermicelli noodles, cabbage, carrots, bean sprouts, green onion, cilantro, mint, and your choice of protein (traditional or vegan), is served with an energizing red curry broth. "Before you take a bite, smell it," suggests Ae. "Really take it in." And whatever you do, don't skip this step. According to Ae, pausing to smell your food elevates the experience of eating it.  
While the food is the main draw, the restaurant's walls tell a story of Lao culture, as well. Murals throughout the restaurant highlight the colorful jungles of Laos as well as Buddhist tradition and were completed by local artist, Kia Poras. A calming tree installation and golden-lit tables set the mood for a special dining experience. 
While Lao, Der is new, it's also special, and offers a different dining experience than other SJC eateries. "We'll help you order if you're not sure where to begin. We'll make it an experience that feels exciting, nourishing, delicious, and really comfortable," says Ae. "We're happy to introduce people to Lao food". 
Lao, Der!
5646 N Pershing Ave., Stockton
(209) 323-5040
"Our goal is to make Lao food a fun and enjoyable experience for everyone," –Ae Garcia