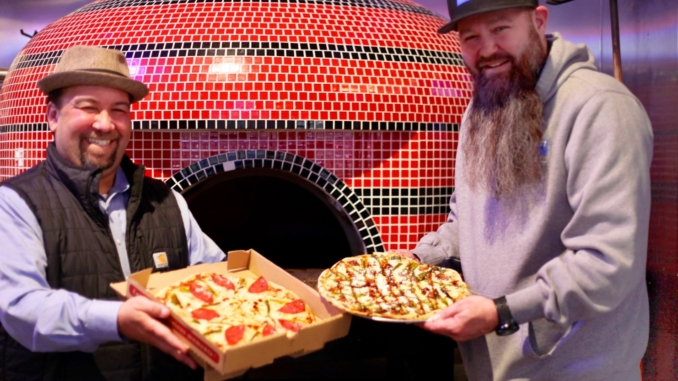 Cousins Scott and Jeff Lovotti took a risk. Lovotti Pizza Pub is a family-owned and operated restaurant located in charming Yosemite Street Village offering not just good food, but a great atmosphere. With a menu that includes their famous brick-oven pizzas, appetizers including loaded fries, as well as burgers and sandwiches that are certain to please the pickiest of eaters, this delightful new restaurant is sure to have something to please every palate.
And the best part? It's all fresh. "We make everything from scratch," says co-owner Jeff Lovotti. "Our pizza dough is mixed in a giant stand mixer we've name 'Little Red.' We add a secret ingredient you won't find anywhere else in Stockton, and we know it makes our pizza extra special. The dough ferments overnight (it's a 24-hour process in all), and when it's rolled out as a traditional New York and Italian thin crust, it's topped with freshly sourced ingredients. Finally, we bake it in our famous brick oven, who we all know around here as 'Big Red.'" A taste of their pizza and quick peak behind the counter at Lovotti's, and you'll grow fond of "Big Red," too.
Staples like the pizza and burgers are offered year-round, but other menu items change seasonally to not only ensure the freshest of ingredients are used, but to also test out new items for the future.
In recognition of the annual Asparagus Festival, April will offer limited time pizzas. The first features salami, asparagus, and spicy hot honey; the second is layered with pesto, bacon, asparagus, goat cheese, and balsamic vinaigrette. They're also serving up deep-fried asparagus with house made ranch and Thousand Island dressing, as well as a Turkey Caprese Salad with asparagus.
With such appetizing food available to Lovotti's customers, we dare suggest that the next time you are feasting on pizza in New York or Italy, you might wonder if you were in fact, transported back home, to Lovotti Pizza Pub in good ol' Stockton, California.
Be sure to tune in to GoodDay Sacramento where Lovotti Pizza Pub will be sharing their secret April menu live on television the week of April 10. You can also catch them at this year's Asparagus Festival April 14-16 at the San Joaquin County Fairgrounds.