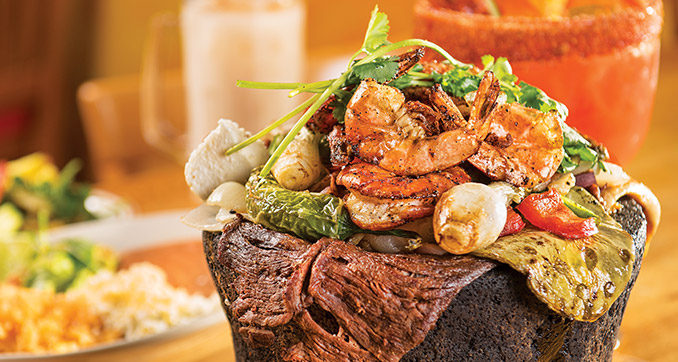 People like the fiya! And that's exactly what we're serving up in our latest dining expedition across the vast venues of San Joaquin! Take a journey to some of our favorite Mexican restaurants and discover what can make your taste buds howl. We promise we won't tell if you get a little teary-eyed from a mouthful of habanero. Just keep the drinks flowing, and the spices rolling.
"Mexican Menu Must-Haves"
EIGHT LOCATIONS, 8 DISHES
Steak Rancheros
Habanero Hots
1024 E. Victor Rd., Lodi (209) 369-3791
Brace yourselves! Because a visit to Habanero Hots is like cracking open the very pepper for which it's named. Tempestuous flavors surround every dish, rich and bold. Robust colors decorate the interior, with beer bottle chandeliers to keep it classy and fun! And let's not forget the wall of hot sauces, honoring a variety of Scoville levels. When you're ready to take on an entrée, you should take pause at the Steak Ranchero. Yes, Habanero Hots indulges in a variety of cuisine, but there will always be a special place in our hearts for the thick, hand-cut slab of Rib-eye steak. This beauty is grilled to order and garnished with a house-crafted ranchero sauce and all the Monterey Jack cheese your taste buds can handle. Cut that juicy piece of meat up and enjoy with piping hot tortillas.
Hours: Monday – Sunday 11:00 AM – 9:30 PM
Prawn Cocktail
La Palma Mexican Cuisine
2301 Pacific Ave., Stockton (209) 941-4179
When you're craving respite from strolling down the Miracle Mile, La Palma offers a taste of Mexico with its wide, open dining area and classic interior décor. Patterned in bright, colorful tapestries and dimly set lights, it beckons to not only the lunch rush, but intimate dinner dates. A must-have is their Prawn Cocktail, the perfect dish for the upcoming summer nights. Refreshingly intermingled with cucumber and avocado, onion, cilantro, and tomato, it's mixed in with rich cocktail sauce and sprinkled with lemon juice. Succulent jumbo prawns are deveined and served along the rim, ready to be plucked and dipped at your dining discretion. How's that for a dinner date done right?
Hours: Sunday – Thursday 10:00 AM – 9:00 PM, Friday – Saturday 10:00 AM – 10:00 PM
Chicken Fajitas
Miguel's Mexican Restaurant
7555 Pacific Ave., Ste. 6, Stockton, (209) 951-1931
Folks zipping on down Pacific Avenue may miss this juicy morsel of a Mexican joint if they aren't careful, but locals know to look for the two toucans that make up Miguel's signature sign at the Oakridge Center. After taking in the many portraits decking the walls, you've got to take a bite out of their Chicken Fajitas. Served sizzling hot, the chicken fajitas dish offers up vibrant cuts of bell pepper, onions, and tomatoes. Freshly grilled chicken is piled in and tossed in the restaurant's own particular blend of spices. This plate is offered up with a side platter of shredded lettuce, and cheese, sour cream and house-crafted guac.
Hours: Monday – Thursday 10:00 AM 9:00 PM Friday 10:00 am to 10:00 PM Saturday – Sunday 8:00 AM – 9:00 PM
Chicken Caliente
Cactus Mexican Dining
18961 N. Lower Sacramento Rd., Woodbridge, (209) 367-1632
Serving up memories is a specialty of Cactus, whose menu boasts fresh, well-seasoned ingredients. Located in a historic brick and mortar building off the main stretch through Woodbridge, it's a charming favorite for those celebrating a special occasion. We can see why, with indoor fountain, open floorplan, and gorgeous décor. Here, you'll want to lay your hands on the Chicken Caliente. This dish is composed of a large, grilled green pepper. Stuffed with chicken, it's layered in cheese and house crafted-white sauce and served up with rice and beans. Although the dish itself may sound hot, its richer in flavor. But don't let us keep you from requesting a little more heat between your teeth.
Hours: Tuesday – Thursday, 11:00 AM – 10:00 PM, Friday, 11:00 AM – 11:00 PM, Saturday, 12:00 PM – 10 PM, Sunday, 12:00 PM – 9:00 PM
Rancheros
Arroyos's Cafe
2381 W. March Lane., Stockton (209) 472-1661
Sometimes, you just need to sit down and enjoy the view. And that's exactly what a visit to Arroyo's Café offers up on March Lane. Sitting pretty alongside Quail Lake, guests are treated to an open floor plan, with numerous booths, tables, and historic portraits along the walls. The menu options practically declare hearty portions with any order, and both classic dishes and Arroyo specialties are available to diners. Find your favorites in shrimp-centered entrees, or take on the Rib Steak Ranchero, simmered in tomato sauce and doused in onions and peppers. Get your fill with rice, beans, and French fries on the side for a full-circle delicacy. Hours:
Chicken Enchilada
Angelo's Restaurant
28 N. School St., Lodi (209) 366-2728
You don't know chicken enchiladas until you've whet your appetite at Angelo's. Summer-tinged murals consume the walls and posts inside, and a bannister fence line cradles intimate outdoor seating, marking the restaurant as the ultimate backdrop for an after-move dinner venue. Once you've ordered your drinks and weighed your options, you're ready to take on the chicken enchiladas. Dig into piping hot pieces of pollo, snugly wrapped up in soft corn tortilla, doused in house-crafted enchilada sauce, and layered in melting Monterey cheese. It's the simplicity of things that make Angelo's enchiladas, in particular, so darn good. Pile on the rice and beans for a filling meal, day or night.
Hours:
Drunken Shrimp – Served on platter with a lot of peppers
Tio Pepe's
329 Lincoln Ctr., Stockton, (209) 957-6431
When you're looking for a work of art served front and center, you go to Tio Pepe's in the Lincoln Center. Their flair for elegant modern furniture, matched with simple, rustic murals makes just the right impression. As does the menu. It's hard to choose between Mexican classics and signature dishes, but if we'd have to recommend one, it'd be the Drunken Shrimp. Got your attention? Because this delightful entree is prepared with simple ingredients like onion, salt, pepper and butter. And did we mention tequila? Sautéed in Tio Pepe's own house sauce, and simmered with cilantro and chipotle, it's our favorite on a Friday evening, paired with sour cream, guacamole, rice and beans.
Hours: Monday – Sunday 11:00 AM – 9:00 PM
Molcajete
Nena's Mexican Cuisine.
445 W. Weber Ave., #120, Stockton, (209) 547-0217
Downtown Stockton's been laying claim to some spectacular up and coming eateries, but when it comes to Mexican Food, few can top the scenic view and flavorful combination at Nena's. Though the indoor décor provides its own charming ambiance, you can't pass up the view from the patio outside, which opens to the Delta waterfront and nearby marina. Sunsets are incredible, and so are the menu options! Our favorite is, hands down, the Molcajete. Brace yourself for a thick slab of juicy steak, grilled just right. Pour on the grilled onions, peppers, and chorizo. Slip in the bacon, and cheese for the master of all Mexican entrees. You just might need help with this one, but, odds are, you won't be sharing.
Hours: Monday – Thursday 7:00 AM – 9:00 PM, Friday – Sunday 7:00 AM – 10:00 PM
Shoot it down to cool off your Mouth
5 tequilas and where to sip
We might just have a thing for tequila, and we're betting double to nothing that you do, too. Distilled from blue Weber agave, true tequila can only be produced in certain parts of Mexico. But its powerful flavor boasts popularity across the world. It's no wonder, considering the agave plant must age eight to twelve years to yield the results of what you see glistening along the bar shelves. And we took some time to find our favorites along the restaurants below.
Casamigos
CasamigosTequila.com
Randy Gerber and George Clooney were looking for a taste of tequila that could stand alone. By all counts, they succeeded, crafting superb blends of blanco, reposado, and anejo. And it is in their anejo tequila that we take pause to admire, whose soft notes of caramel and vanilla remain unwavering after 14 months' worth of aging in oak barrels.
Shoot It Down At:
La Palma
Gran Patron Platinum
PatronTequila.com
The Patron family concedes that they didn't invent tequila. They perfected it. And the results are showcased in each and every uniquely crafted bottle they produce, boasting their work as not just a business, but an artform. Gran Patron is their masterpiece, with sophisticated taste that echoes through the many years of experience in rearing their Blue Weber agave. Their Platinum has been triple distilled in oak barrels, providing a full-bodied flavor that goes down smooth.
Shoot It Down At:
Habanero Hots
Don Julio Blanco
DonJulio.com
From the rows of rich agave, right down to the bottle, the legacy of Don Julio's tequila lives and breathes a passion few could ever reach in their lifetime. Revolutionizing the industry, Don Julio put quality over quantity in every aspect of his product, providing tables across the world a jewel of a drink to display in full view. We pay homage to the masterful creation for which all of his tequilas are based: Don Julio Blanco. Enjoy crisp, citrus notes and that sweet agave flavor.
Shoot It Down At:
La Palma
Casa Noble Reposado
CasaNoble.com
Casa Noble knows the fertile, volcanic soil of Jalisco like the back of their hand. After all, seven generations have poured their blood, sweat, and tears to perfect their own, USDA certified organic bottle of tequila. Our favorite? The Casa Noble Reposado, made whole in French White Oak barrels for the maximum time to yield maximum flavor. Enjoy hints of lemongrass, and nuances of vanilla scent.
Shoot It Down At:
Tio Pepe's
Gran Patron Burdeos
PatronTequila.com
Some things really do get better with age. And Patron lives by this motto when they speak of one tequila in particular. The Gran Patron Burdeos is the crème de la crème, set to age in American and French oak barrels until it reached peak flavor in hints of oak wood, raisins and sweet vanilla. Its finish velvety smooth.
Shoot It Down At:
Habanero Hots
Mexican Pantry
Cilantro
Mexican cuisine and cilantro go hand in hand. Whether it's poured into salsa, or added into soup, this strong, aromatic herb yields a whole new level of flavor without excess calories or salt!
Epazote
Served young, epazote leaves are rich, but not overpowering. Served old, epazote is a potential flavor overload. And yet, this Mexican herb is key to making traditional Mexican mole, or bean-based dishes.
Mexican Oregano
Fragrant, with citrus nuance, Mexican Oregano is often partnered in dishes with chile. Used fresh or dry, its versatility to enhance dishes makes it suitable for burritos, enchiladas, salsas and more.
Cumin
Though cumin found its beginnings in the Mediterranean, it's an essential ingredient for anyone looking to make a proper enchilada sauce and taco seasoning.
Limes
These are a staple in any true cocina. Limes, or limon, as they are better known, are served alongside dishes at breakfast, lunch, and dinner.
Chiles
If there were ever an herb to sum up Mexican cuisine, the chile would take first place in our book. Chiles are versatile in both dry and fresh forms, and used to kick the heat up a few notches, or to add a whole new range of flavor to a dish. It's available mild, or for those with a death wish, can provide a little bit of lava to your entree.
Tomatillos
Gift wrapped in little husks when they're ready for plucking, the tomatillo plays a crucial role in all great salsas and sauces.
Masa
Spanish for "dough", masa is made with dried corn kernals, lard, and lime. It's used in creating tamales, corn tortillas, and pupusas. This can be crafted yourself, or purchased pre-made to save time and effort.
Canela
A much milder version of the cinnamon we all know and love, canela boasts subtle, warm flavors. It's perfect for desserts and tea.
Piloncillo
Normally found in blocks, rounds, or cones, piloncillo is an unrefined sugar with beautiful color and strong molasses flavor. This ingredient is often used to sweeten desserts, or to make a mean cup of hot cocoa. And when we say mean, we mean delicious.
Mexican on the Move 
La Picosita
Church St. & Turner Rd., Lodi
They've been voted Lodi's very best Taco Truck for a reason. La Picosita serves up hearty portions at reasonable prices. Go here and prepare yourself for Asada Supreme Tacos.
El Grullense
Charter Way & S. Hunter St., Stockton
You can't beat the burritos at El Grullense. Hearty portions of asada have been cooked up and seasoned just right, built up with flavorful rice.
El Mayita
76 Gas Station at March Lane & I-5, Stockton
If you want the best, you're going to have to wait your turn. El Mayita is brimming with flavor and the foodies of Stockton know it. We've fallen head over heels for Al Pastor tacos, which includes a sauce that takes a bite straight out of your tongue!
Tacos Guadalajara
8-Mile & Trinity Parkway., Stockton
You won't go wrong taking this brisk drive to north Stockton. Tacos Guadalajara offers up some of the beefiest burritos we've had the honor of sinking our teeth into. We can appreciate a great verde sauce, too, and Tacos Guadalajara blows the competition out of the water.
Hot Sauce
Ring of Fire Hot Sauce
Rich, complex, and super tasty on a slice of pizza.
Located: Buy locally at Habanero Hot's in Lodi
Marie Sharp's Habanero Pepper Sauce – 350,000
Like the touch of an angel. If an angel slapped you in the face.
Located: Buy locally at Habanero Hot's in Lodi
Monroy's Original – International House of Hot Sauces
For those that may want to taste their food while enjoying the heat.
Located: Roaming Booth from International House of Hot Sauces
Satan's Blood
You may have taken a vacation waaaay down south… And came back with more than a T-shirt!
Located: Hell. But also HotSauce.com
Ghost Pepper Jolokia Sauce
Like an ex that just won't let you go. This heat will haunt you.
Located: Buy locally at Habanero Hot's in Lodi
Blair's Death Sauce
The perfect balance of pain and smoky hints of chipotle!
Located: ExtremeFood.com
Hydra – International House of Hot Sauces
Just when you think you've cut the head off the beast, the heat rises once again.
Located: Roaming Booth at International House of Hot Sauces
Melinda's Scorpion Pepper Hot Sauce
Don't be fooled by that pretty face on the bottle. Melinda's got it out for you.
Located: Melindas.com
Mad Dog 357 – International House of Hot Sauces
There's a bullet attached to every bottle. Just in case you need to end your suffering.
Located: Roaming Booth at International House of Hot Sauces
Black Mamba
Taste buds are overrated, anyway. May cause facial numbness.
Located: CaJohns.com