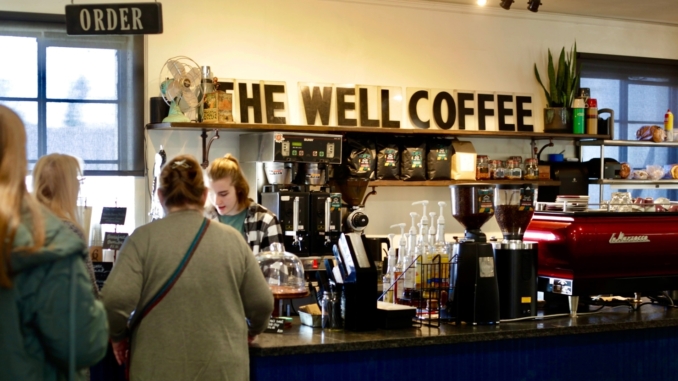 Coffee and a cookie? Yes. A latte and a muffin? Of course. Tea with a scone? Please! But how about coffee and a burger, or a latte and a salad, or a tea paired with a house-fired pizza?
The Well is Stockton's home away from home for locals to drink delicious single-origin coffee (roasted in-house in their roasting room), unique teas (with blends such as Apple Pie, Earl Grey Crème, and Rose Black), and to eat gourmet meals such as The Stocktonian Burger with pepper jack, bacon, grilled jalapeños, and chipotle cream.
Co-owners and married couple, David and Reagan Cicileo, opened The Well as an extension of their non-profit, Restore Stockton. Together, and with the help of many enthusiastic visionaries, they have created a coffee house and central meeting place for all of Stockton. Their emphasis is on unique food and drink pairings, offering more than traditional offerings. While you can order drip coffee and their infamous Mama Rae's Chocolate Chip Cookie (all sweets are baked in-house by Desire Paden), you can also dive into a Fancy Fig Pizza topped with pesto, mozzarella, bacon, apple, fig, feta, and arugula.
But coffee, pastries, and savory dishes are not the only source of nourishment you will find at The Well. It is a space with intention to feed the entire community of Stockton with connection, collaboration, and creation.
Within The Well are spaces customers can use for conference and creative rooms, (think crafting groups, brainstorming sessions, writing rooms, and reading clubs) and learning opportunities. The Well offers vocational training for youth and young adults. Their "interns" learn to run the coffee bar while also getting involved in additional life skills such as operating their screen-printing press, learning graphic design, and mastering musical arts. There is even a professional sound recording room coming soon.
The Well hosts live music evenings in the summer time, and for those looking for the perfect place to host an event such as poetry readings, bridal and baby showers, even weddings the cozy, creative, and artistic aesthetics at The Well are a fine choice. "The Well is a place where you are seen and heard, a place you can find connection and belonging," Raegan says. "We're leading with love for the city, community, and people of Stockton, and we're excited for all that is in store for this space."
The Well
1200 N. Central St., Stockton
(209) 645-2209
TheWellStockton.com