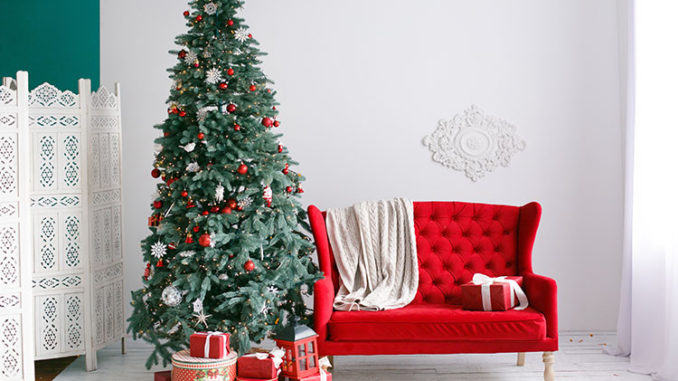 Of course, we're all running around with our heads cut off mid holiday season. The in-laws will be here in a few weeks, and the last thing we have time, or money, for is home improvement projects. However, there may be features of your home that you are absolutely desperate to improve upon, maybe in order to increase your home's value. One way you might be able to do this is by having James Hardie Siding installed. This can boost the curb appeal of your home and make your property more attractive to anybody that looks at it.
That being said, if you are low on funds but your home is in desperate need of some improvement work, it might be worth researching some of the different loan options out there. For example, more people than ever before are turning to secured loans to pay for home improvement projects.
Put simply, a secured loan is a type of loan in which the borrower pledges some asset as collateral for the loan, which then becomes a secured debt owed to the creditor who gives the loan. You can learn more about secured loans, and discover how much money you might be entitled to borrow by using a secured loan calculator.
Just remember, as with any financially related decisions, it is vital to do as much research as possible before agreeing to any loans or other money borrowing arrangements to ensure that you can eventually pay back what is owed.
That being said, we've compiled a few budget-friendly ideas that will transform your space.
Refresh Backsplash
If you feel your kitchen is a bit drab, a new backsplash can offer a serious facelift-while also protecting your walls against splashes and spills sure to happen this holiday season. Backsplash that contrasts with counter tops is all the rage, as it allows both surfaces to truly pop. The trending use of porcelain allows marble countertops to be perfectly complemented, while calacatta's enduring, classic marble look is more realistic than ever.
Incorporate your personal style and use the backsplash as a way to truly pull you kitchen together, tie in colors, and create a focal point. Because the area covered by backsplash is typically small, be bold and bright, or opt for tiles in different shapes and colors that serve as a statement piece.
Create an Accent Wall
Of course, there's no time to dive into an interior re-paint during the holidays, but an accent wall is a quick way to revamp any room. Before you grab an extra paint can from your garage, be sure to decide on which color, material, and wall is best suited for this quick project.
Color theory is the perfect place to start. Do you want to open up a narrow hallway? Or are you looking to add a splash of sass? If sass is the name of your aim, be sure to choose the farthest or longest wall, as colors like yellows, oranges, and reds actually make a wall appear closer than it truly is. Blues, greens, and purples push walls away from the eye, making a skinny hallway seem wider, and a short room feel longer.
Clean your Floors and Upholstery
Call in a professional to clean your carpets and upholstery, and welcome guests into a home that looks and smells new! Years of foot traffic, spills, and simply living, take a toll-and sometimes more than we even notice. Forget the true hue of your carpet and couch? Now is the perfect time to find out! Improve air quality, eliminate trapped pollutants, take out dust mites, prevent mold, and say hello to super-fresh smells.
Clean your Gutters
Are sticks, leaves, and other kinds of debris accumulating in your home's gutters? This seemingly harmless consequence of a bit of inclement weather can actually snowball into a serious problem resulting in flooding, sagging eaves, and other costly water damage problems. With the help of a professional gutter cleaning service, homeowners can avoid becoming victims of this unsuspecting issue.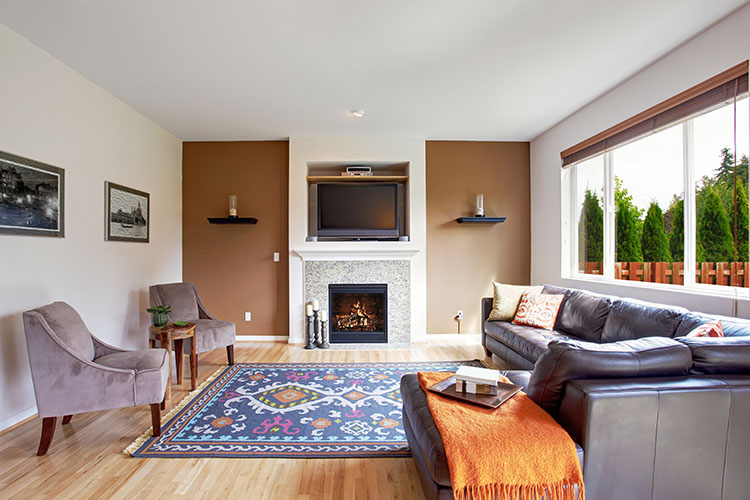 Update the Area Rug
The right rug can transform a room. Is it color, comfort, cleanliness, or style you crave? There's a rug for that. Cover stubborn floor stains, add warmth, define your space, and keep your little holiday visitors safe. Area rugs define space as they create a mood for your visitors, inviting them to gather around couches in the great room, or hinting that this area is adult-only.
The style, color, pattern, and materials of today's rugs are seemingly endless and can bring unique style into any room. The "over dyed" rug look really took over this last year, stripping vintage and antique rugs of their original color and saturating them in vibrant, contemporary hues.
Add a Luxury Shower Head
Hosting for the holidays is all about making your company comfortable. If the guest bathroom is lacking in luxury, a quick showerhead update could be the fix. If your father in law stands 6 feet tall, opt for something that won't force him to hunch over, like a ceiling head unit that peacefully mimics falling rain. If pressure is an issue, there's a quick fix for that too. From filtered-water shower, to massage settings, and hand-held features-today's latest luxury showerheads have much to offer.
Replace your Fridge
Of course, more people mean more food! Prep your home with a brand new fridge sure to hold all the leftovers. Refrigerators have been seriously influenced by technology in the last decade, making leaps and bounds in efficiency-with LED screens that can be programmed to showcase photo slideshows, hold massive amounts of food, and save on energy.
Consider an upgrade if you don't have easy access to filtered water and have to purchase costly, wasteful water bottles, wish your food would stay fresh longer, or want to reduce your carbon footprint. Plus, a new, shiny, stainless steel fridge can bring some serious style to an old kitchen. If you don't want to splash out on a brand new fridge but you're concerned that your fridge is using a lot of energy, there may be something wrong with it. It's better to be safe than sorry, so it might be worth you visiting a website like maytag-fridge-repairs.co.uk and contacting a repairman to come and look at it for you. We all know that fridges can use a lot of energy but if you notice a sudden change in your bill cost, there may be an issue.
Update Lighting
Light can certainly bring new life-whether it's a change in the type, location, or amount, or through statement piece lamps and fixtures. Studies show the quality of light affects people in many different ways, and a well-lit room is welcoming, habitable, and warm. Bring new light into hosting areas like the living room and kitchen, and freshen up guest rooms with bold lighting that brings style.
Swap out your traditional bulbs for LED's and reap many benefits. From their long life, lack of toxic materials, and durable quality to zero UV emissions and impressive light disbursement-upgrading from conventional to LED bulbs can be as impactful as your switch from analog to digital.
Add Curtains
Bring elegance and style to your home with help from window treatments and curtains. You can pull a room together, enhance décor, make a statement, add a dash of color, and the list goes on. Aside from aesthetics, curtains provide privacy, prevent dust, and control light-all features sure to make your guest more comfortable!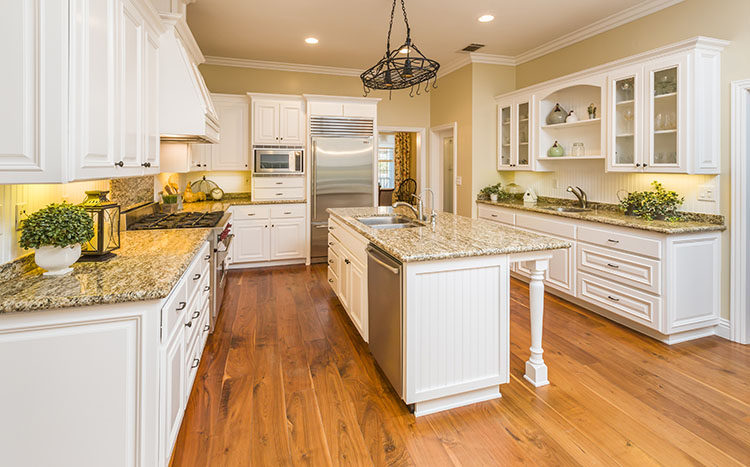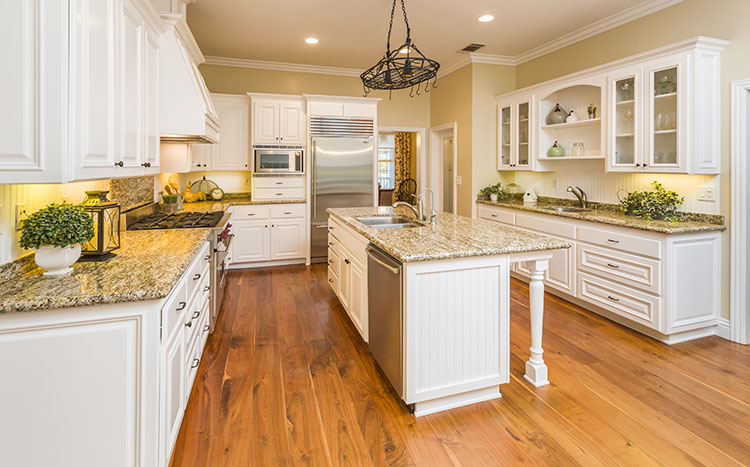 Update Fixtures
From faucets, fans, and sinks to your cabinet finish and handles, opting to update one of these features can make a room feel new. Keep cost extremely low by replacing cabinet and drawer handles or faucets in your kitchen and bathrooms. Add a dash of color, enhance a vintage feel, or go for longevity and choose an industrial design sure to keep up with the kids. This small change will make a huge impact!
If you're not yet ready to replace your cabinets, a refresh is the way to go. Remove doors, add shelves, paint with stencils, or hang wallpaper in the back of glass-front cabinets.
Add Crown Molding
Baseboards and crown molding add width, depth, and height to boring rooms through architectural interest. One of the easiest and most affordable ways to make a room feel new is to beef up your moldings, either adding them for the first time, or heightening the trim.
Baseboards provide a visual foundation while molding draws the eye upward. If you're on a tight budget, consider molding made of MDF-a combination of wood and resins that come pre-primed and ready to paint!