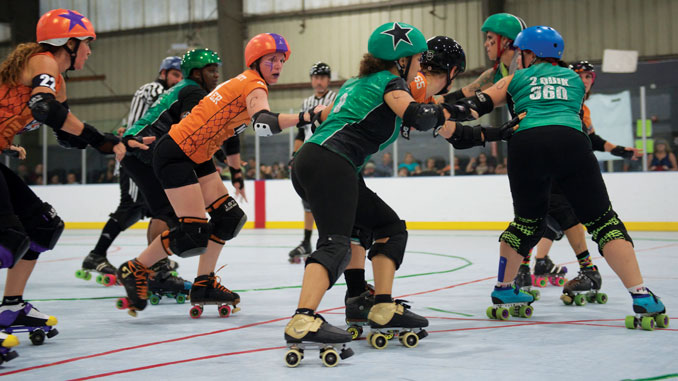 In March, the girls in black and green will hit the rink for their 12th season.

They may look sweet as they line up wearing red lipstick, but once the whistle blows, mouth guards go in and hips are checked.
Games are broken up into two 30-minute periods comprised of "jams" that last up to two minutes each. During a jam, five members from each of the two opposing teams hit the flat track. Four of the skaters work as "Blockers" and one works as a designated "Jammer"—identified by the star on her helmet. The opposing jammers start each jam behind the "pack" or group of blockers. Points are scored when the jammer laps blockers from the opposing team, and for every team member they lap, a point is earned.
As a full-contact sport, energy is high! "And it's a great way to de-stress," laughs Jamila Thigpen, AKA Ms. PopHer. With three seasons under her skates, she's made quite a name for herself as a blocker—taking down jammers hoping to score points on the Port City Roller Girls.
The Port City Roller Girls have been San Joaquin's team for over a decade. Headed by Lisa Anderson, 20 skaters join forces every year for eight games (4 home and 4 away) throughout the season, with practice twice a week. The team passionately encourages local women to join and even offers to coach beginners. "They teach you everything! How to skate, and, most importantly, how to fall!" Jamila smiles. This is an important factor because a serious wipe out on the track can take down other skaters on your team, or, as Jamila adds, get you run over! So, controlling the fall means everything on the way down.  And how often does Ms. PopHer take a tumble? "About three times a game," she laughs.
New team members are also taught the rules of the game, and how to hit. A proper hit will take down the opposing jammer, preventing points from being scored. "You can hip check, or hit with your upper arm," Jamila explains. "We're all here for practice, so it's not like: 'Oh! She hit me!'" she laughs. "We come here, we hit each other, and we go home. It's a great release!"
Just as the team invests in its players, it invests in the community—working with local non-profit organizations, participating in Earth Day, Parade of Lights, Asparagus Festival, Cinco de Mayo Parade, and the walk for Alzheimer's, providing entertainment, and an outlet for local women. The girls create this comradery that supports confidence and self-esteem, and nothing pumps them up more than raging fans filling the seats at the Stockton Indoor Sports Complex.
Off the rink, our derby girls are business professionals, mothers, students, artists, and entrepreneurs. But on the rink, they might just take you down!
For More Information:
PortCityRollerGirls.net
1-888-99-Derby
Check out a Bout at Stockton Indoor Sports Arena!
March 17
May 12
July 14
Oct 6
Support the Girls
@ the Italian Athletic Club
Crab Feed, March 24
Trip Tip & Chicken Dinner, August 25