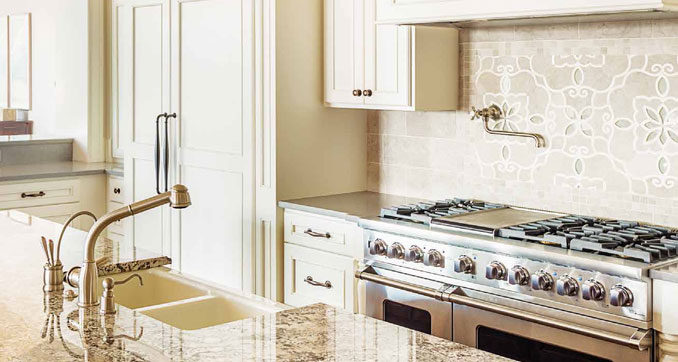 Hosting season is almost upon us! And sure, the kids are back at school, but your house is still reflective of the three months spent surviving the summer heat…I mean, enjoying quality family time together.
Maybe there are crayon drawings on the wall, stains on the carpet, rips in the window treatments. We're not here to judge, just to help.
It's no secret home improvement projects can be timely and inconvenient, but when you utilize local experts, your time can be freed and you can confidently shop, plan, and organize the holidays away—and reap the benefits once your home is filled with loved ones and ready to take on the task of serving as center stage!
Add a Splash
A simple backsplash swap or addition can breathe new life into your kitchen or bathroom, and is a fairly small project considering the impact. Not only does the addition bring aesthetics, it boasts protection from water damage, stains, and spills.
Local family business, Lodi Quality Tile & Granite, has nearly 20 years of experience, and skill set for projects of all sizes, detail, and difficulty.
Tile remains the most popular backsplash option, but natural stone is quickly catching up to number one. Emerging trends welcome all types of material—ranging from shiny metal to rustic wood (think an antique wood mosaic in your kitchen…. Drool!)
Don't feel like you have to play it "safe" when choosing your material—as a backsplash that contrasts with counter tops allows both surfaces to pop, adding a unique element. Plus, the space covered is typically small, so bold colors and patterns that may seem overwhelming will instead add tons of character and serve as a statement piece.

 Yeah, the in-laws may never want to leave, but you also have bliss attainable at home and at your fingertips.
Today's hot tub technology offers perks like customizable massage, outstanding craftsmanship, and even energy efficient tubs. The Spa Doctor Inc., a local Hot Tub and Swim Spa retailer, works to make your dream a reality with financing options and even refurbished spa sales that come with a warranty.
Invest in New Furniture
If you don't know where to start with your worn down "first home" furniture—consider calling in an expert. Interior designers can help you get the most bang for your buck, and tie all of your investments together. Kathleen Jennison of KTJ Design Co boasts years of experience, and cutting-edge creativity. Help her help you!
Now that the kids and dog are older, you can ditch the dented, scratched, and possibly chewed dining room table and chairs for something a bit more elegant. Your Thanksgiving table setting will thank you, and your dining room will take on a whole new feel. Daniger Furniture in Lodi is stocked full of handcrafted furniture made right here in the USA. Choose from solid wood or laminate tables, and a wide variety of chair designs sure to accentuate your style.
Keep the in-laws comfy with an adjustable Sleep-Ezz bed from Thornton House Furniture in Lodi. These bad boys come with a lifetime warranty, offer customizable sleep options, and even a massager—all at a fraction of competitors' costs.
Amp up your entertainment space with help from Homestyles Furniture and their vast inventory of Living Area upgrades. Even small purchases like decorative pillows can bring a drab room, or couch, to life. Or, make old new with expert restoration upholstery work from Alverson's Fabric & Furniture.
Make Your Home Energy Efficient
No one enjoys high cooling or heating bills, and yet we so often neglect to take the steps necessary to reduce heat and cooling loss in the household. Before you spend another summer suffering the heat, or chilling the winter away, check out our tried and true tricks for minimizing energy loss in your home and enjoy your air system to its fullest!
Begin with the entry points of your household. Do the bottoms of your doors have a weather strip? If they do, assess their current condition. They shouldn't be allowing any outside air in, or vice versa. If they don't, or if they are allowing free airflow, it's time to install a new one. On a similar note, check the crannies and cracks around your windowpanes. If you feel airflow, find a sealant at your local hardware store that works according to the size of the gap.
If your home is filled with single-pane windows, form a budget plan that will allow you to replace these windows with dual-pane in the future. This simple switch, although a little costly in the short term, will pay itself off over the years by preventing summer heat from creeping in, or warm air from escaping during winter. How does this work?
The ducts floating from room to room are your number one concern when it comes to air circulation in the household. Contact local professionals, like Lovotti Air or Air Tech Heating and Air Conditioning, to perform full diagnostics on your system to ensure maximum air circulation around the household, locate leaks and joint displacement, and bring larger savings to your wallet!
Holidays mean more people at home, probably leaving lights on in empty rooms. Solar Purchase Power Agreements (PPAs) and solar leasing make it easier than ever to cash in and sustain savings.
BTA Solar takes it further—handling all the necessary California Energy Commission rebate application paperwork, utility interconnection applications, and local jurisdiction permits. 
Vivint Solar, another local company, offers different plans that allow for little to no upfront cost, lease options, and utilization of tax credits and incentives.
Now that your house has been re-tuned to its naturally welcoming vibes, take a moment to settle into one of those newly furnished accent chairs, plush cushion and all, and take in the picturesque sight before you. Feels good, doesn't it? And don't worry, the holidays -and the bundles of families that come along with them- are still a few, excruciating weeks away.