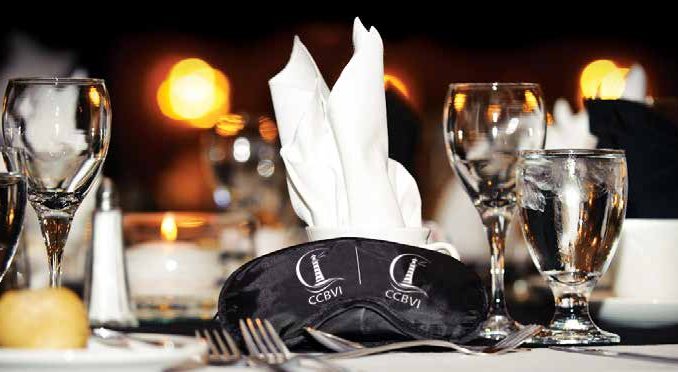 San Joaquin Steps Into The Shoes Of Its Blind Community
It's a quarter past nine and the power goes out. Your phone light isn't much use and you've burned all your candles down, for fashion, not function. Instinctively, you recall where your furniture is as you cross the living room and into the kitchen. Last night's meatloaf and veggies are calling your name, and your growling belly can't wait. You sit down at the table, edge your fingers around your fork, and begin the  process of lifting bits and pieces of your meal to your mouth. Tricky, right?
This scenario is just another day in the life for many in San Joaquin's blind community. With varying degrees of sight—or lack thereof—these men and women lead typical lives: Marrying, having children, caring for their homes, and holding full-time jobs. Their days do not revolve around what they see, but rather, what their other senses provide to them. And our community can now experience this heightened state in a seven-course dinner experience like no other.
Community Center for the Blind and Visually Impaired (CCBV) will host their very first Dining in the Dark event on Friday, October 27th at 6 PM.  Providing attendees with their very own sleep shades, guests will enjoy a fresh, local meal prepared by Chef Paul Ratto, olive oil and wine tastings, and a raffle and silent auction—completely unable to see. "The most important thing about Dining in the Dark is to temporarily experience being visually impaired or blind for the first time," explains Hy Cohen, CCBV's Computer and Assistive Technology Instructor. Diagnosed legally blind as a baby, Hy had to learn alternative ways to live out a successful and happy life by relying on his senses, and the continuously evolving technology around him.
"There are a lot of low and high-tech ways to accommodate a visual impairment. The iPhone and Android-based smart phones alone have allowed those of us who are blind or visually impaired to do things more easily and quickly," says Hy. "I would honestly say that what is more disabling then my lack of normal eye sight is the attitudes of others."
Hy hopes that the event will be a welcome awakening for those who do not face visual impairment, providing them the chance to "see" the world as those with visual impairment do. As far as advice for the upcoming event? "I would advise our guests to not be afraid to use their fingers to help guide food onto their spoon or fork, especially since they are experiencing having no sight for the first time. Have fun with it because, don't worry, no one's looking!"
Grab Your Tickets:
CommunityCenterForTheBlind.org
(209) 466-3836
Save the Date:
October 27, 6 PM
Waterloo Gun & Bocce
4343 N. Ashley Ln., Stockton
Seven course meal, olive oil & wine tastings, raffles & silent auctions.