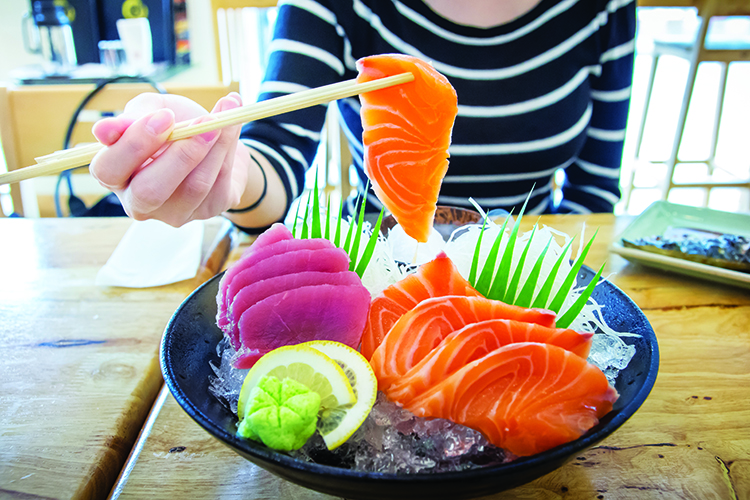 We've got a hankering for all things fish here in San Joaquin. But not just any albacore or tuna roll will do, oh no. Only fresh, mouth-watering cuts of the highest caliber can ignite our testy taste buds. So, we've taken our time to serve to your palate some of the top sushi joints across the valley. When you're in the mood for something in the raw, turn to San Joaquin's best below.
Mikasa Japanese Bistro
Parked along the storefronts in Lathrop is the hidden gem that hosts some of the most amazing rolls we've ever had the pleasure of tasting. Mosey on over to the bar, or grab a seat along the many sprawling tables at Mikasa, and enjoy a Lathrop Roll. Featuring mango and tobiko over eel, fried shrimp, and mouth tingling spicy tuna—it's a dining opportunity you won't soon forget.
15138 Harlan Rd., Lathrop | (209) 858-1818 |MikasaSushiLathrop.com
Komachi Sushi
Make it authentic, make it fresh, and you've got the recipe for Komachi Sushi's success. Have a seat in the modern surroundings this Lodi establishment boasts and order their famous sashimi. Better yet, Komachi's Double Alba is a must-try, with its layers of avocado, white onion, tobiko and cucumber, made whole with spicy albacore!
307 S. Lower Sacramento Rd., Ste D., Lodi | (209) 334-3131 | SushiKomachi.com
Cocoro Japanese Bistro & Sushi Bar
Out on the Mile? When those hunger pangs kick in after snatching up some summer wear, make a pit stop for Cocoro's Salmon Cilantro Roll. This bad boy boasts cilantro, avocado, and cucumber over salmon. Add a tomato wrap and chili oil for that special tang.
2105 Pacific Ave., Stockton | (209) 941-6053 |CocoroBistro.com
Misaki Sushi & Bar
When you're downtown and taking your date to the movies, you've got to start with dinner. And who better to handle your seafaring appetite than the chefs at Misaki? Choose to sit along the veranda or dine indoors. And since you're here for the show, why not try the Cinema Roll, brimming with two special sauces, scallions, and massago over snow crab, avocado, seared and spicy tuna.
222 N. El Dorado St., Ste M., Stockton | (209) 547-1288 |MisakiSushiBar.com
Sake Bomb
When you just can't choose between sake and beer, combine them! Request a shot glass' worth of sake and order up a tall glass of beer. Prep your chopsticks by setting them over the glass of beer and set the sake glass on top. When you're ready, give the table a quick pound and watch that shot glass drop into the beer with a hiss and a powerful fizz! Then guzzle that on down!