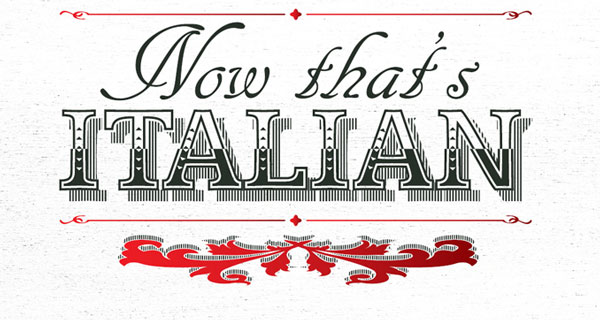 There's nothing, and we mean nothing, quite like that first savory taste of Italian. Simple, fresh ingredients profess everlasting bonds in a medley of herbs and spices, balsamic, and extra virgin olive oil. Layered in rich, thick creams and sauces, or swimming in blends of garlic and basil, dishes ripe in succulent filet cuts, shrimp, and chicken melt together for a presentation the palate has never before sampled. Now, you might be asking yourself: Where can I go for such an extraordinary tasting experience, so far from Italian shores? You're in luck! Follow along on a tour through our valley, and feast your eyes on restaurants ready to wow you in their culinary expertise.
Artistically Inspired
Mezzo
Food and art go hand in hand. Just ask anyone who dines at Mezzo, the restaurant that prides itself in producing dishes that are (almost) too enrapturing to eat! For Chef Buddy O'Dell and his creative team, quality ingredients and presentation are the staples which bring in every return customer. Well, that and an interior design that makes for the perfect backdrop to any date night.
When you and your dinner companion are ready to set the scene for a romantic evening for two, have a seat and sample the Papardelle Al Pollo Brasato, braised chicken, artichoke, leeks, pancetta, parsley and parmesan, on wide pasta. Or indulge in the Linguini Alle Vongole, brimming with Littleneck clams in olive oil and lemon, white wine, and garlic. Crushed chili, parmesan, and flat noodles makes this one of our own favorites.
A Trip into Tuscany
BellaVista Cucina Italiana
Chef Rima Barkett doesn't mince words, only ingredients, when it comes to the origins of her mesmerizing menu options. The renown culinary artist reshapes childhood memories of Tuscany into delightfully authentic appetizers, entrees, and desserts, built up in traditional serving sizes you'd find in the kitchen of any Italian home. Enjoy one of her specialties, like her Mezze Maniche in Crema di Parmigiano. This dish, filled with parmesan fondue in half-rigatoni pasta, and with sous-vide egg and bacon bits, is a trip to Italy we won't soon forget.
You'll be hard-pressed to find a more exquisite view of our waterfront than along BellaVista's large windows, skirting three of the four walls to this open-floored dining experience. And take it as a sign if they're throwing a soiree upstairs and you're invited to dine on their terrace—You can't find a better view for sunsets slowly descending into the Port.
Food with a View
Garlic Brothers
Yes, yes. We know Garlic Brothers isn't inherently Italian. But when they've offered us such sensational multicultural-inspired menu options, we can't help but recommend this waterside restaurant for the heady summer months. It's an oasis along the Delta, which provides guests with selfie-worthy seating inside the restaurant and along its outdoor patio. Pizzas from their wood-burning oven inspire our palates, but it's the pasta that truly takes our taste buds away.
And how can it not? Scampi Linguini first pops to mind, a pasta entree that indulges our love of bell peppers and onions, and wrangles us in with caper and cremini mushrooms. All folded into black tiger prawns and a white wine cream sauce. And let's not even get started on the simple pleasures of the Chicken Penne, in all its sun-dried tomato glory.
Flavorful Fanfare
De Vega Brothers
We're going to be honest. If you haven't visited our beloved Italian staple in Stone Creek Village, you should be ashamed of yourself! What Italian lover hasn't gone out for a night on the town, and not ended it with a fine dining experience at De Vega Brothers? We're talking classic menu options that hold true to Italian favorites, here! And it's always a welcome undertaking when the chef concocts his own culinary take on our most beloved dishes.
Buuuut, we'll cut you some slack. Drop in, order a drink, and sample the sautéed mussels. When you're done with that appetizer, dive into the Veal Picatta, another seafood-based plate that features veal scallops that have been sautéed in white wine, alongside capers and mushrooms, fresh herbs, and chopped garlic. If you're in the mood for something savory, we can stand by the layers of flavor in De Vega's lasagna.
The Tastes of Home
Angelinas Spaghetti House
When it comes to familiarity and the comforts of a warm meal, Angelinas Spaghetti House reminds us that, no matter where we are, home will truly remain in the hearts of our friends and family. And that's why we can always rely on Angelinas for hearty portions that are as flavorful as they are grand. We don't want to give any big secret away, but there's a reason why the place is named after a singular dish we can never have enough of.
If you aren't in the mood for spaghetti (and how could you not be?), we can recommend the ravioli with a clear conscience. It's a plate that's a hit for those that don't like to leave until they've gorged themselves into a food coma. Loaded with meaty sauce, tender ravioli, and fresh herbs, it's as plain as day how this dish has gotten so popular.
Contemporary American & Italian Cuisine
Bistro 135
Bringing inspired tastes to the town of Tracy, where new and enticing dishes are paired with portrait homages to the city's olden days, is Bistro 135. It's hard to find an empty table during the dinner rush, but that's fine by Chef and Owner Kevin Fahey, who has just celebrated their first year in April.
Beyond wood-fired Italian sausage pizzas, and fig and bacon pies, are plates of butternut squash gnocchi, bathed in cream sauce, smoked chicken, and candied almonds. The mushroom risotto is a must-try staple, loaded with cherry tomatoes and sugar snap peas. And the simplicity of pastas like pesto and chicken, or garlic cream sauce and chicken, with asparagus, mushrooms and tomatoes, all sitting on a bed of house-made fettuccine, sets our taste buds a quiver.
Worth every extra Mile
Galletto Ristorante
Okay, we admit it. This place may be a hop, skip, and a jump away from San Joaquin, but how can we write about our love for Italian cuisine and not include Galletto Ristorante? Tucked away in the heart of downtown Modesto, it's a feast for fans of fine dining and fine design. Indoor and outdoor seating whisk guests away to Mediterranean shores, abundant in wine barrels, classically inspired high ceilings, and open floorplans. But as much as we love the surplus in romantic scenery, we've got to move on to the menu.
Succulent entrees entangle the senses, featuring specialties like the Foie Gras in all its sautéed glory, the Risotto, and Grilled Ribeye. Long-time customers know they can't go wrong with the simple, sweet bite of Bruschetta, and many with an appetite for something savory sink their teeth into the Chicken Parmesan.