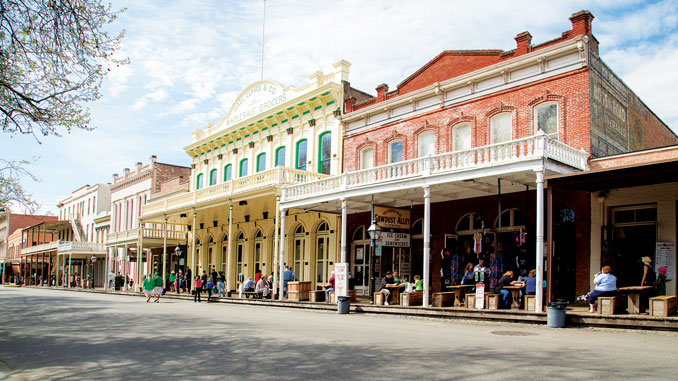 It's hard to imagine our capital city underwater, but Sacramento spent much of its earliest days immersed in both the gold rush, and seasonal lakes that sloped through streets and humble residences. And we're not talking puddles, here, but communities that required rowboats to cross the road. Alas, that's what happens when gold fever strikes, and cities are built on floodplains. What else can one do, then, but raise said city to new heights? Literally! This much-needed elevation would lay the foundation upon which Old Sacramento Underground Tours would be based.
"The underground spaces are the remnants of a herculean response to a terrible problem: Namely, that the city was established at the right time, perhaps (the Gold Rush), but in the wrong place, right in a floodplain," Explains Shawn Turner, Tour Programs Manager with Sacramento History Museum. "Floods washed through the city in January, March, and December of 1850—Its first official year. Floods hit the city again in 1852, 1853, and 1854. Each time, city leaders built or raised levees; along a couple of streets, owners raised their buildings above flood threat."
But these were meager band-aids when addressing the flooding, and so, after a massive Christmas-time flood that continued into 1862, the city finally decided it was time to raise the city itself. "Contractors with the winning bids typically raised the streets first, by building brick walls to define the edges of the streets, and filling the void between with dirt and muck (topping off with gravel before a final layer of cobblestone or a wood and tar paving)," says Shawn. The entire process took around thirteen years, with buildings slowly jacked up and set upon new higher brick foundations. But the result is what you can see with your own eye when visiting Old Sacramento.
It's here that the Sacramento History Museum offers a chance to walk down and into the basements of two structures, where the remains of Sacramento's beginnings rest in old, aged brick walls and support beams. "Visitors learn the context for the lifting—why the city exists in the first place–and by the time the group reaches J Street, they see the tangible triumph of the lifting, before going beneath one of the buildings lifted. There, they can help lift a replica of the building as they discover the whole ludicrous process."
These hour-long tours, complete with historical character guide, take place between the months of April and December. Best of all, adults can enjoy an After Hours Tour between May and October, which relays the tales of the city's much darker undertakings.
Book Your Tour With:
Sacramento History Museum
101 I Street., Old Scramento
(916) 808-7059
SacHistoryMuseum.org