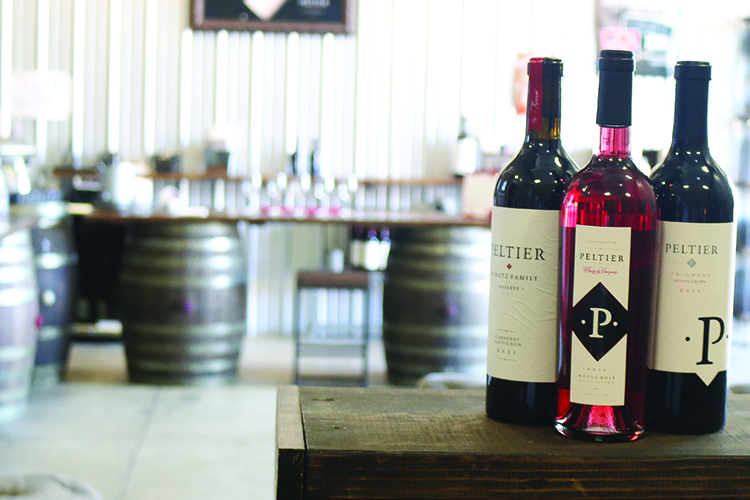 Dancing along the edge of northern San Joaquin—where bumpy backroads are out-flanked by rows and rows of rich, ripening berries—lies Peltier Winery & Vineyards. As a proud parent to the vines in the ever-growing Lodi Appellation, Peltier is a home away from home for local wine enthusiasts and those visiting our vibrant valley. With their crush facility located on site, guests are not only enjoying their wine, but learning the origin of how each bottle came to be.
The facility was borne from Rodney and Gayla Schatz' combined dream when the couple purchased forty acres in 1985. The business is second nature for Rodney, whose family has been growing in the Central Valley for generations. Time, patience, and perseverance allowed Peltier to grow, and its roots expanded from those forty acres to encompass over 1,200 today.
"We have a fantastic team of people that bring Peltier Winery to life," says Ian Bender, Director of Marketing & Design. "At the helm are proprietors Rodney and Gayla Schatz, with a very hands-on involvement with everything, from their vines to their wines. Our General Manager Hanno Bezuidenhout strives to maintain a cohesive and healthy atmosphere in winery operations. Winemaker Susana Rodriquez Vasquez commits her passion and love for wine into every bottle we produce. [I've] been responsible for Peltier's new face and brands. And Director of Sales, Tina Rogers, represents our brands in the market place locally, nationally, and globally."
When guests take a seat alongside the pallet-decked walls or stand before the polished wooden surface of the barrel-bottom bar, it's apparent that the line between staff and visitor falls away, replaced with friendships forged in the taste of fine wine. And how could they not? Deep reds, proud owners of gold and silver medals from the Cali State-Fair, are generously poured. Sparkling blush beauties, filled with fruity tang, tempt the palate. And Peltier's hybrid and dessert wines are not bashful about their full flavors.
"Our 2014 Peltier Triomphe – Premium Red Blend and 2015 Peltier Black Diamond Sauvignon Blanc are our best sellers in the tasting room," Ian proclaims.
Peltier takes pride in each step of the creation process, and their bond with the land is second to none. Every acre under their protection is farmed sustainably according to the third party, Lodi Rules. Utilizing cover crops between the vineyards, drip irrigation, and owl boxes to help promote natural rodent control, the couple behind the glass aspires to give back to the land that has offered them so much.
Have A Sip At:
Peltier Winery & Vineyards
22150 N. Kennefick Rd., Acampo
(209) 713-4170
PeltierWinery.com