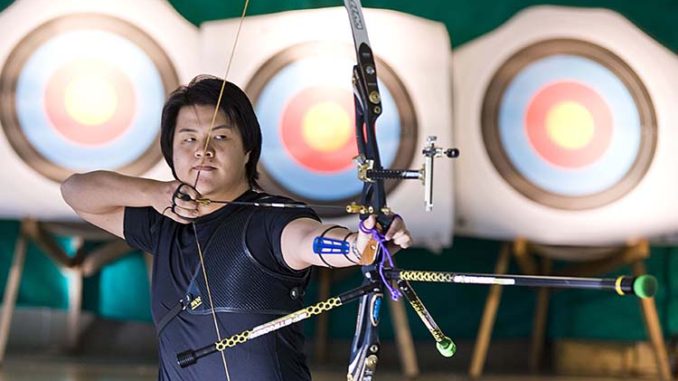 Breath, posture, focus. Matthias Macasaet lives for all three, drawing the string taut with his right hand. The bow is steady, his arm poised to release the arrow. And as his eyes make one final adjustment, the world fades away, and it's nothing but Matthias and his target.
As the head coach for the California Central Valley Archery Academy, Matthias has practiced this form for the past four years. Training under Kisik Lee, the Head Coach of the USA Archery Olympic Team, earned Matthias the rank of National Level 4 NTS Archery Coach. And with this skill, Matthias lives his dream of bringing Olympic Recurve Archery to San Joaquin.
"My family came here when I was 7, and have established Stockton, or the San Joaquin County, as our home," he explains. "I intend to make this place a well-known venue for archery; locally, nationally, and internationally."
This dream began when Arlene and Don Macasaet, Matthias' parents, first started the CCVAA in their very own backyard. "My mother always wanted to bring some sort of Olympic sport to Stockton," Matthias thinks back. Olympic Target Archery was the perfect fit San Joaquin needed. And as more people joined CCVAA, the family moved the business from their backyard to a larger facility on March Lane, and finally the San Joaquin County Fairgrounds. After returning home for college break, Matthias found a calling in his parents' passion.
"It was on the day of my return flight [to school] that I decided to stay, but looking back, I think that I have no regrets."
Now, Matthias teaches three levels of Junior Olympic Archery Development (JOAD) to his students—who range in age from the single digits to adults 19 and older. As beginners, Matthias instills in his pupils the basics of executing a proper shot and range safety. For intermediate archers, good form is key for them to prepare for competition. And those that make it to the Elite JOAD team have the honor of joining competitions.
"Nothing makes me happier than seeing my students and associates succeed and achieve their goals," Matthias smiles. "I feel fortunate to be able to provide an environment where everyone has the chance to develop and grow to the best of their abilities and achieve victories both big and small."
Hit The Mark At:
California Central Valley Archery Academy
(209) 351-4660
CentralVAlleyArcheryAcademy.com