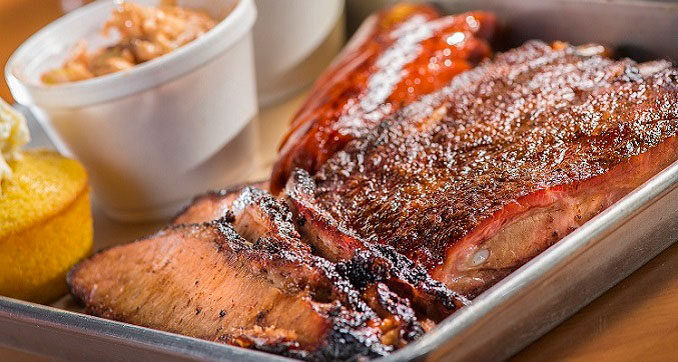 Now that summer has settled across San Joaquin, you better believe backyard barbecues are igniting everywhere. But for those that crave the succulent, smoky flavor of charbroiled brisket and sizzling sausage links with no time to spare for hours of marinating and grilling, a singular restaurant along the Mile offers tempting dishes that boast authentic flavor.
Enter Que 225, our latest in dining digs that's been all the rave for locals and those seeking true Midwestern flavor. "We're just trying to have a real Midwest BBQ experience. We felt that Stockton didn't have anything that reflected that," Mike Buell, co-owner of Que 225, explains. "We get people that are in here at least once, if not twice, a week. Some will say 'I'm from the Midwest and I haven't had BBQ like this since I've left.' It makes me feel really good."'
Modern design meets rustic comfort in Que 225's interior. Guests popping in for a visit can place their order up front and then find a seat at one of the many tables situated around the restaurant. Neatly arranged alongside the napkins are sauces readily available to pour on the side for dipping or directly over piping hot orders of ribs and chicken breast. Food is served on large metal trays, perfect for when your meal needs to be pulled straight off the bone.
But what's the story behind the unique name and flavors of Que 225? Mike was only too happy explain! "Que is short for BBQ, and 225 is the temperature we smoke the barbecue. It was one of those times where we tried to find something unique [in a name]." Switching careers, from construction to the barbecue business, was a leap for Mike and his partner—Will Linton—who moved their passion for cooking to the forefront of their career. "For us, it was more of this realization that we could make really good barbecue."
Having celebrated their first year of business this March, Que 225 is still growing strong in the hearts and minds of barbecue fanatics everywhere. Those coming in for the first time tend to order the ribs and the brisket, while the lunch time rush has no qualms scooping up a few pulled pork sandwiches for the road. Platters—served with two sides and cornbread—come with your choice of sliced brisket, pulled pork, chicken breast, or LA hot links. And if you don't like making tough decisions, you don't have to. Que 225 also offers up 2 or 3 meat combos, allowing you the chance to sample everything in just a few delectable visits.
"What I like, is for people to get some food and hang out. Grab a couple beers and watch a couple games on the TV," Mike grins. "We've got two TVs, so we usually have some sort of game going on. We have six taps and when we run out we switch to a new variety."
As if the cornerstone of barbecue restaurants hadn't provided us enough reason to drop by for lunch and dinner, Que 225 also serves up generous portions by the pound for those that ask. And yes! They do offer catering services, meaning you'll never be far from your Midwest favorites for family occasions, special events, and more. Try on sides like BBQ beans and spicy cole slaw, cheesy potatoes and potato salad.
Take A Bite Out Of:
Que 225
1740 Pacific Ave., Stockton
(209) 545-7004
Que225.com