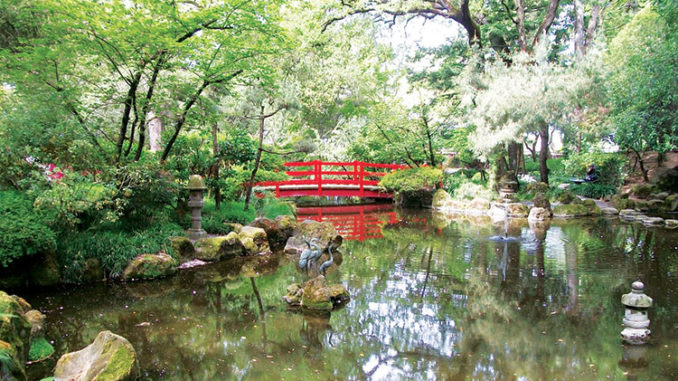 We must all take a step away from the modern sprawl of city-scapes and suburban neighborhoods. And, fortunately for us, the many townships that have flourished within our agricultural wonderland have offered ecological havens for ourselves and the many creatures that call our valley home.
Micke Grove Regional Park Japanese Garden
One of our county's most cherished landmarks of historic and aesthetic value—the Japanese Garden—has been a treasure for visitors since 1965. Lovely bamboo thickets, Japanese maples, and stone lanterns adorn trails and skirt stone steps. A large pond rests at the very center, thick with vibrantly colored koi and bridges believed to hinder evil spirits. Lapping along the waterline is the tea house, used for both ceremonial events and rental purposes.
Lodi Lake
The perfect getaway close to home for nature lovers, Lodi Lake offers flat terrain around the waterline that curves into the wildlife area. From there, the nature trail loops just under two miles long. This makes for an easy trek for beginners and those interested in soaking up the marvelous tree-enshrouded canopy overhead.
Oak Grove Regional Park
Boasting its own 10-acre lake seasonally stocked with catfish and trout, a nature center with in-depth exhibits on the local wildlife, and two nature trails—Oak Grove Regional Park is only a slip off of I-5 from 8-Mile Rd. The park offers an 18-hole disc golf course, unique to our county. Picnic benches are perfectly placed around tall, leaf-splayed trees to offer a superb lunchtime retreat.
Cosumnes River Preserve
Indulge your wild side with over 50,000 acres of untouched ground and over 11 miles of nature trails. The Cosumnes River Preserve prides itself in its residency of over 250 bird, 40 fish, and 400 plant species. It's an ecological wonderland, abundant in massive oak trees, marshland, and thickets. Be warned! Coyotes and mountain lion also call this wilderness their home.
University Park
Located at the center of one of Stockton's most historic regions, University Park sprawls across 102 acres, featuring medical offices and the Stanislaus State University Extension. Its Discovery Trail meanders through a mile of unique architecture, the World Peace Rose Garden, and a lake.
Weber Point
A marvelous monument to Stockton's humble beginnings, Weber Point acts as the entryway to the California Delta from our Port City. Sprawling with wide, grassy lawns and trails, it features many historic plaques dedicated to the city's previous landmarks or people. Wander off of Weber Point, and take a stroll along either side of the river to find more etched entries about the history of the city.