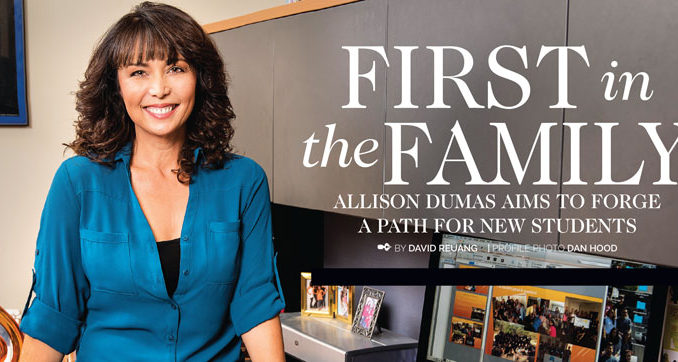 University of the Pacific's Community Involvement Program (CIP) Director, Allison Dumas, wakes up every morning feeling blessed. "I love what I do, and not a lot of people can say that," she says of her role that allows her to help others while promoting higher education. As a first-generation college student from a low-income background, her passion in promoting education access and underrepresented student retention started early.
"When you're first generation the only thing you want to do is get out and help your family," she says of her pursuit of higher education. "It was an investment for myself, family, and community."
Allison began taking college courses as a teenager to jumpstart her career path. After high school graduation, she headed to San Joaquin Delta College at the young age of 16, and UC Davis soon after. Though she was an intelligent and hard working young woman, Allison found her background to be somewhat of a hurdle as she transitioned to a large university. Unable to afford the orientation fee, she missed out on the opportunity to better familiarize herself with the UC Davis campus, financial aid options, the registration process, and every day student life. "I didn't know what questions to ask or who to talk to," she says.
Though Allison admits she may have dropped out if she had a car, the weight of her struggles lessened as she received mentoring and encouragement from professors, enrolled in ethnic studies courses, and discovered her joy in helping others. Between her involvement in a work study program mentoring students of migrant families, and her role as an RA, Allison found the answers she so badly craved, and the ability to pass this knowledge onto others.
After obtaining her Bachelor's degree in Psychology, Allison continued on in her philanthropist spirit, landing her first job as a counselor for low-income students at University of the Pacific. "I quickly discovered that I sympathized with the students I was working with, and realized this is the way I should go with my career," Allison says of her decision to pursue a Masters degree in Counseling and Educational Psychology at UOP.
Today Allison serves her alma mater, and community, as the Director of the Community Involvement Program—a role that requires her to wear many hats. CIP is a comprehensive need based scholarship program for first generation college students from the Stockton community. CIP students proactively perform community service and civic engagement, thus enhancing their own development through the promotion of social justice, civic engagement, and equity in the community.
In addition to program administration and development, facilitating student development with cohort service projects, and coordinating outreach as CIP students mentor youth, Allison's favorite role is 1-1 retention support/counseling.
"I learn something from every student in the program," Allison shares. "As they make the choices they make, its really an honor to watch that and to be a part of it. It's exciting because you want more for them and you want better—so watching them grow is just so great."
And grow they do, with Allison as their guide. As Wenona Truong of Stockton explains, "I have never encountered anyone who embodies such grace, integrity, pride, understanding, kindness, and passion as Mrs. Dumas. Her work ethic alone is exemplary of how relentless she is in providing and preserving a higher education for first generation students in the Stockton Community. Needless to say, I would not have the opportunities I am able to have, if not for the sacrifices made by Mrs. Dumas and her many hours dedicated to the program."
For More Information:
Community Involvement Program
(209) 946-2436
Pacific.edu/CIP