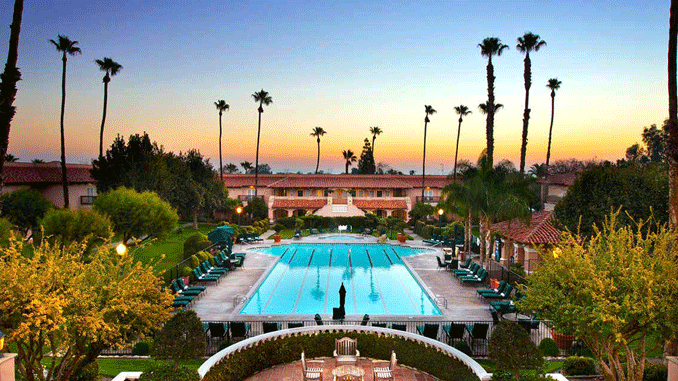 With leisure travel back open, many of us are itching to explore outside of our bubbles. For many it's motivated by the reduction in cases, for some it's the lifting of restrictions, and for others the ability to get vaccinated has them yearning to hit the road. Your first vacation doesn't have to be far away. If you're looking for a relaxing overnight or quick weekend trip, consider going somewhere nearby, socially-distanced, and unexpected. Instead of big tourist destinations, take a road less traveled and make an adventure out of it at Harris Ranch, a rural escape located halfway between the big cities of San Francisco and Los Angeles.
Stay. Harris Ranch Inn & Restaurant is a hidden gem. Whether you came here to getaway or are stopping over on a longer road trip out of town, the 153-room inn offers plenty in the way of rest and relaxation from well-appointed rooms bursting with luxurious amenities to on-site comforts including a pool, jacuzzi, and plenty of lounge chairs to put your feet up on in between dips. For a hotel with less bells and whistles (and perhaps a smaller price tag) check out the Best Western Plus Coalinga Inn.
Eat. Here, it's about the beef. These money makers are everywhere in Coalinga, including on the plates of hungry diners. The Harris Ranch Inn & Restaurant offers your most popular dining choice for the evening. Most of the meat is going to be locally sourced, such as the Harris Ranch prime rib, filet mignon, ribeye, and more. Other specialties are made local, too, including flavorful dressings, farm-fresh vegetables, olives, and others, so you're really be enjoying the area's bounty. If you're looking for a more casual eatery, try the well-reviewed Harris Ranch Express BBQ, sourcing much of that same quality meat and serving it up as quick bites for patrons on the move.
Play. Many who visit Harris Ranch do so for the golf and steak dinner itinerary. Lemoore Golf Course is about 30 miles outside of Coalinga and a popular stop-off for those staying at the Inn. A bit farther down the road, you can find tee times at Hunter Ranch Golf Course. Keck Park & Community Center offers a break for families in town where you can have a picnic, play on the playground, or even get in a few rounds of disc golf or games of HORSE. To incorporate a little history into your stay, check out the fossils and Native American artifacts at R.C. Baker Memorial Museum (call ahead for up-to-date hours as the museum has experienced temporary closures due to COVID-19).