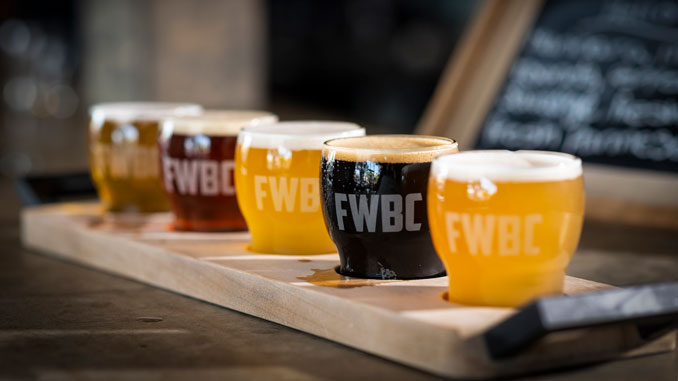 When it comes to making beer, SJC brewers are one big happy family, embracing the comradery the industry is known for instead of focusing on competition. "Although many would assume brewers are all competing against each other, that's not true," says Steve Altimari, president and brewmaster of High Water Brewing in Lodi. To the contrary, local beer makers say it's not uncommon for them to lend each other a hand, collaborate, and share ideas and processes. "The beer industry has several guilds and associations [that] all have the common goal of advancing independent craft beer," Steve says.  Charlie Lippert, co-owner of 5 Window Beer Co., calls brew culture " a homey feeling." "The brewing industry is open arms, wanting to help," he says. "The most rewarding aspects of brew culture are the relationships between brewery and consumer and also the comradery between brewers within the industry," says Kyle Manigold, one of four partners behind Morgan Territory Brewing in Tracy.
When it comes to running a taproom in San Joaquin County, that sentiment isn't reserved for just the brewers. Industry professionals extend that familial feeling to their customers, too. 5 Window Brew Co. preaches the importance of treating customers—old and new—like members of an inner circle. Prioritizing their patrons has led the craft brewery to success. 5 Window preaches an open door, open arms policy, whether you're a regular or it's your first time in. "We didn't realize how many regulars we really had," Joe Ehlers, who co-owns 5 Window with Charlie, says of the Lodi  brewpub. "There's a lot of people that have become family throughout all this."
Grant Hamilton, owner and brewer of Idol Beer Works in Lodi, takes the community aspect of his business very seriously, with a company mission that supports equal parts craft, culture, and community. "Idol is quite a bit more than just beer," he says. "As part of our craft, we want to also be able to support other crafts." That's why Grant and his team emphasize giving back to the community at every opportunity. When they are asked to help out, they rarely say no, which has led to sponsored blood drives, support of art shows, and more. Ultimately he says this philosophy has led to better business and more support of their brand. Charlie and Joe mimic those efforts, often donating their time, space, and proceeds to various community causes.
For Steve at High Water, his business bloomed from a backyard hobby. When he first started home brewing, he and his wife Barri would host friends to try Steve's new brews and Barri would cook dishes to compliment the flavors. When they took their hobby to the taproom, the atmosphere didn't change much. "We have many friends and families who are regular customers and we feel like they are coming over to our house for a fun evening rather than just dining out," Steve says.
As an added bonus, taprooms act like an in-person Yelp review. "We get direct feedback on our beers and often very constructive inputs on what we can do better or at least in a different way," Steve says.
While connecting with patrons is part of the gig, beer is still paramount. People across California, and honestly around the globe, are dedicated to brew culture. Much like wine, it's become a hobby for many to taste and even rate new beers—the subject of many blogs and websites, and good beer is what brings the people in. "People come from all over the place to try out new breweries," Joe says, adding 5 Window routinely has patrons from 90 minutes away or more who head to Lodi just to experience the beer scene. "Everyone has their way, and their hand and their touch [and how they brew]," Joe says. "You can hand a recipe to someone else… and it could turn out totally different than yours." That's part of what makes brew culture so interesting—there isn't one right way to do anything.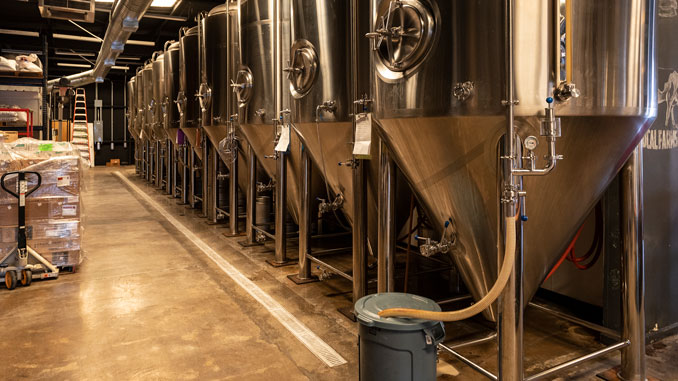 Modest Beginnings
When it comes to craft breweries, they all seem to share roots in home brewing. What starts as a weekend hobby quickly morphs into something more time consuming before you end up with a couple of novice brewmasters dreaming up plans to own a bar after one too many pints. For some, though, this dream works out. Adopting the philosophy that you'll never work a day in your life if you love what you do, local brew masters take their vision to fruition. "This 'hobby' just kept growing and growing until our home turned into a small pub," Steve says. "We had a constant stream of friends coming by to hang out and enjoy our creations." Ultimately Steve left his day job, graduated from the American Brewers Guild, and purchased El Dorado Brewing Company in Stockton in 1996 with Barri before opening High Water.
"Like most brewers in the industry we started as avid homebrewers," says Kyle, who started home brewing 14 years ago. His co-partner Craig started home brewing before that.  "Once we both went professional, we found brewing hard to become bored with.  We are constantly learning and adapting through furthered education and fine tuning our skills, procedures, and recipes."
Charlie and Joe, cousins who grew up together, were always adopting new interests as a team, so when they started homebrewing, the family shrugged it off as just the next thing the duo was getting into. When the idea to go full boar on a local place—with a pretty epic beer garden—solidified, Charlie says his dad thought they were both crazy. But now he's involved, and we bet pleasantly surprised at how well it has worked out.
Grant got a different start into beer. Growing up in Scotland, he admits he was exposed to beer pretty early, around about 12 years old, as is the custom in his home country. From there he spent 10 years in Austria studying Germanic processes that he eventually brought to the states.
Food & Beer Pairing
One of the greatest joys of brewing beer come from how it's paired with food. What you eat can indeed bring out the flavors of any given beer, and vice-versa. That's one reason so many eateries spend a lot of time curating their tap list. From imports to domestic brews, California beers from other regions, and local varieties plucked from right here in San Joaquin County, having an extensive beer list is a good way to draw customers in. "With special brews on draft we keep everyone happy with more selections," says Don King, owner of Fat City Brew & BBQ. Don and his wife listen to customer's feedback to choose new beers for the restaurant. But they keep a strong offering of local beers on tap at all times, including High Water Brewery's Campfire Stout, Morgan Territory's Motorboatin' IPA, and several of Dust Bowl's options, a brewery out of Turlock. "Every local brew has a special beer that makes them stand out."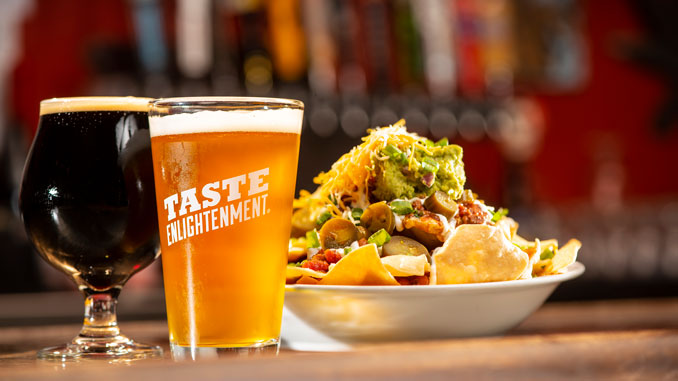 "People love socializing over a great meal and there is nothing better than pairing it with a fantastic local craft beer. We have some amazing breweries within a short drive and even right in our back yard," says Shae Porter, co-owner of Porter's Pub. Her observation is that craft beer drinkers aren't loyal to one brand the way Bud or Coors drinkers may be. Instead, they are looking to try the next cool thing from just about anywhere. That's why at Porter's Pub they rotate eight of their twelve taps throughout the year, going heavy on ciders, wheat beers, and other lighter varieties in the summer and offering a better balance of light versus dark in other months.
Shae won't serve just anything to customers either, even if it's local. "I won't bring a beer on tap from a brewery I haven't tried," she says. "Once I see that they consistently create great beer then I will bring in anything new that they release." Her keen senses when it comes to beer certainly pay off for customers. She says many question her favorites before ordering, and regulars always ask "what's on tap?" the second they walk in. Some of the restaurant's beers are bound to mimic Shae's personal tastes—she's really into IPAs, especially West Coast Style, just nothing too malty. "Locally I really like Morgan Territory, New Glory, and Altamont. However, there really are so many fantastic breweries that I could never pick a favorite beer."
Trends & Best Beers
Like any industry, trends have an effect on local businesses. Keeping up with what people want to taste while also staying true to the brand can be a hard line to walk, but it also unlocks creativity and pushes some brewers outside of their comfort zone. "Probably the biggest trends that are driving the industry currently are hazy beers and canned beers. The canned, hazy beer is probably the largest trend in beer today," Steve says. Canned beers gaining popularity has led to a big shift in the market, one High Water certainly felt, but now most of the company's beers are offered in 16 oz. cans to meet consumer needs. "Double Hazy for sure is trending," Joe says of the 5 Window lineup. The Northeast-style Hazy IPA is 8 percent alcohol. It offers some octane, it tastes good, but it doesn't fill you up. "Every region is different on trends," says Don, who adds Hazy IPAs seem to be the Valley's cup of tea right now.
When you've been in the beer game as long as Steve and Barri, it can be hard to embrace  newer trends. But for them, staying relevant means adjusting. "Steve has spent many of his years to produce beers that are not hazy so it has taken some getting used to. We still clarify our beers but having a little haze is just now part of the game," says Barri.
Campfire Stout is the must-try beer on the High Water menu. "It is the beer that put us on the beer map," Barri says. The stout, which is made with real graham crackers, mirrors the flavors of a s'more, and while the name suggests it is a dessert beer, it also has complex layers of flavors, which makes it a creative but easy drinker. "We also have a large array of barrel aged sours, which are a unique beer style. We age these beers for over a year in wine barrels and add a plethora of fresh fruits to the barrels as they age and ferment. For those new to sours, we suggest they think wine, and to expect tartness," Steve says. In all, High Water has 27 eclectic beers on its menu (and counting) as well as a global expression of flavors throughout the food menu.
While Steve and Barri aren't shying away from new brews, they aren't abandoning what makes them unique either. Giving Barri, who holds the title of CFO, or Chief Flavor Officer, a long leash to explore her flavor inspirations is part of the magic. Her creative process is fueled by whatever strikes her, could be herbs, flowers, seasonal produce, familiar flavor combinations (and not so familiar), and even purveying local ethnic markets.  "What she creates in her mind, then gets translated into beer," Steve says. To brew truly special beer, Barri sometimes creates her own extracts, collecting products from her organic garden and trees.
At 5 Window, the Double Hazy IPA and the cream ale are the two brews constantly flying off shelves—or hitting the bottom of their barrels. They sometimes run out, and when that happens, the customers have something to say about it until the beers are back on draft. As for trends, the boys are experimenting with fruity flavors. The popular mango-infused IPA dubbed Wango Mango will be making a comeback soon, and consumers can expect a tangerine wheat, as well, akin to a Blue Moon or Lost Coast with a more subtle hint of fruit. "It's an easy drinker. It's not as filling and heavy as a typical wheat beer," Joe says.
 "As brewers and partners we have a great deal of pride in the wide variety of beer styles and offerings we have on our list that also rotate seasonally," Kyle says. Dark Reckoning Baltic Porter, Highland Marauder Scotch ale, or Old Diablo Barley Wine all satisfy lovers of dark beer, both crowd pleasers and award winners. For fans of lighter beers, Kyle recommends diving into the Proud Pilsner, Share and Enjoy Galaxy Lager, or Bees Better Have My Honey (a wheat beer with honey and citrus zest). Choosing a favorite, Kyle says, is a hard ask " because it's like asking a parent which child is their favorite."
If you step into Idol, chances are you'll see a lot of German-influenced beers on the menu, as well as some other styles. Grant says the Smutty Fraulein is a must-try that appeases just about everyone. The German blonde ale not only is a favorite among beer aficionados, it's actually appealing to many non-beer drinkers, too. One of the first beers Grant every made, he calls it "a really fun beer." His other recommendation? The Idolicious IPA.
The trend Idol is most focused on is crafting beers that are more healthful overall. They are currently working to produce gluten-free versions of all their beers using a European process. "Technically our beers are insanely advanced," Grant says. And this process allows for Idol to create beers that are identical in taste without the added gluten. The products are VSF—virtually gluten-free—because they're made on equipment that used to handle gluten. If the equipment was new, it could be certified. "The flavors and the tastes are exactly the same. I personally cannot tell the difference," he says.
Beer with a lower alcohol content is also trending. "The holy grail right now is really creating beers that are lower in alcohol and still have really awesome flavor and body," Grant says. Not only will these beers give you flavor with less effects, it's harder to hide imperfections when the abv is low.
When it comes to trends, Morgan Territory doesn't jump on the bandwagon. "We typically do not chase trends," Kyle says. But that doesn't mean you'll never see a trendy beer on the menu, it just means the brewers take their time to turn out their version of something new. Brand, after all, was built around developing beers with a start, middle, and finish—emphasis on the finish—and crazes don't always fit that mold. "A lot of trends tend to be punishing on the palate and not the best for enjoying more than one small glass.  We try and take our time while figuring how to put our spin on it to make it enjoyable for us as brewers and the consumer," Kyle says.
Many breweries are also getting away from only serving beer. With seltzers and canned cocktails taking up a lot of shelf space, some SJC brewers have decided to embrace the trend. 5 Window is fine-tuning its beer seltzers to tap into another market. In September they plan to launch their first set of flavors, including pineapple and lemon, using natural fruit. But they don't expect it to be a duplicate of other brands. "We want a different flavor," Charlie says. At High Water, the focus is on beer cocktails. "We are creating new flavor enjoyments that even non-beer drinkers enjoy," Steve says. This includes mixing the Cucumber Kolsch into a Michelada or combining the Ramble on Rose sour with grapefruit and rose petals for something light and fresh. At Idol, Grant says you won't see a seltzer on the menu. It's just not something he's interested in crafting.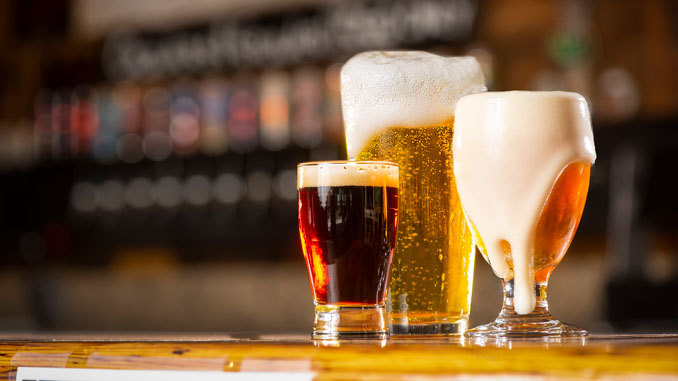 Brew Process
For High Water, experience is everything. Brewing beer since the 1980s, Steve and Barri trust their instincts and forgo much of the typical testing process. "We just go full throttle to create a new beer, and skip doing test batches," Steve explains. "The eventual challenge is merging these extremely creative flavors into a recipe that can be produced in a brewery environment."
"I have a really bizarre process, it's very technical so it's not just hit and miss," Grant says. Using Germanic balancing of grains and advanced flavor profiles, nothing is a guess for Grant. "A couple of beers that I make people swear that I put pineapple and mango into the beer but quite honestly it's five different kinds of hops." His understanding of the ingredients is so dialed in that Grant can replicate fruit flavors using nothing using one. "I can basically create a tropical IPA without using any fruit whatsoever," he says.

While Grant is focused on creating technically advanced beers, Angela Gatti is handling the behind the scenes work. "There's always an amazing women behind every great company," Grant says. And with Angela on his team, Grant is allowed the freedom to focus on his craft while she keeps Idol propelling forward.
At Morgan Territory, the brewers submerge themselves in research before tackling a new brew. "We will look at the generally accepted water profile, grain bill, hop profile, BJCP Guidelines, and talk about what we want that beer to be," Kyle says. From there, we'll let our experience guide the recipe." When they are looking for inspiration for developing a new beer, the foursome turn to other respected brewers to pick their brains.
Charlie and Joe say teamwork is everything at 5 Window, and beer often inspires beer. After a few rounds, they may sit down and hash out new ideas and flavors to introduce. Once the duo have a good idea of how they want the product to taste, they'll take their notes to another brewer and collaborate. Then, it's trial and error. They brew batches and tweak it until it's just right, which often requires feedback from trusted sources.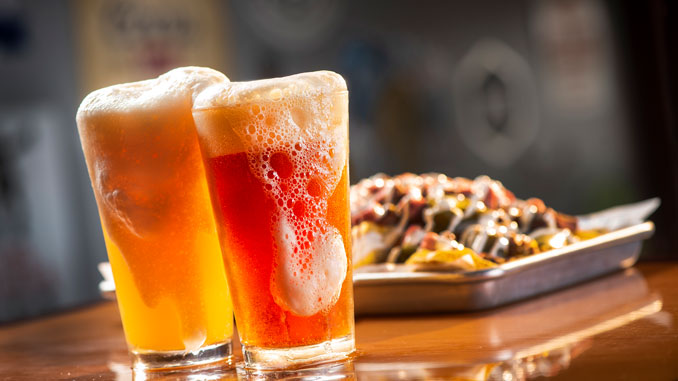 Make it Local
For Charlie and Joe, there was nowhere outside of Lodi they would have opened 5 Window. Afterall, the Lodi locals grew up here. "It's our home, it's our community," Joe says. But whether you were born here or moved to town later, there are a lot of reasons San Joaquin County is becoming one of the places to brew beer in California.
"One of my favorite things about SJ County is the endless supply of incredible ingredients to work into our beers and menu items," says Steve. The local bounty including kiwi's, blueberries cherries, apples, kumquats, asparagus, cucumbers, herbs, boysenberries, raspberries, marionberries, olallieberries, and pecans are just a few of the fresh ingredients High Water uses in its barrel-aged sours.
Those ingredients are also present in Idol's fruit-forward ales including the Blueberry Kolsch and Dragonfruit Cream Ale. But something else Grant loves about selling beer in SJC is its reputation as a wine destination. "The majority of people that are into wine actually are really big beer drinkers," Grant muses. "We see a ton of winemakers in the brewery." So, while the wine may be drawing crowds in, the beer industry is benefitting from the influx of visitors. "I think they're into craft… craft spirits, craft beer. People come to this area for that."
Kyle likes being a partner at a brewery in SJC in large part because it isn't considered one of the big beer locales like San Diego or the Bay Area. With a less saturated market, he feels the following is more loyal. "It just seems a little more personal with a slightly slower pace than deeper in the Bay, which allows us to be more involved with our patrons' and our communities' overall experience," he says.