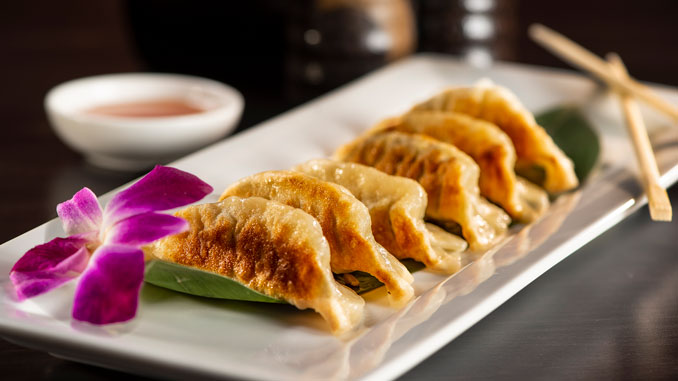 There are a wide variety of Asian restaurants to choose from in San Joaquin County, but there are also a wide variety of Asian cuisines to try. Picture this: It's date night. You want Thai food, but your date wants Chinese. Solution? Get Both. When you go to the new Midori Fine Asian Cuisine in Tracy, you won't have to choose. This was Owner Harry Yu's goal when he opened Midori in August.
Midori does not just focus on dishes from only one region. "Every country has signature dishes," says Harry, adding that he often gets ideas from regions when he travels to Asia every other year. He finds popular dishes over there and brings them back to the valley. When he's found a good one, he practices cooking them, and then makes adjustments to fit the local flavor. Harry designs every menu item with community in mind. "I'm happy they enjoy the food I make," says Harry, who also owns Mikasa.
Midori's menu caters to many palettes. Holding true to Chinese restaurant traditions, chow mein is definitely on the menu. In this classic dish, diners can choose from a variety of meats including beef, chicken, shrimp, or pork. And don't forget the veggies including squash, carrots, and bok choy—so delicious you'll forget you are eating vegetables at all. Experience a variety of texture by requesting your noodles Hong Kong style. These crispy noodles will add just the right amount of crunch to your dish.
There are more classics on the menu such as the flavorful General Tso's Chicken and perfectly cooked pot stickers. Harry likes to throw in a few twists to classic recipes, too, such as the BBQ pork where he uses a special recipe to create his own flavor—one you can't find just anywhere.
Drawing on many regions for inspiration, some dishes have become fan favorites such as the Singapore black pepper prawns and the black pepper beef. "We give a lot of options… [and] try to see what people are looking for," says Harry.  If Thai is what you are craving, you can order red, yellow, or green curry with your meal.
Combining both Eastern Chinese cuisine and Western style, Midori serves a twist on the chicken lettuce wrap perfect for eating alone or sharing. The lettuce wraps require your own assembly; the chicken, lettuce, and sauce are served individually and at the table guests build their own before digging in.
Midori will also soon be adding Japanese fare to the menu, a cuisine Harry is no stranger to. He has already opened four Japanese-inspired restaurants in San Joaquin County after all. In the meantime, there is an assortment of sake selections to try, and next summer guests will be able to enjoy sake tastings and live performances on the back patio.
In a nutshell, Midori is a one-stop shop for locals seeking a variety of Asian foods without having to drive to the Bay Area where Harry grew up. After he moved to the Central Valley he saw the need for more variety of Asian foods in the area so people would not have to travel so far for an authentic experience. That's why he decided to use his skills to start opening Asian restaurants in Tracy. As the gateway to the Bay Area, Harry feels it's the perfect spot for his businesses so commuters can stop by on their way home for an authentic Asian dish. Plus, locals can enjoy it, too. "We give a lot of options… so [people] don't have to go the Bay Area," Harry says. "It's too expensive out there."
For an Asian Food Experience:
Midori Fine Asian Cuisine
2541 Naglee Rd., Tracy
(209) 8358882