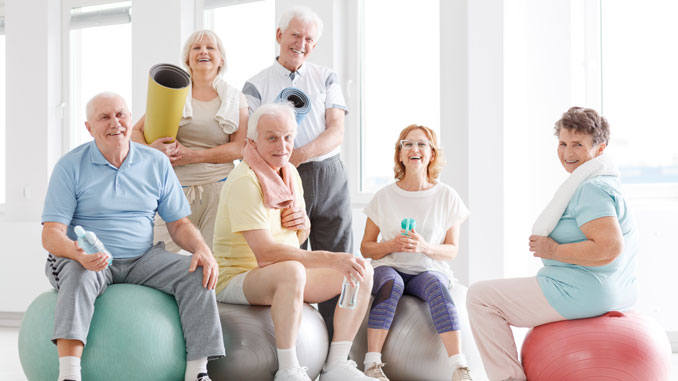 A Guide to Senior Fitness
The new year is a good time to get fit. But when joint pain and other aches ail you, it's hard to commit to a healthy new fitness regimen, regardless of your age. Whether these joint pains are to do with injury or age, there are options out there to help relieve the pain. An example of this is an Elbow Pressure Sleeve for Arthritis, created to add security and mobility to your joints whilst reliving aches and pains. However, joint pains and other physical ailments can come out of nowhere, and could seriously impact your quality of life if left untreated. Whether you decide to look for alternative medicine choices such as CBD, (learn more about the best CBD oils here), or if you are looking for ways to get fit through exercise, the choice is yours and you must do what is effective for you. If you know what you're doing, however, it's easy to pick exercise that won't do more harm than good. Check out our recommendations for exercises that are easy enough on the body that you can commit to for a healthier lifestyle.
Yoga
Yoga may sound like a poor choice for those with arthritis or other joint pain because the positions put a lot of pressure on the wrists, knees, and other parts of the body. The positive thing about yoga, however, is that there are always modifications you can do to ease that pressure. Join a regular class and bring blocks, blankets, and other yogi tools to make simple modifications to stretches (most instructors offer suggestions throughout the class). Or, search for a class made for you.
Go Local: Now & Zen Yoga in Lodi offers a Gentle Yoga class perfect for beginners or seniors, focused on gentle stretching, hip opening, and breath. All of the postures are meant to bring balance without strain. Need extra help? Chairs are available for assistance. The studio's Therapeutic Yoga class is another option for those with joint pain. Instructors incorporate blocks, bolsters, chairs, and other props into the course to make it a perfect class for seniors, or anyone dealing with MS, fibromyalgia, arthritis, or injuries.
Water Aerobics
Working out in the water takes the weight off of your joints. Seniors or those recovering from injury often find water aerobics to be an ideal alternative to other fitness programs for this reason. Not only does swimming increase strength and build muscle, water aerobics improves heart health, reduces the risk of developing osteoporosis, and creates better balance and flexibility.
Go Local: 24 Hour Fitness Gyms offer Aqua classes designed to sculpt the body without negatively impacting the joints. Check class schedules in Manteca and Stockton for more details.
Seniors Only
Attend a class dedicated to seniors and find the confidence to join in. As an added bonus, the workouts are typically designed with modifications in mind to get you healthy without injury. Additionally, you can look into supplements to help you build muscle and stay strong – that are made for seniors! By checking out power life and other supplements, you can support your light exercise with the nutrients your body needs.
Go Local: 24 Hour Fitness gyms offer senior fitness classes such as group workout classes with customizable options for a workout that fits your body while also focusing on strength, endurance, mobility, and flexibility-and Silver Sneakers, a dance-inspired class that uses hand-held weights, elastic tubing with handles, and a Silver Sneaker's ball for resistance featuring exercises designed to increase muscular strength, range of movement, and activities for daily living. In-Shape has its own series of workouts designed for those 55+. Select Stockton gyms offer a low-impact Senior Tune-Up class.
Personal Training
If you need a lot of modification to your workouts, it's sometimes beneficial to go with a personal trainer. The benefit is that you'll be working one-on-one with someone who has your best interest in mind, and knows about your physical health. Many senior classes are low-impact or offer modifications for an easier workout, but a personal trainer can actually customize an entire workout routine to meet your individual needs-what's better than that?
Go Local: Ben Mackie Fitness in Stockton is a leader in personal training. On staff, Ben has a team of trainers ready to customize workout routines to meet your goals. Take advantage of their knowledge and get into fitness without fear of injury. Trainers are goal-oriented, focusing on strength, weight loss, overall health, and more.
Sign-Up!
Ben Mackie Fitness
840 W. Benjamin Holt Dr., Stockton
(209) 955-0360
Now & Zen Yoga
617 S. Lower Sacramento Rd., Lodi
(209) 369-7841
24-Hour Fitness
Multiple Locations
In-Shape Fitness Clubs Multiple Locations