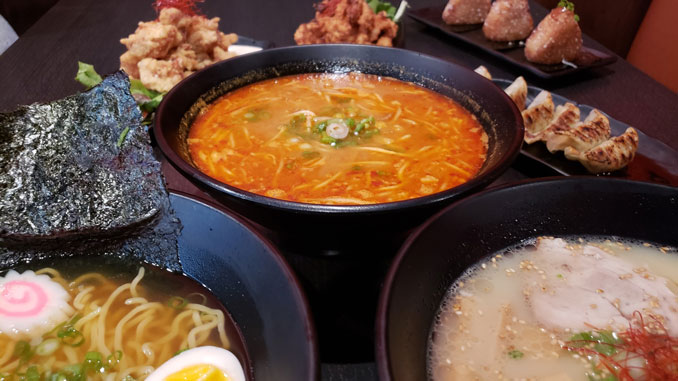 Stockton's Newest Noodle Bar
If the only ramen you've ever known is made from a freeze-dried square of rock-hard noodles, you are sorely missing out on the real thing. Jump on the ramen train and treat yourself to both a traditional Japanese staple and a trending dish that's taking over large cities like Los Angeles and San Francisco. Our local recommendation? Yujin Ramen and Noodle Bar in Stockton.
Unlike the instant noodles you might've overindulged in during your college years, an authentic bowl of ramen is much lighter and far healthier. With fresh ingredients and no MSG, there are no feelings of guilt associated with this warm and comforting dish!
"Stockton is growing," says Harry Yu, owner of Yujin Ramen and Noodle Bar. "And people love to try new things. I knew that if we had our own ramen place, it would bring people in. We also have a lot of students from all over the world that I knew it would appeal to."
And what's not to love? With a real bowl of ramen, you get a quick, light, and healthy meal that tastes fantastic and makes you feel warm and cozy. If you're a ramen newbie and unsure of where to start, try Harry's favorite, the Tonkotsu Ramen. The thick, creamy, pork-based broth is delicious enough on its own, but it's those hearty helpings of fresh ingredients that really stand out. With tender Japanese BBQ pork, bean sprouts, bamboo shoots, a soft-boiled egg, and fresh ramen noodles, this particular dish will take you into the exciting world of what ramen can—and should—be.
The broth is cooked for 10 to 12 hours and made with favorites like pork and chicken, but Yujin also has vegetarian and gluten-free options. And if you're in the mood for something extra, check out their appetizers. Gyoza, a Japanese dumpling, or Age Onigiri, a deep-fried rice ball, will go great with your ramen.
With the winter weather setting in, these crisp, damp days are the perfect time to get to know the real taste of ramen. Oh, and don't feel bad if you start slurping your noodles in excitement—it's the only authentic way to enjoy this bowl bursting in flavor!
Try the Real Deal:
Yujin Ramen and Noodle Bar
3203 Pacific Ave., Stockton
(209) 395-0188