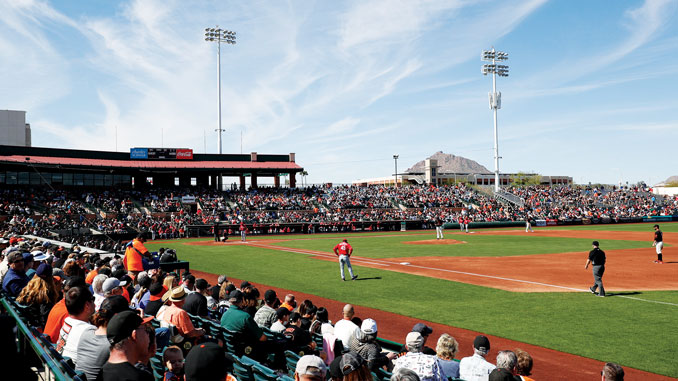 Overdose on America's Favorite Past Time at Spring Training in Arizona. 
For baseball lovers, spring training is nothing short of a dream come true. Over the course of six weeks hundreds of games are played by every Major League Baseball team in existence in just two states. It's a tradition that dates back to 1886 when the Chicago White Sox held the first spring training event in baseball. Fans flock to the Arizona and Florida stadiums every year to watch their home teams face off in practice and exhibition games starting in mid-February, as new players try out for on-field positions and, sometimes, legends are born (Babe Ruth first shone during a spring training game in 1918). Don't wait; book your flight and head to the heat for a few days of summer baseball in winter.
Root for the Home Team
The Cactus League—teams who play spring training games in Arizona—is made up almost entirely of teams in the West, which means your favorite California team has a spring training stadium in the Grand Canyon State.
So where do you catch your favorite players February-April? The San Francisco Giants and the Oakland Athletics have their own home stadiums in Arizona. The Giants play at Scottsdale Stadium in, you guessed it, Scottsdale and the Oakland Athletics play at Hohokam Stadium in Mesa. The Los Angeles Dodgers play at Camelback Ranch in Glendale, a space they share with the Chicago White Socks, and the Los Angeles Angels of Anaheim play at Tempe Diablo Stadium in Tempe where the Arizona League Tempe Angels play night games.
Getting There
Allegiant Air offers direct flights from Stockton to Phoenix (the metropolitan area where all California teams play). Head to AllegiantAir.com to book your flight!
The San Francisco Giants
Well, 2018 is an even year and you know what that means for Giants fans—they are eyeing another World Series trophy. Also lucky for these fans, the stadium is located in one of the best places to visit in the Phoenix Metropolitan Area: Scottsdale. The desert city is known for its spa resorts, golf courses, and nightlife.
The Stadium
The SF Giants have dubbed Scottsdale Stadium the gem of the Cactus League ballparks. A quick walk from some of the city's best restaurants, clubs, and galleries, it's easy to bounce from peanuts and crackerjacks to rack of lamb and tender veal.
More than 11,000 people can enjoy the festivities at Scottsdale Stadium, but the elite sit in the Charro Lodge, a Ramada-style roofed area with views of both the practice and stadium field that accommodates up to 500. During spring training, the 22,000 square foot concourse takes pedestrians from fan shops to hotdog stands and beyond, where favorite grub includes real Southern barbecue of brisket and pulled pork sandwiches pulled straight from the smoker. Wash it down with a specialty beer. You can upgrade from that Bud Light; San Francisco's own Anchor Steam is poured here. Other goodies include street tacos, gluten-free Island slaw, and Island noodles.
Take advantage of the stadium's spring training perks—the special can-dos that don't exist at every MLB game, including breathtaking views of the surrounding Camelback Mountains from inside the timeless wrought iron and red brick stadium. Then, come back on non-game days to watch the boys practice, for free.
Pro Tip: Place yourself near the first baseline for your best chance at gathering player autographs.
If you have kids: Buy tickets for a 1:05 PM game. Kids are invited to run the bases after each one.
Après Baseball
The adventure doesn't end with the ninth inning. Check out some of these favorite activities in Scottsdale.
Take a hike on Camelback Mountain (granted its name due to its shape, which looks like the head and hump of a kneeling camel).
Enjoy the art at the Scottsdale Museum of Contemporary Art and other surrounding galleries.
Step inside Butterfly Wonderland, an interactive indoor atrium that houses thousands of butterflies.
Grab a drink at Citizen Public House.
Enjoy fine dining at Fogo de Chao Brazilian Steakhouse, or a taste of the South at Roaring Fork, a stylish cowboy-themed eatery.
Play as a family at CrackerJax, a family fun center boasting go-karts, mini-golf, and more.
Golf at Troon North Golf Club, TPC Scottsdale, or Grayhawk Golf Club.
Special to Scottsdale: The city is known for several upscale resorts. Book a stay at the Phoenician in Scottsdale, a one of a kind Arizona destination complete with upscale dining, its own golf course, tennis courts, a pool, and a kid's club.
Spring Training Team Schedule
2/23 vs. Brewers
2/24 @ Dodgers
2/25 vs. Cubs
2/26 vs. Royals
2/27 vs. Diamondbacks
2/28 @ Brewers
3/1 vs. Angels
3/2 vs. Reds
3/3 @ Indians
3/3 vs. Rangers
3/4 vs. Dodgers
3/5 @ Rangers
3/7 vs. Padres
3/8 @ Mariners
3/9 vs. Mariners
3/10 vs. Angels
3/10 @ Angels
3/11 vs. Padres
3/12 @ Athletics
3/13 @ Cubs
3/14 @ Mariners
3/15 @ Padres
3/17 @ Reds
3/17 vs. Athletics
3/18 @ Rockies
3/19 vs. Indians
3/20 @ Royals
3/21 @ Diamondbacks
3/22 vs. Cubs
3/23 vs. Royals
3/25 @ Athletics
3/26 vs. Athletics
3/27 vs. Athletics
The Oakland Athletics
Sportscasters near and far often hail the Oakland A's as the team with the best fans. Rowdy, loud, and tons of fun, home games at O.Co are an experience you won't soon forget. In sunny Mesa, Arizona, not much changes. The loud and proud fans are there to cheer on Stomper and his crew with plenty of familiar traditions despite new surroundings.
The Stadium
Hohokam Stadium, named for the people that inhabited the geographical area from AD 1 to the mid-15th century, offers a perfect balance of desert life and Bay Area living to bring the feeling of home to its stadium away. Recent renovations make the 10,500-seat stadium a comfortable home base for your spring training getaway, boasting crisp visuals and stadium entertainment offered by the Cactus League's largest high definition scoreboard, a new addition to the field after the Oakland A's takeover in 2015 (the stadium used to be home base for the Chicago Cubs). To keep guests cool, terraces are shaded from the desert sun (where February hardly feels like winter) and outfield berm seating is prime viewing for home runs.
If you have kids: Stomper's Kid Zone, situated between the two lawn sections in centerfield, is open every game day. Here kids can bounce around on baseball themed inflatables and enjoy other activities at no additional cost.
Après Baseball
Keep the party going long after the last pitch with the best sites in Mesa.
Get cultured at the Arizona Museum of Natural History.
Take in live performances at the Mesa Arts Center, a collection of theatres, art galleries, and studios.
Learn about the Hohokam people the A's stadium is named for at Mesa Grande or in nearby Phoenix at Pueblo Grande Run.
Gamble at Fort McDowell Casino.
Tempt your taste buds with Southern grub from Joe's Real BBQ and Blue Adobe Santa Fe Grille.
Stay with the getaway's theme and order up a drink at Red, White & Brew, an Italian/American bar that serves food.
Hit some balls at Longbow Golf Club.
Special about Mesa: A collection of intertwining hiking trails weave their way through the red rocks of Mesa. Hike, bike, and ride horses through fields of wild flowers, up mountains, and wherever else your feet take you. February is the perfect time to enjoy the sites.
Spring Training Team Schedule
2/23 vs. Angels
2/24 vs. Padres
2/25 vs. Royals
2/26 @ White Sox
2/27 @ Indians
2/28 @ Cubs
3/1 vs. Rangers
3/3 vs. Padres
3/4 vs. Dodgers
3/5 vs. White Sox
3/6 vs. Rangers
3/7 @ Mariners
3/8 vs. Angels
3/9 @ Brewers
3/10 @ Rangers
3/11 vs. Cubs
3/12 vs. Giants
3/13 @ Royals
3/15 vs. Mariners
3/16 vs. Indians
3/17 vs. Giants
3/18 vs. White Sox
3/19 @ Dodgers
3/20 vs Dodgers
3/21 @ Brewers
3/22 vs. Rockies
3/23 @ Angels
3/24 vs. Brewers
3/25 vs. Giants
3/26 @ Giants
3/27 @ Giants
The Los Angeles Dodgers
The rivalry between the San Francisco Giants and the L.A. Dodgers is one of the biggest in baseball history, and their close proximity and number of transports between the two metros only fuels the fire, and that rivalry is just as tense during training. The two teams face off at Camelback Ranch on Feb. 24 and again at Scottsdale Stadium on March 4.
The Stadium
Every spring, the L.A. Dodgers travel to Camelback Ranch in Glendale. The stadium, which the Los Angeles team shares with the Chicago White Sox for spring training, holds 13,000 fans. Sharing the stadium brought the two teams closer to the action, with the Dodgers relocating from a Florida-based spring training facility and the White Sox coming up from Tucson, making it easier for California fans to visit.
From February to April, the schedule accommodates both teams for practices and games on its 12 practice diamonds and three practice infields, and a fish-stocked lake separates the training facilities. Dodgers and White Sox fans never complain about visibility. The stadium has a playing field sunken 12-feet below grade to improve sightlines. Here, the landscaping takes advantage of the desert atmosphere; fans know they aren't in L.A. anymore. However, the most important elements of home are there—the Los Angeles team and the Dodger Dog.
Pro tip: Want the best seat in the house? Eighteen|76 Legends Deck is an exclusive suite-level experience fit for up to 100 fans. Game day tickets include catered meals and plenty of drinks from Anheuser-Busch and more.
Cool Fact: The home field is built as a replica of Dodger stadium.
Feeling Hungry?
The Los Angeles Dodgers offer a unique ticket option for their hungriest fans. Set just above the Dodgers bullpen, shaded tables offer a semi-private viewing area for guests with an all-you-can-eat menu of hot dogs, popcorn, peanuts, ballpark nachos, Pepsi products, and bottled water.
Après baseball
Take a break from baseball to explore Glendale and its surrounding cities.
Watch a few birds at Thunderbird Conservation Park, an outdoor oasis prime for biking, hiking, and more.
Play with the kids at Sahuaro Ranch Park, complete with a historic house museum.
Pass the time with disc golf in Thunderbird Paseo Park.
Visit neighboring Litchfield Park for an animal experience like no other. The attached zoo, aquarium, and safari park offer animal sightings, giraffe feedings, and rides.
Grub on German fare at Haus Murphy's of Glendale.
Special about Glendale: The city is located just nine miles from Downtown Phoenix where there are no shortage of places to explore.
Spring Training Team Schedule
2/23 vs. White Sox
2/24 vs. Giants
2/24 @ Royals
2/25 @Mariners
2/26 @ Rangers
2/27 vs. Rangers
2/28 @ Padres
3/1 vs. Indians
3/2 @ White Sox
3/3 vs. Diamondbacks
3/4 @ Giants
3/5 vs. Indians
3/6 @ Cubs
3/7 @ Angels
3/8 @ Indians
3/9 vs. Royals
3/10 vs. Cubs
3/11 @ Rockies
3/12 vs. Brewers
3/14 vs. Rockies
3/15 vs. Royals
3/16 @ Diamondbacks
3/17 @ White Sox
3/18 @ Brewers
3/18 vs. Padres
3/19 vs. Athletics
3/20 @ Athletics
3/22 vs. Angels
3/23 @ Royals
3/24 vs. White Sox
3/25 @ Angels
3/26 vs. Angels
3/27 vs. Angels
Los Angeles Angels of Anaheim
While not one of the oldest teams in the sport, the second Los Angeles team has been around long enough to pull in plenty of fans, perhaps partly due to the 1994 hit Angels in the Outfield (though even the movie didn't tout the team as good). Whether you grew up in Anaheim, followed a player to the team, or just have an obsession with Joseph Gordon-Levitt, you can catch the American League team at Tempe Diablo Stadium in Tempe this spring.
The Stadium
For a couple months each year, the Angels call Tempe home—and they will until at least 2025 due to a contract they signed in 2006 in order for Tempe and the state of Arizona to fund a $20 million stadium renovation. (The original contract would have ended in 2017). Tempe Diablo Stadium, which holds 9,785 fans, is on its third version after two remodels since its 1969 opening and it now boasts being one of the better spring training facilities in the state, a step up from its previous reputation.
Moving to Tempe Diablo makes spring training attendance easier for Angels fans. Before the team was bouncing between facilities but now all amenities are in one place. And it doesn't hurt that Tempe is a destination of its own.
Leave with a piece of memorabilia from the team store, located on the stadium concourse, or get the best souvenir—an autograph. Pros suggest standing along the railing between the dugout and the foul pole on either side of the field 45 minutes prior to game time to score a few John Hancocks.
Pro Tip: Fans can enjoy prime seating between the dugouts and bring in their own grub to enjoy at game time. Party suites are also available. For a good time, call (714) 940-2101.
Après Baseball
Whether you're killing hours before a night game or need a nightcap after an afternoon exhibition, you don't have to leave Tempe to find adventure.
Attend concerts, dance, and comedy shows at Tempe Center for the Arts.
Kayak on Tempe Town Lake.
Play your own game of ball at the provided diamond at Tempe Beach Park.
Get up close to sea life at Sea Life Arizona.
Have a peak at classic fire engines at the Hall of Flame Fire Museum.
Take the kids to the Legoland Discovery Center.
Choose from a variety of restaurants on the lake—Culinary Dropout and The Keg Steakhouse + Bar are favorites.
Special to Tempe: Looking to enjoy some after-hours fun while vacationing in Tempe? The college town is known around the Phoenix Metropolitan area for its lineup of nightlife. For the local's experience, drink on Mill Ave., a street full of downtown hotspots, eateries, and hangouts open late.
Spring Training Team Schedule
2/23 @ Athletics
2/24 vs. Brewers
2/25 vs. Padres
2/26 @ Padres
2/27 @ Rockies
2/28 vs. Indians
3/1 @ Giants
3/2 vs. Cubs
3/3 @ Mariners
3/4 vs. Rockies
3/5 @ Reds
3/6 @ Diamondbacks
3/7 vs. Dodgers
3/8 @ Athletics
3/9 @ Cubs
3/10 @ Giants
3/10 vs. Giants
3/11 vs. Rangers
3/12 vs. Reds
3/14 @ Indians
3/15 @ Rockies
3/15 vs. White Sox
3/16 vs. Rockies
3/17 @ Mariners
3/18 @ Rangers
3/19 vs. Mariners
3/20 vs. Diamondbacks
3/22 @ Dodgers
3/23 vs. Athletics
3/24 vs. Diamondbacks
3/25 vs. Dodgers
3/26 @ Dodgers
3/27 @ Dodgers