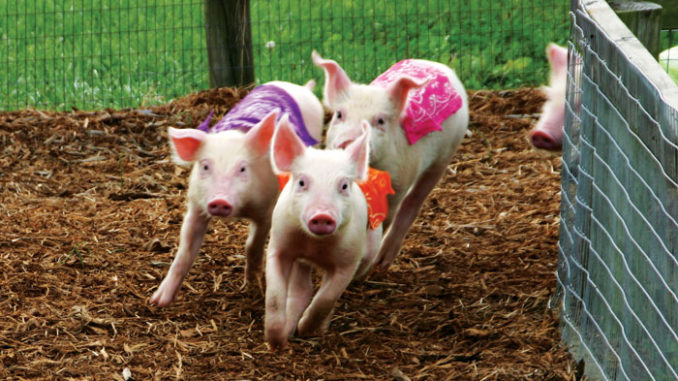 Over the last 20 years Dell'Osso Family Farm has proved that there is nothing quite like getting lost in an 18-acre field of corn or shooting targets with mini pumpkins to get you in the mood for Halloween. In addition to the ever popular corn maze, pumpkin blasters, and hay rides, several new attractions will get the whole family squealing in time for everyone's favorite frightful holiday.
And the star of this year's show is the squealers themselves—squealing pigs, that is. The holiday ice rink has been temporarily transformed into a racetrack where you can cheer on your favorite piggie at one of three daily pig races throughout the month of October.
If watching the action isn't enough for you, try your hand at racing rubber ducks by creating waves in the race-trough, another new attraction that is perfect for the whole family.
"Dell'Osso has this reputation of 'What will they do next?'" says Yvonne Sampson, Dell'Osso Farm's Marketing Director. And, indeed, in recent years many infrastructural improvements and new attractions have been added. A giant slide, for example, and wowballs (think human hamster balls). Another recent change is pricing, which has made more attractions available for general admission and is sure to make this Halloween a treat. 
For More Information: