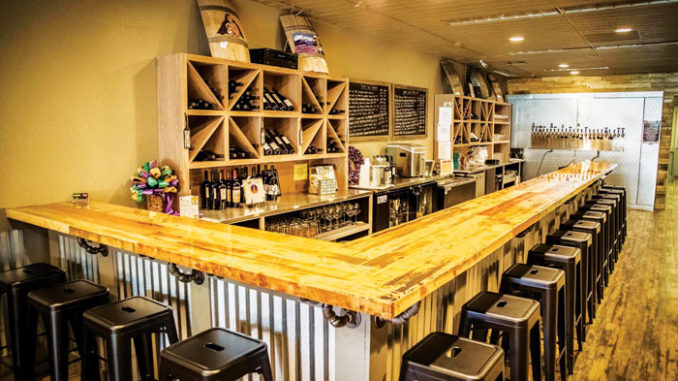 Downtown Lodi wine tasting rooms are bringing a new atmosphere to the area. Tucked away between restaurants and boutiques, wineries are offering a laid-back way to taste their featured wines in a relaxed setting. Lodi may be known for their Zinfandel, but these tasting rooms have more to offer than what meets the eye.
Because it's Sparkly
When you first step into Weibel Family Tasting Room you are hit with a mix of sophistication and fun. This wine tasting room is popular amongst many and known for their sparkling wine, GH, and wine slushies. They are currently featuring a magnificent strawberry sparkling wine. This wine is perfect for the early fall and enjoying conversation with friends. They offer private labeling, Bloody Mary mixes, and mixing sparkling wines. Flights range from $5 to $10.
Wines to try: GH, Archgate Zinfandel, and Grand Cuvee.
Located at: 13 N. School St., Lodi
Because there's Cider
Being in Downtown for just over a year, Scotto's is known for fresh cider, Scotto Family Cellar Family wines, and modern atmosphere. "More than just a tasting room" Scotto's Wine & Cider Bar features a specials chalkboard and washable place mats with flight specials. The modern vibe at Scotto's leaves guests excited to try upcoming flavors. The most anticipated cider is the mango jalapeño. Flights range from $12 to $15.
Ciders to try: Hard Apple Bone Dry, Hard Apple with Mango Muscat, and Hard Apple with Strawberry.
Located at: 14 S. School St., Lodi
Because there's beer
The perfect ambience for relaxing after a work day and socializing with friends. Guests can enjoy a variety of craft beer and local wine at Brix and Hops. This pet friendly tasting room encourages guests to bring food to enjoy alongside one or more of the 30 beers on their rotating tap and featured local wine.
Taps to try: Ruhstaller, Track 7, and Knee Deep.
Located at: 14 S School St., Lodi
Because there's music on the patio
A cozy and creative tasting room, Jeremy Wine Co. is known for the unique wine and wine names. While many of the wines come with a surprising taste there is much more to enjoy. The tasting room holds many surprises that a guest would not expect. The pet friendly environment features a back patio, a chocolate port, and a refillable growler. Flights are $10.
Wines to try: Albariño, The Lady, and The Choral.
Located at: 6 W. Pine St., Lodi