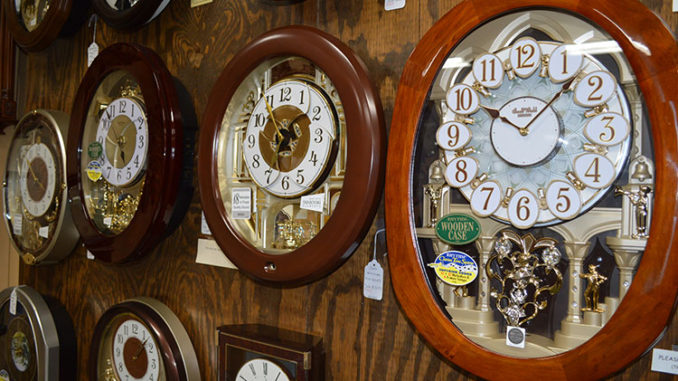 Whether it's the soothing tick of your family's heirloom grandfather clock, or the reliability of your vintage timepiece that sits on your wrist everyday, most of us posses a deep sense of nostalgia and respect for the timepieces in our lives. It might be for this reason that House of Clocks has been serving residents of Lodi, and indeed the better part of Northern California, since 1970.
House of Clocks' story begins more than 46 years ago as a learned trade by Joe Hohn during military deployment in Germany. Bringing this practical skill of clock repair back to where his family resided in Lodi, House of Clocks has grown over more than four decades into the still family-owned and operated business credited as being the largest clock shop in Northern California. The inventory there is as carefully collected as one might expect from such an established clock authority. At the top of every hour occurs an eclectic mix of playful chimes from German cuckoos, refined dinging from mantelpiece clocks and assertive dongs from stately grandfather clocks. This diverse array of product is acquired from all corners of the world and varies from new and unique pieces to vintage and genuine antique pieces over 100 years old.
So, what is it that keeps customers coming back to classic timepieces in this highly digital age? The Hohns believe it's because you simply can't put a price on sentimental value. They explain that many of the clocks in their store have been handed down through generations of families and it means a great deal to be able to both cherish and pass on heirlooms to new generations. They also believe clocks tap into an inexplicable fascination people always seem to have with the simple and reliable nature of their mechanics.
Purveying both service, repairs, and exceptional clocks to their extensive and loyal customer base, the Hohn family takes pride in their dedication to treat people the way they would like to be treated, and are deeply invested in the notion that quality truly matters. Those fortunate enough to know Lodi's charming institution, House of Clocks, have wisely come to rely on the Hohn family for all their time-telling needs.
Take your own walk through time by visiting:
House of Clocks
208 School St., Lodi
(209) 369-7961